Leagues:
Fixtures - Standings - Results
| | |
| --- | --- |
| | Italy - Serie A |
| | |
| | Spain - Primera Division |
| | |
| | England - Premier League |
| | |
| | France - Ligue 1 |
| | |
| | Germany - Bundesliga I. |

Sports Games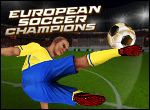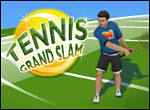 Latest Football (soccer) news
PELE: WHEN RONALDO HAS SCORED 1283 GOALS, WE'LL TALK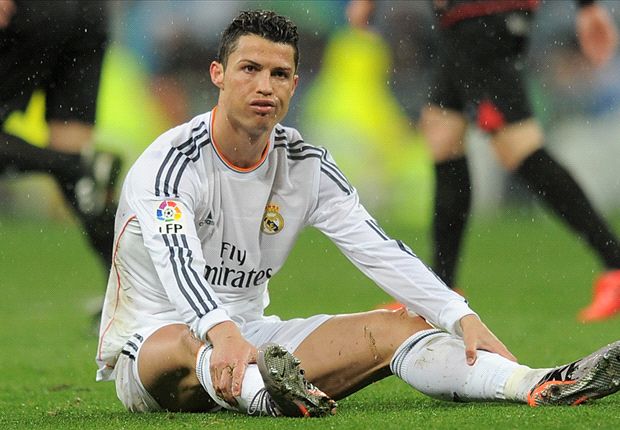 The Portugal star reached 78 international strikes to surpass the Brazil great's 77, but the 76-year-old has laid down a challenge for the Madrid ace

Pele says he was happy to see Cristiano Ronaldo overtake his mark for international goals last week, but claims the Real Madrid forward has a long way to go before he can be in his illustrious company.

Ronaldo hit a hat-trick for Portugal in a 5-1 win over the Faroe Islands in World Cup qualifying on Thursday night to take his international tally to 78, the first of those a spectacular scissor kick early on in the game.
"I saw the goal, It was really special," Pele told Goal in an exclusive interview. "It was a really nice play."

"Of course, these are different times," Pele said. "But the beautiful thing about football is the goals. And I take this opportunity to send a big greeting to Cristiano Ronaldo for that victory."
However, in reference to his total career goals record, the three-time World Cup winner added: "Now he has to score more than 1,283 goals!"
BARCELONA DEMAND PSG PAY €222M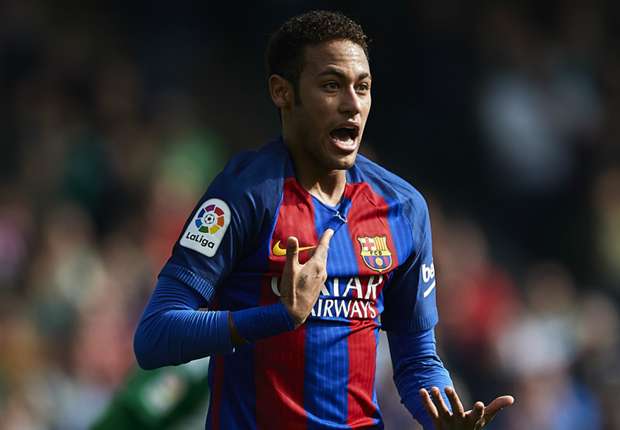 The Brazil international is set to travel to the French capital to complete his world record move after bidding farewell to his Barca team-mates
Barcelona have confirmed that Neymar has informed the club of his desire to leave for PSG, after missing training on Wednesday, and have demanded that the French club pay his full €222 million release clause.

As Goal reported on Tuesday, the Brazil international arrived at the Blaugrana's training ground, only to leave a short while later as he bid farewell to his team-mates.

Barcelona later followed up with an official statement on their website, which read: "FC Barcelona returned to training this Wednesday morning after the American tour, the first part of a double session at the Ciutat Esportiva Joan Gamper.

"Before the morning session began, Neymar Jr. informed those present of his wish to leave the Club and was therefore given permission to miss training and resolve his future."
Barca issued a further statement later in the afternoon, insisting that the player will not be sold for less than his €222m buyout clause.

"The player Neymar Jr, accompanied by his father and agent, has informed FC Barcelona this morning of his decision to leave the Club in a meeting held at the Club's offices.
"Faced with this position, the Club has informed them they refer to the buy-out clause of his existing contract which as of 1 July totals 222 million euros which will have to be deposited in its entirety.

"Furthermore, in reply to the claim for the contract extension bonus, the Club has once again made it clear that the amount remains deposited with a notary until the case is resolved.
"The player remains under contract at FC Barcelona but with temporary permission to not take part in training sessions."
Neymar will now travel to the French capital to complete his world-record move to the Ligue 1 outfit.
LIONEL MESSI THE WORLD'S MOST OVERPAID FOOTBALL STAR, CLAIMS STUDY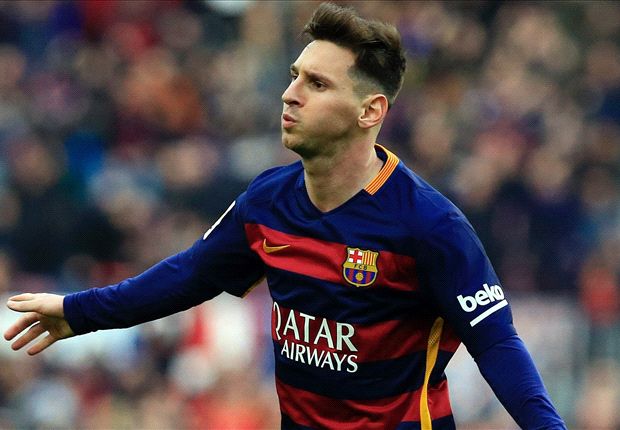 Based on attribute evaluation and other data collections made by a new science journal, the Argentine may not merit such a high salary...
A new study on player wages has claimed that Barcelona may not be getting their money's worth out of Lionel Messi's astronomical weekly salary.

The Argentine has won the Ballon d'Or an unprecedented five times since making his debut at Camp Nou, helping Barca to a decade of glittering success.

That wonderful talent has been duly compensated with a salary package that makes Messi one of the richest men in sport, alongside Real Madrid rival Cristiano Ronaldo.
According to the International Journal of Computer Science in Sport, however, he may not merit such a high valuation.

The IJCSS compiled salary data and performance analysis from Europe's top leagues in their study, choosing 2016 as a base year.
Variables such as age, position, club and a whole host of attribute evaluations in key areas were collected and run through an algorithm designed to determine each player's 'real' worth.

And despite his status as one of the finest players in the world, Messi comes out at the top of the list of overpaid stars, with the IJCSS contending his true value is some €320,000 lower than his actual weekly wage.

"Clearly, the salary of a football player is affected by numerous factors that are not directly related to performance or skills. For instance, a player liked by the fans can have higher compensation to reflect merchandise and ticket sales," the report concludes.
"For instance, a player such as Lionel Messi receives a weekly wage of €550,000 given that part of it is sponsorship, merchandise sales, image rights, and other incomes outside the scope of wins or performance on the field.

"Using pattern recognition, Messi's predicted salary computed based on the performance and wages of the current football players in the major football leagues would have been about 50% less, although according to the method he would still be the world's highest paid player."

Fellow Argentine Angel Di Maria and Galatasaray's ex-Arsenal star Robin van Persie complete the podium.
Chelsea's new captain after John Terry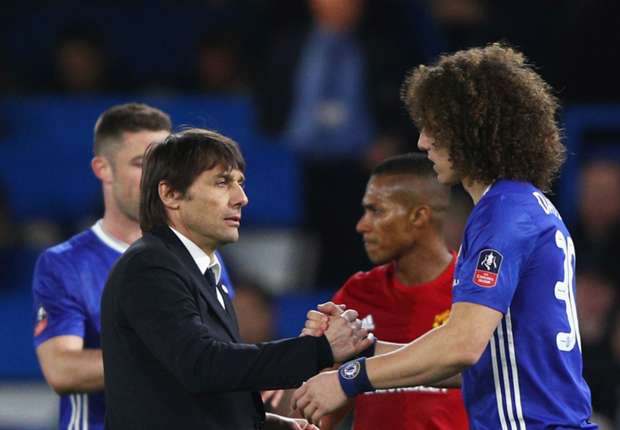 The Blues have a huge void to fill as their long-term skipper departs the club after more than two decades at Stamford Bridge

David Luiz is among the frontrunners to replace John Terry as Chelsea's club captain along with his defensive partners Gary Cahill and Cesar Azpilicueta.

The trio lined up together in a back three with Cahill wearing the armband last season as Terry accepted a lesser role at the club, going from an automatic starter to being benched.

Terry will line up for Aston Villa next season but Antonio Conte faces a difficult decision with all three of his centre-backs keen on claiming the armband.

Cahill was endorsed by Terry to become the new captain at the end of the season and the English duo lifted the Premier League title together at Stamford Bridge after the final game of the season.

Luiz and Azpilicueta were both hailed for their leadership by Conte throughout the season last year, with the Brazilian praised after playing on through a knee injury since Sergio Aguero's high tackle in December.

Azpilicueta played in every minute of the Premier League campaign with Chelsea and led his team out for the first time in the semi-final at Wembley against Tottenham. The Spain international has become a key player for the club and his constant presence in the starting line-up could secure the captaincy.

Cesc Fabregas would also be interested in taking on the armband but his role at the club isn't as secure as his defensive colleagues.
Inter have financial muscle to sign Messi, claims Mazzola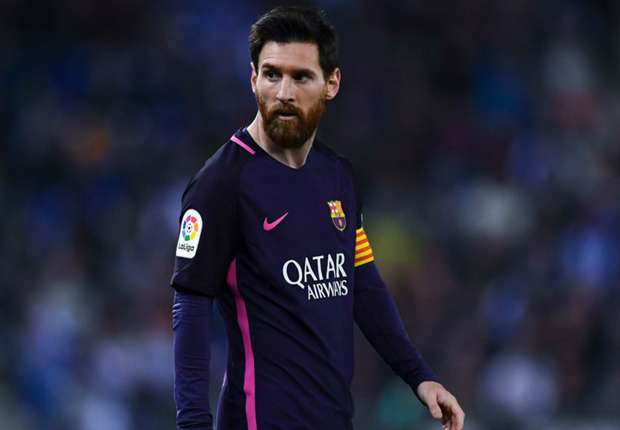 The San Siro outfit have pledged to sign a global superstar in the summer, and one of their all-time legends is hopeful it might be the Argentine

Inter boast the financial power to sign Lionel Messi from Barcelona, former Nerazzurri star Sandro Mazzola has said.

There has been speculation for some months that the Serie A side, bankrolled by their Suning Holdings Group owners, could try to sign Messi with a stunning transfer bid at the end of the season.

Former Inter president Massimo Moratti said in January the club are planning to sign a global superstar before next season, although he rejected the suggestion that Messi is their top target.

But Mazzola, a double European champion as part of the famous Inter side of the 1960s, believes Suning's backing makes Messi at San Siro a very real prospect.

"Suning have the strength to get those they want, including Messi," he told Il Mattino.

Inter take on Napoli on Sunday knowing that a win could be crucial in their hopes of closing the eight-point gap to fifth-place Atalanta before the end of the season.

Mazzola hopes for a home win in Milan but has hailed Napoli winger Lorenzo Insigne and coach Maurizio Sarri for bringing an entertainment factor to the "boredom" of Italy's top flight.

"There's an absurd boredom in Italy right now. If it were not for Sarri's Napoli, it would be difficult to enjoy things," said the 74-year-old.
Zidane: Ronaldo makes me jealous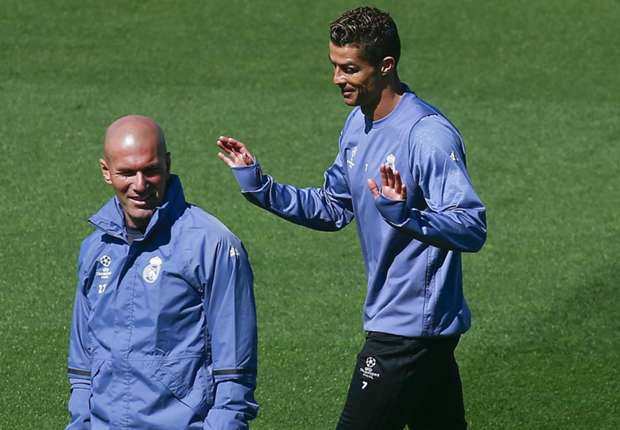 The Frenchman wishes he has the goalscoring prowess of the Portuguese and has hailed Diego Simeone, too

Real Madrid head coach Zinedine Zidane said he gets jealous of Cristiano Ronaldo as he hailed the forward ahead of the Champions League semi-final tie against Atletico Madrid.

Zidane enjoyed a star-studded playing career, winning the World Cup and Champions League, but wishes he had enjoyed the thrill of scoring goals as much as his star attacker and namesake Ronaldo Nazario, his former Santiago Bernabeu team-mate.

The Real boss was asked how Ronaldo compared with the players he played with during his career and conceded he was envious at their goal tallies.

"As a coach, he is the best player I have had," Zidane said of the Portugal international.

"I wasn't able to play with him, unfortunately – but I did play against him. His statistics are amazing.

"I played with the Brazilian Ronaldo, who was also an extraordinary player who scored a lot of goals. I'm jealous of them because I didn't have those numbers.

"I got a lot of assists but I just passed the ball and didn't have their goalscoring ability, so I never had the same feeling – that thrill of the ball hitting the net – as them.

"They are decisive players."

Zidane also spoke of his respect for opposite number Diego Simeone ahead of the first leg of the last-four tie at Santiago Bernabeu on Tuesday.

"Simeone and Mono [German] Burgos are doing a great job for their club," said Zidane. "I know Burgos a bit - I like him and have great respect for him.

"I only know Simeone from playing against him but they are two people I have enormous respect for both of them for the job they are doing. Simeone is a very experienced coach."
'You need to change your name to Reymar' Kaka's advice to Barcelona forward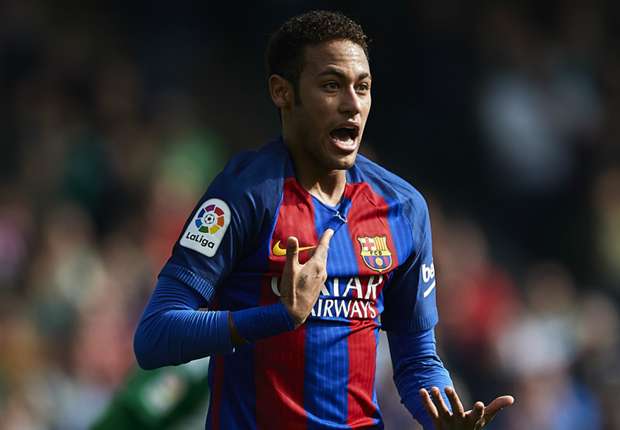 The former World Player of the Year believes his fellow Brazilian needs a name change if he is to follow in the footsteps of illustrious countrymen

Barcelona forward Neymar has been told to consider adding a letter 'R' to the start of his name in an effort to earn the honor of being considered the best player on the planet.

The bizarre, but tongue-in-cheek, suggestion has been offered by fellow Brazilian and former World Player of the Year, Kaka.

The ex-Milan and Real Madrid playmaker had no problem seeing his talents recognized without following his own advice, although his full name is Ricardo Izecson dos Santos Leite.

Maybe, then, there is something in names beginning with 'R' when it comes to Brazilian greats.

Down the years the likes of Romario, Ronaldo, Rivelino, Rivaldo and Ronaldinho have all graced the very top of the game.

If Neymar is to do likewise, he has been made aware of what he needs to do.

Kaka told Record TV: "With everything that he's done at Barcelona, Neymar could well be next in line to be the best player in the world.

"But I think if he changed his name to 'Reymar', he'd have an even better chance. All the successful Brazilians begin with the letter 'R'."

While discussing a potential heir to his former throne, Kaka has also discussed his international future.

Now 34 years of age and turning out in MLS for Orlando City, the World Cup winner has not figured for his country since May 2016.


Kaka, who has 92 caps to his name, said: "My relationship with the national team has always been good.

"Now, at my age, it'd be a mutual agreement if it were good for me and the team."
Rakitic: Barca comeback was like Patriots' Super Bowl win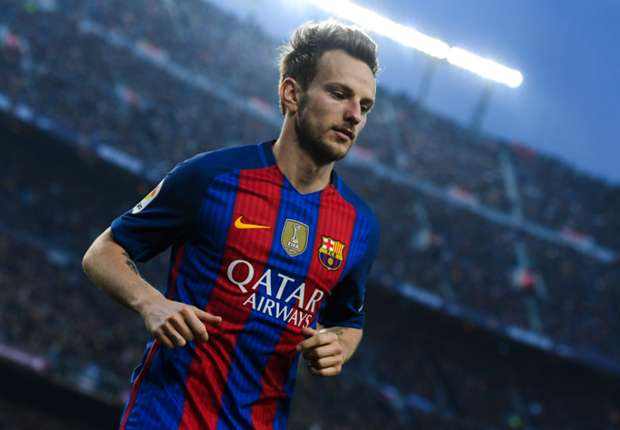 After a sensational late win over PSG to reach the Champions League quarter-finals, Barcelona's Ivan Rakitic was reminded of Super Bowl LI.

Ivan Rakitic compared Barcelona's "crazy" Champions League comeback against Paris Saint-Germain to the New England Patriots' Super Bowl LI triumph after a historic night at Camp Nou.

Barca had trailed PSG 4-0 after the first leg in France, but an incredible 6-1 win at home - where Sergi Roberto scored a decisive 95th-minute goal - improbably sent Luis Enrique's side through.

Barca performs greatest comeback in history

And Rakitic, still struggling to believe the events of the final moments, was reminded of another stunning sporting fightback of 2017 as the Patriots overturned a 28-3 deficit to beat the Atlanta Falcons 34-28 in February.


"No, I cannot believe it," he told BT Sport. "It was really impossible. [Now] 15-20 minutes after the game, it is crazy and unbelievable.

"Thank you to the team, to the people around the club and the fans. It was a really special day and it is hard to say something.

"The first game in Paris was hard for us, a lot of people spoke hard with our team but the reaction was special. It is history. We want to keep going on.

"We had to believe [because] 4-0 was hard, but it is football. We saw it in the Super Bowl, what is possible in sport. Today was crazy.

"This is Barcelona, the best team in the world and we want to continue our dream in the Champions League."
Ibrahimovic sets new Premier League record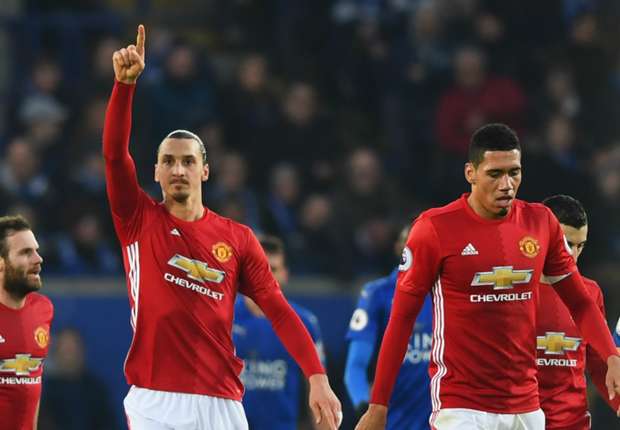 The Red Devils striker has reached a landmark for Jose Mourinho's side against Leicester City, becoming the oldest player to score 15 goals

Zlatan Ibrahimovic has set a new Premier League record, becoming the oldest player to reach 15 goals in a single season.

The former Sweden international joined Manchester United from PSG in the summer, and has made an instant impact at Old Trafford, netting 15 goals in 24 appearances for Jose Mourinho's side.

On Sunday, he scored United's second against Leicester City, taking him to 15 goals at 35 years and 125 days old.

Ibrahimovic swept home from inside the area after good work from Antonio Valencia found him in the area, putting the ball through the legs of Wes Morgan and into the Foxes net.


Ibrahimovic swept home from inside the area after good work from Antonio Valencia found him in the area, putting the ball through the legs of Wes Morgan and into the Foxes net.


The former Barcelona man also made Premier League history earlier in the season, netting the competition's 25,000th goal with his strike against Swansea.

Ibrahimovic now as at least 15 league goals in his last six seasons, stretching back to his time at AC Milan.


Since 2006 he has only failed to reach that landmark once, and at 35 years old he shows no sign of stopping.

Counting all competitions, the forward has also now scored 20 goals in 10 consecutive seasons. Way back in 2006-07 when he was with Inter Milan, he fell short of that target, but still scored 15 times.

In addition to those, Ibrahimovic has reached 15 Premier League goals for United in the fourth fastest number of games (23), following Ruud van Nistelrooy (19), Dwight Yorke (20) and Robin van Persie (21).
Mourinho demands better from Man Utd fans ahead of Liverpool visit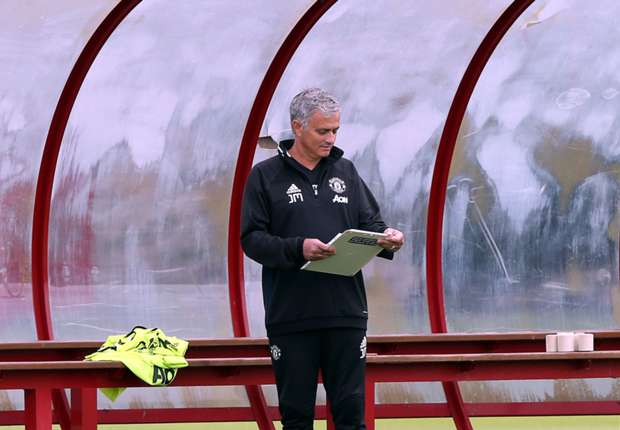 The Red Devils are in good shape to book their place in the EFL Cup final, but the Portuguese manager is not impressed by his side's own fans

Jose Mourinho has demanded a better Old Trafford atmosphere when Manchester United play Liverpool after Hull City were despatched amid eerie EFL Cup acoustics.

Goals from Juan Mata and Marouane Fellaini saw off a patchwork Hull side on Tuesday as United put one foot in another Wembley final.

A ninth win in succession was met with a lukewarm response through much of the contest from the home fans, despite Mourinho's gesturing for the volume to be raised at half-time.

And with Liverpool arriving at Old Trafford on Sunday in a fixture between sides separated by five points in the Premier League table, Mourinho wants the crowd to fire up.

"I was disappointed yes, [Hull] were very well organised defensively as I was expecting and it was not easy for us," Mourinho told Sky Sports.

"But I think we were a bit sloppy, complicating things, always one more touch, delaying the decision, giving them time to regroup and it was not our best first half.

"I think in the first half the players have to do better, I have to do better, the fans can also do better.

"Second half we all improve just a little bit. The game is over, now I think about Sunday and on Sunday I have to do better, the players need to do better and the stadium has to do better."

Hull played with midfield pair David Meyler and Tom Huddlestone in defence as injuries bite hard at the start of Marco Silva's reign, but Mourinho did not anticipate his compatriot rolling over.

"I was expecting a difficult match," he said.

"I wasn't expecting four or five, 1-0 for me would always be a good result but 2-0 is obviously better.

"We are not at Wembley but the second goal is maybe an important goal."
Cuper: Ronaldo not good enough to win FIFA Player of the Year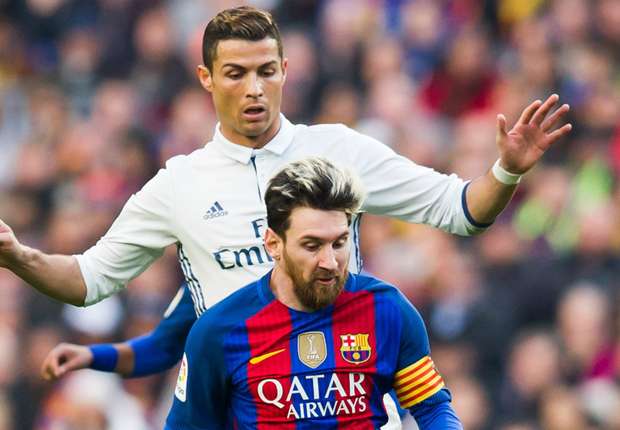 The Portugal star is widely tipped to add the revived award to the Ballon d'Or lifted in December, but Egypt's coach is convinced his compatriot is more deserving

Hector Cuper has revealed he voted for Lionel Messi as the FIFA Player of the Year, as he feels Cristiano Ronaldo's performances do not merit the award.

The Barcelona star finished 2016 as the year's top scorer with 51 goals, as he helped the Catalans to their second successive Liga and Copa del Rey double.

Ronaldo, meanwhile, got his hands on the Champions League title for Real Madrid and led Portugal to their first-ever international title with Euro 2016 success.

The striker, however, was not a decisive presence in either final, and Cuper believes Messi's superior displays mean he deserves the award.

"He's the best player I saw in the last year. We're speaking about the whole performance. He gave everything to lead Barcelona to the domestic double.

"That also applies for Argentina where he did everything possible to win the Copa America, but he wasn't lucky."

The former Inter and Valencia coach added that, while Ronaldo's titles may lead him to the award, he was outplayed by his great rivals.

"Ronaldo won titles also, but I don't think his performances were good enough to be the player of the year," he said.

"Performance won't be in his favour, it's just the titles that would help him to be in the nominations. You can say I chose Messi for several reasons, not just because he's Argentine."

Cuper will lead Egypt into the 2017 African Cup of Nations in January, having steered the country back into the prestigious tournament after missing three consecutive editions.
Guardiola: I am nearing the end of my coaching career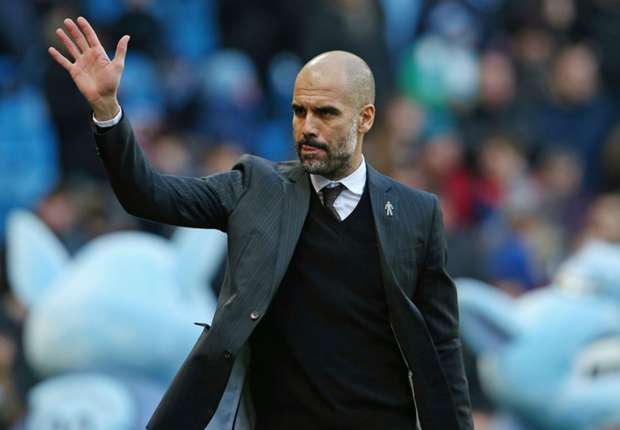 Despite being widely regarded as one of the greatest coaches in football, the ex-Barcelona and Bayern Munich man believes he could walk away from the bench soon

Manchester City boss Pep Guardiola feels he is already nearing the end of his coaching career.

Guardiola, 45, has a three-year contract at the Etihad Stadium but does not envision continuing in the same capacity far beyond that.

Pep silent on Fernandinho red

Widely regarded as one of the greatest coaches of all time, the Spaniard has won 22 trophies since starting out at Barcelona B in 2007.

The Spaniard led Barca's first team to a historic treble in 2008-09 and won three successive Bundesliga titles in as many years at Bayern Munich.

But, despite being in the early stages of his time at City, Guardiola says he is already winding down his career.

"I will be at Manchester for the next three seasons, maybe more, but I am arriving at the end of my coaching career, of this I am sure," he told NBC Sports, prior to City's 2-1 Premier League win over Burnley on Monday.

"I will not be on the bench until I am 60 or 65 years old. I feel that the process of my goodbye has already started."
Messi on another level to Ronaldo - Guardiola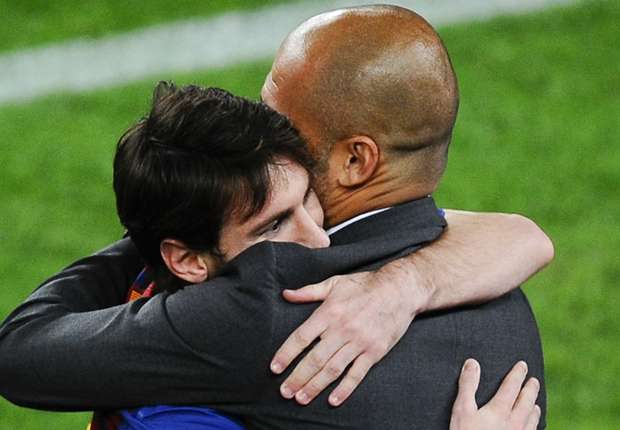 The Portuguese might have picked up his fourth Ballon d'Or, but the Manchester City boss believes his former protege still remains a cut above

Pep Guardiola was unequivocal in his view of who is the best footballer in the world, the Manchester City manager having no doubt that Lionel Messi still reigns supreme.

Real Madrid's Cristiano Ronaldo pipped Messi to the Ballon d'Or last week, leaving him one behind his Barca rival in terms of his career tally in football's most coveted individual award.

The numbers lie 5-4 in Messi's favour after Ronaldo was rewarded for helping Madrid and Portugal to respective Champions League and Euro 2016 glory this year.

Messi put forward a dazzling counter-argument last weekend with a sublime display as Barca dispatched neighbours Espanyol 4-0 in La Liga and his coach Luis Enrique spoke disparagingly of the awards race on Friday, decrying an obsession with "golden melons".

Guardiola fell short of his Camp Nou successor's vitriol when addressing a news conference ahead of the Premier League trip to Hull City, but he is still an unquestioning advocate of Messi's superiority.

"I agree with Luis. Messi is the best, he is definitely the best," he told reporters.

"He knows how to play, score and make the other players play. He is always there.

"With all the respect to all the players, first to Cristiano Ronaldo – congratulations to him for the award – I think Messi is on another level."
Luis Enrique casts doubt on Barcelona future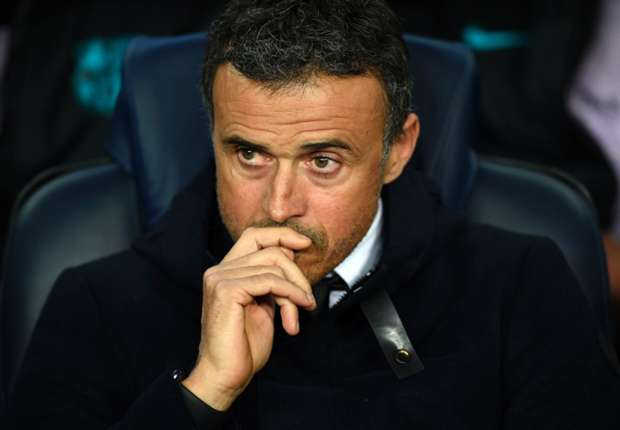 The former Celta Vigo boss's contract at Camp Nou runs out at the end of the current season and he admitted there are a number of negatives to managing the Blaugrana

Barcelona head coach Luis Enrique refused to offer any assurances over his future at the Liga champions beyond the 2016-17 campaign.

Liga-winning boss Luis Enrique is out of contract at the end of the season and the Spaniard appears no closer to signing an extension.

Luis Enrique has guided Barca to Liga and Copa del Rey doubles in each of his two seasons in charge, as well as the 2014-15 Champions League, and while the 46-year-old is happy at Camp Nou, there is a lot to consider before he recommits.

"I have no doubt that I'm at the best team, with the best club, with the best players, in my house and with my family, winning things and being very involved," Luis Enrique told Barca TV.

"But there is also one thing about this job that is very hard, it costs me a lot and it's a negative that I have to factor in when considering the next few seasons."

"I am aware that I am either here [with Barcelona] or nowhere. I have time and the club will stand by me."

Barca are second in the table, three points adrift of leaders and bitter rivals Real Madrid heading into the mid-season break.
Vitolo hails 'best player in history' Messi after Barcelona defeat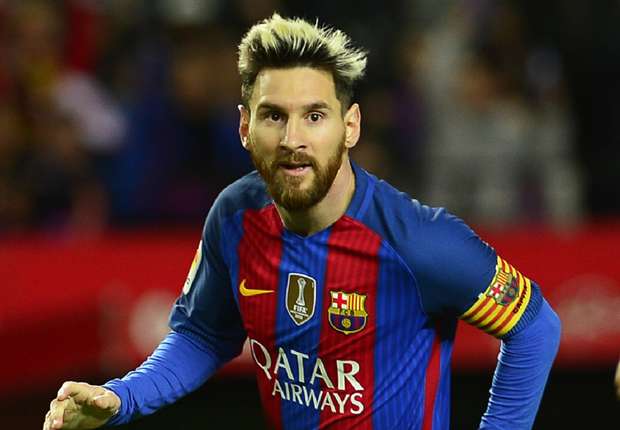 The Argentine scored one and set up another to lead his side past Jorge Sampaoli's men, and the scorer of Sevilla's only goal had nothing but praise for him after the game

Sevilla forward Vitolo lauded Lionel Messi as the best player ever to take to a football pitch after the Argentine's magic helped unravel the Andalucians on Sunday.

Vitolo had fired Sevilla into an early lead against Barcelona but Messi hit back by netting the equaliser and setting up Luis Suarez to seal three points on the road.

Messi dazzles in Barca victory

And the winger was gracious in defeat, acknowledging that Messi was on another level in a crucial Liga clash.

"Messi was no surprise, he is the best player in history and he knows how to run a game," Vitolo told reporters after the final whistle.

"In the first half we pressured him well but in the second he made the difference."

Despite the narrow defeat the player also had warm words for coach Jorge Sampaoli, who he credited with always seeking victory no matter the opponent since taking over at Sevilla.

"Adapting to his ideas was only a matter of time. He wants to dominate games regardless of the opponent," he explained.

"La Liga is very tight, the teams at the top are winning games. It will be tough, we hadn't lost at home until now."
People are losing their mind over Cristiano Ronaldo's glasses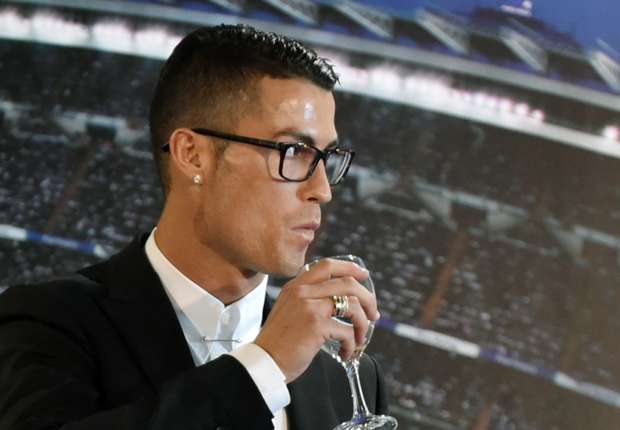 Jokes were made on Twitter about how the Real Madrid star's need for glasses might explain his free kick success rate

Cristiano Ronaldo signed his new Real Madrid contract to great fanfare on Monday, pledging himself to his club until June 2021.

Real Madrid fans were quick to congratulate the forward, 31, for bagging a fresh deal at the Santiago Bernabeu a few months after he scored the winning penalty in their Champions League final victory.

But not everyone was so kind - some were quick to make jokes about Ronaldo's glasses and ponder whether that might help explain his shoddy free kick success rate this season!
Cantona: Messi has become a poor man's Justin Bieber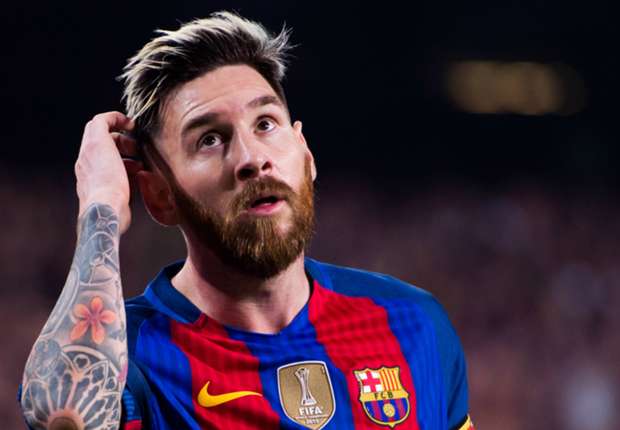 The outspoken former Manchester United forward has questioned the choices made by the Barcelona talisman regarding his appearance, likening him to the lead singer of a boy band

Eric Cantona can always be relied upon to pass judgement on the big issues in football.

Yes, he has become distracted by seagulls and trawlers in the past, but you get the gist of what he is trying to say...don't you?

Well, the latest subject to get the Cantona treatment is the one and only Lionel Messi.

'Messi should always win Ballon d'Or'

The Barcelona forward may not be able to match eternal rival Cristiano Ronaldo in the style stakes, but he has been experimenting somewhat with his look of late.

Peroxide blond hair, a hipster beard and sleeve tattoo, the mercurial Argentine has deserted his clean-cut image of old.

There will be many who prefer the more rugged Messi to the boy-next-door persona of his past, but Manchester United icon Cantona is not one of them!

"What is up with Lionel Messi?" he said in his role as Eurosport's self-appointed 'Commissioner of Football'.

Where would Barca be without Messi?

"Bleach blond hair, red beard? Did he become the lead singer of a boys' band?

"When he got the tattoo I was concerned, but this? Whoever did that to him should be ashamed. You turned our hero into a poor man's Justin Bieber!"
Ronaldo boo boys baffle Zidane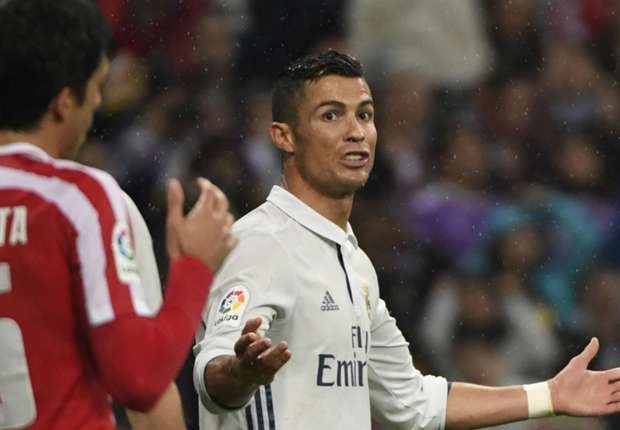 The coach is confident his star will soon be back on the goal trail, having previously also experienced his own low moments at Real Madrid

Real Madrid coach Zinedine Zidane cannot understand jeers directed at Cristiano Ronaldo but he is sure the star will emerge from the wrath of the Santiago Bernabeu crowd.

Ronaldo has NEVER started a Real Madrid season this badly

Ronaldo has only two goals in six La Liga appearances this season and the 31-year-old was whistled by sections of the home support when he took 11 shots without converting any successfully during Sunday's 2-1 win over Athletic Bilbao.

And while former midfield maestro Zidane was critical of fans booing Ronaldo, he can call upon parallel experiences and tipped the 2016 Ballon d'Or nominee to emerge from the situation stronger.

"I don't understand the whistles aimed at Cristiano. They also whistled me," Zidane told a pre-match press conference ahead of Wednesday's Copa del Rey tie against third-tier minnows Cultural Leonesa.

"The Santiago Bernabeu is a special place and fans demand a lot. Cristiano is used to it. The important thing is to keep working.

"Maybe Cristiano is not taking his chances now but at least he is getting them. He will end up scoring lots of goals. I am not worried about him not scoring goals."

Long-term thigh injury victim Fabio Coentrao is back in the Madrid squad for a match where Zidane will understandably shuffle his pack.

'Only three Manchester United players good enough for rivals'

"Coentrao will be in the squad list, he is an important player for us," the trainer said of the Portugal full-back who is yet to feature this season having missed his country's march to Euro 2016 glory.

"We are excited about the Copa del Rey tournament. We will do everything we can to win the Copa del Rey.

"There will be 16 players in the squad list tomorrow. There will be rotations. Many players will be rested and will not make the squad list."

Zidane confirmed back-up goalkeeper Kiko Casilla will return to his XI against Leonesa after deputising for absent number one Keylor Navas during the opening weeks of the season.
Mourinho's 'cold approach' at Man Utd training ground has NOT gone down well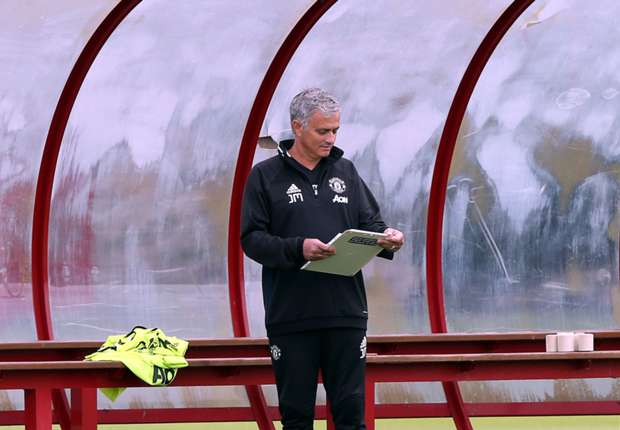 The Portuguese coach has apparently shocked his players by not leading training himself, preferring to sit in his office and watch from a distance

Manchester United's stars are shocked at Jose Mourinho's "cold" and "distant" approach in training following their 4-0 loss at Chelsea, according to The Times .

Bailly injury leaves Man Utd & Mourinho without only transfer success

The Portuguese suffered his heaviest-ever Premier League defeat on Sunday at Stamford Bridge and blasted his side's "incredible defensive mistakes" after the result.

Mourinho kept up his line of accusation ahead of their EFL Cup fourth round clash against Manchester City in midweek, calling the players "boys", and it appears his approach in training reflects his attitude towards his squad at the moment.

It is claimed that it is Rui Faria, Mourinho's assistant, who is leading training at the club's Carrington complex. Mourinho, meanwhile, is alleged to watch from a distance or work in his office most of the time.

Four things Mourinho must do NOW to stop Man Utd rot

Such cold treatment has reportedly come as an unpleasant surprise to those who thought Mourinho would give them special attention.

The Times claims that Mourinho has no intention of changing his approach to the Man Utd squad he inherited from Louis van Gaal any time soon either.
Man City must tell 's***' Guardiola to stop, says Toure's agent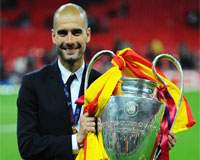 The midfielder has been frozen out under the Catalan boss, and his representative has again taken the former Barcelona head coach to task over his treatment of his client

Yaya Toure's agent Dimitri Seluk has launched a fresh attack on Manchester City boss Pep Guardiola, urging the club to intervene and tell him the midfielder is considered as "family" at the Etihad Stadium.

Seluk previously slammed the former Barcelona and Bayern Munich head coach for "humiliating" Toure by leaving him out of his first-team plans and the club's Champions League squad, before going on to talk down the Catalan's coaching achievements at his old clubs.

Guardiola has said Toure will not play for him again at City until he and the club's players receive an apology from the midfielder over his representative's remarks.

But Seluk has already insisted he will not be saying sorry and feels there is nothing wrong with questioning Guardiola's decision to only play Toure once this season - against Steaua Bucharest in August.

"It is not correct to do that. It is not correct to give up on a top-class player. But this is his decision - he is a good coach but his personality is s***.

"If Yaya is on the field or not, everyone will ask, 'What is this decision from Guardiola?' Normally a person cannot make a decision like this.

"And it is England, not North Korea or Afghanistan - so people will discuss whether it is right and they will have their opinions.

"It is necessary to remember that Yaya, when he was in Barcelona, played as a defender and they won against Man United [in the 2009 Champions League final].

"It is very strange. All supporters like Guardiola but my opinion is that supporters also see that Yaya gave City a lot. They won the title two times with him and won cups.

"We'll see what Pep does. Many people don't understand how it is possible to do what he has done with players."
Blonde bombshell Messi reveals why he changed his look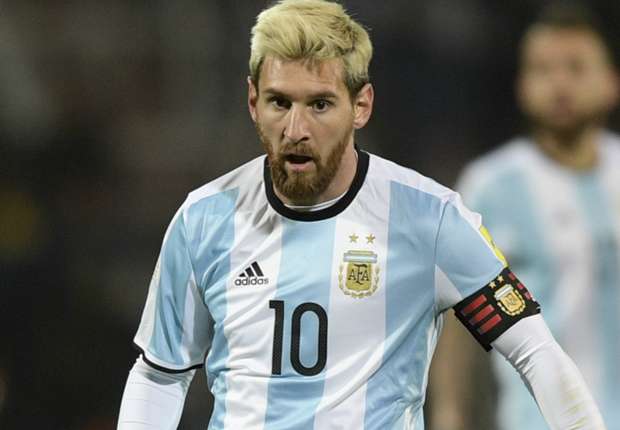 The disappointment of another final defeat for the Albiceleste and his decision to walk away from the national team motivated La Pulga to pull out the peroxide

Barcelona's blonde bombshell Lionel Messi has revealed the reason behind his drastic change of hairstyle over the summer.

The Argentina captain caused ripples throughout the world of football when he appeared with a platinum blonde do while on holiday with his family.

And when quizzed about the dye-job, he affirmed that it was part of a time of soul-searching following his nation's Copa America failure.

"One particularly tough day I dyed my hair, I had to start again from scratch. I said to myself, 'I have to make a clean break and start over", he explained during an interview with cult Argentine comedy figure 'Mingo' on Telefe's 'Polemica en el bar'.

The star donned 'Mingo's' iconic hat and checked scarf during the chat, while he also saw the actor save one of his penalties.

Messi also admitted that his young son Thiago might not be following in his footsteps, as he shows little interest in the beautiful game.

"I try not to give Thiago balls as presents, he doesn't like football much," he said.

"We'll see if he gets into it now as he's started playing in a club."

Barcelona sign Ronaldinho again!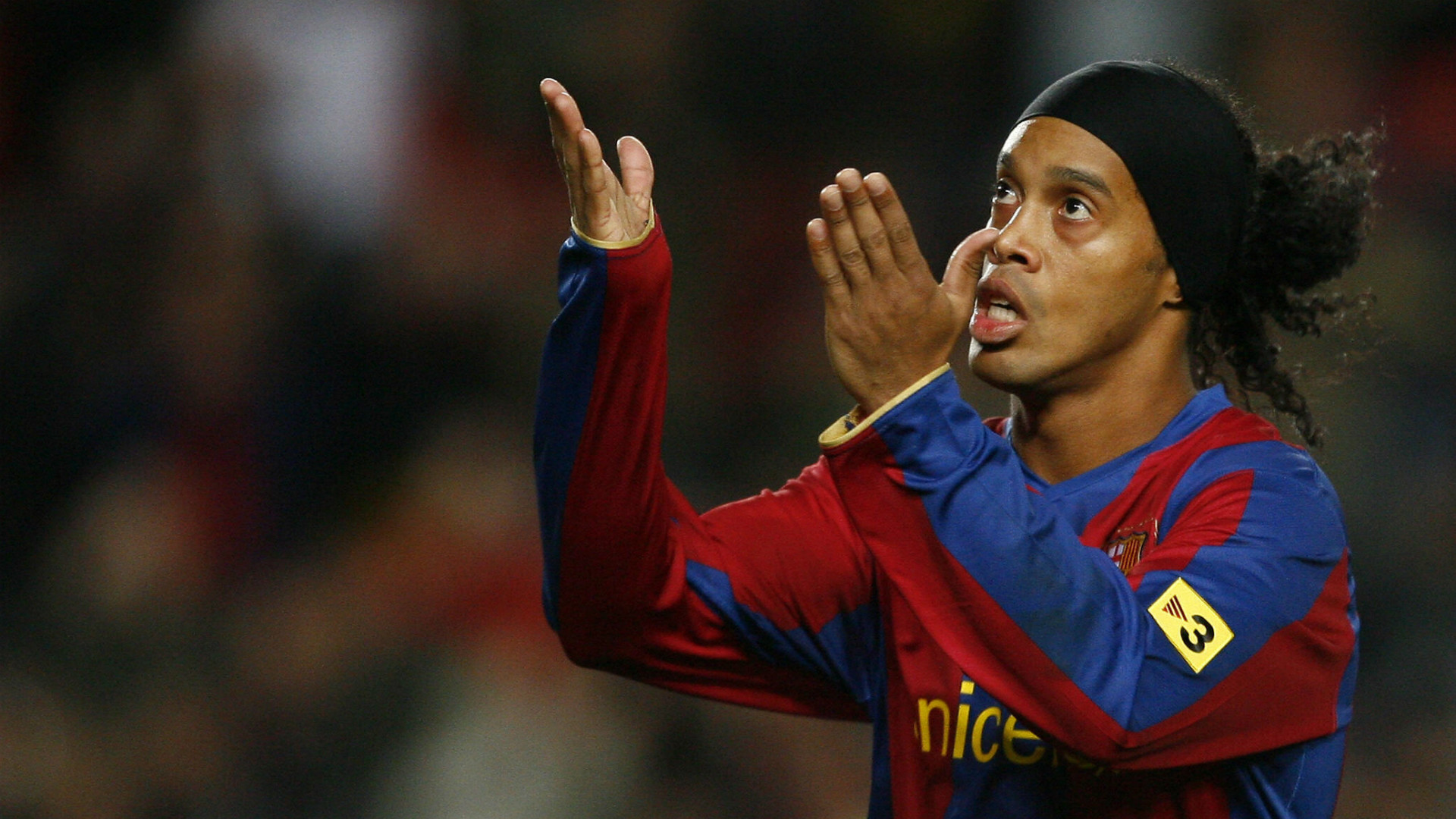 It has come to light that the Brazilian, who earned hero status at Camp Nou after helping the Blaugrana return to their former glory, will work with the club once more.

Ronaldinho is back at Barcelona! But don't get too excited, fans, as it is in a non-playing role...

The Brazilian, 36, is teaming up with the club he helped return to its former glory between 2003 and 2008 to act as an ambassador.

Barcelona are opening a new office in New York, USA, to enhance their growth internationally on 6 September, which has brought about them re-signing Ronaldinho.

The Catalan giants will certainly prove to be a hit in the States if Ronaldinho is good an ambassador as he was with his feet back in his heydey at Camp Nou.
Higuain worth more than Pogba, insists Crespo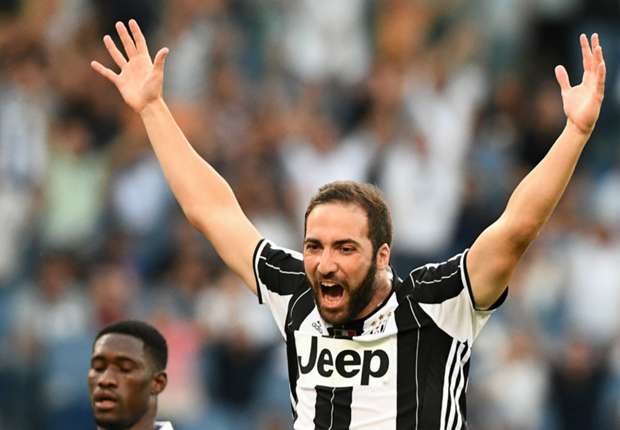 The former Chelsea and Milan striker believes Juventus signing his compatriot for €90m was more "logical" than Manchester United landing the France star for €110m

Juventus were "far more logical" to spend €90m on Gonzalo Higuain than Manchester United were to sign Paul Pogba for €110m, according to Hernan Crespo.

The Serie A giants landed Higuain from rivals Napoli in the fourth most expensive transfer in history, before going on to sell Pogba to United in the largest deal of all time.

And former Argentina international Crespo believes it made more sense for Juventus to sign his compatriot Higuain than it did for United to re-sign Pogba for a world-record fee.

"Nobody gives you anything for free, especially not in football," Crespo told La Nacion.

"If Juventus paid so much to get Higuain from Napoli, it means he's worth that money.

"In my view, it is logical to pay €90m for a striker who scored 36 goals in a single season. It's far more logical than Manchester United paying €110m for Pogba.

"I say that with all due respect for the Frenchman, who is a great midfielder."

Higuain, 28, scored 36 times in 35 league games for Napoli last season - the most goals netted in a single Serie A campaign in history.

The former Real Madrid man scored the winner in Juventus' 2-1 win over Fiorentina on the opening day of the new season, whereas Pogba has started two of United's first three Premier League games.
Messi reveals desire to play for boyhood club Newell's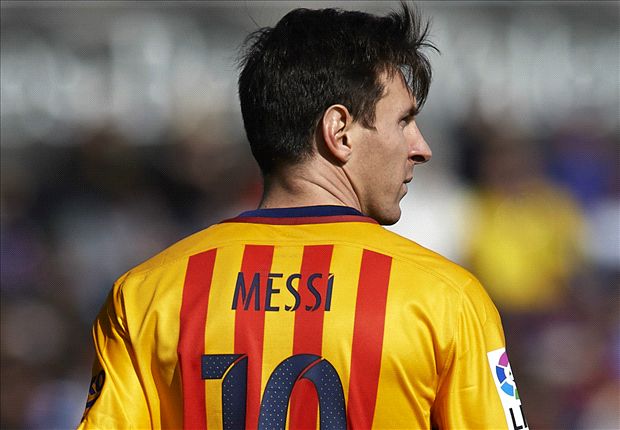 Despite previously suggesting he would end his career at Camp Nou, Argentina's has indicated a desire to play for his first team, whom he left at the age of 13

Barcelona star Lionel Messi says he wants to play for boyhood club Newell's Old Boys before the end of his career.

Messi left Newell's for Barca at the age of 13 and has gone on to become one of the greatest players of all time, winning the Ballon d'Or on five occasions.

The 29-year-old has previously indicated a desire to end his career in Catalonia, but he appeared drawn to a Newell's return during an interview with Telefe's Polemica en el Bar in his homeland.

"I would love to [return]," he said. "It is something I have kept an eye on because it was my dream as a child.

"Obviously my life started to change and went another way, but I have no regrets.

"It's something I have kept an eye on. I want to play in Argentine football and Newell's, where I grew up."

Messi recently announced his return to international football having initially said he would retire from Argentina duty following their Copa America Centenario final defeat to Chile.

"It's what I felt at that time," he added. "At that time everything collapsed around me because we all felt that was the moment, because of how the team were and how we played each game.

"We all want to win. I have been fighting with the Seleccion and my dream is to win something.

"To get so close and not make it was a huge frustration for all of us."
Lionel Messi returns to Argentina squad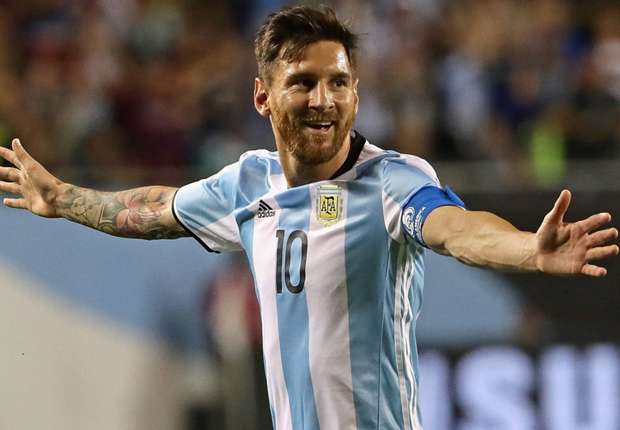 The Albiceleste captain announced he has reversed his decision to step down from international football, following a conversation with new coach Edgardo Bauza

Lionel Messi has confirmed in a statement his intention to return to the Argentina national team.

The Barcelona star made the decision to retire from international football after another heartbreaking loss in the final of the 2016 Copa America.

Having spoken with new Albiceleste boss Edgardo Bauza, Messi has now made the decision to represent his country once again.

"I see there are lots of problems in Argentine football and I do not want to create another," he explained through a statement released on Friday.

"I do not want to cause any harm, I have always tried to do the opposite and help wherever I could.

"We have to fix a lot of things in Argentine football, but I'd rather do that from the inside and not criticising from the outside."

The captain affirmed that it was his love of Argentina that had convinced him to come back for the next World Cup qualifiers after initially stepping down from the team.

"A lot of things went through my head the day of the last final and I seriously thought about quitting, but I love this country and this shirt too much," he said.

"I thank all the people who want me to keep playing with Argentina, I hope we can soon deliver them some joy."
Ronaldo in top five highest-paid celebrities in the world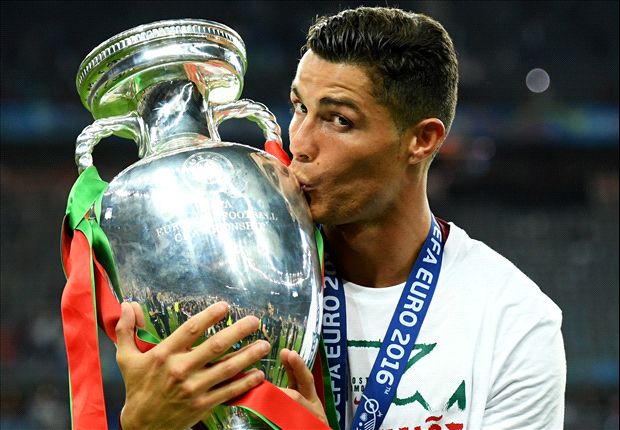 The Real Madrid and Portugal superstar currently rakes in $88m (£66.2m) in salary and sponsorship income, making him one of the wealthiest personalities on the planet

Real Madrid and Portugal star Cristiano Ronaldo is the joint-fourth highest-paid celebrity in the world, according to new figures published by Forbes.

Ronaldo, who recently helped Portugal win Euro 2016, earns a total of $88m (£66.2m) in salary and sponsorship income, putting him level with American TV star Dr. Phil McGraw.

According to the data, Ronaldo, 31, earns $55m in wages while the rest comes from his several lucrative sponsorship deals with global brands such as Nike, Tag Heuer, Sacoor Brothers suits and Monster headphones.

Ronaldo ranks above Barcelona forward Lionel Messi, who is the eighth highest-paid celebrity and second wealthiest footballer with an income of $81.5m (£61.3m).

The third richest sports celebrity is basketball icon LeBron James on $77m (£57.9m), while musician Taylor Swift ranks the highest on the list with an income of $170m (£127.9m).

British band One Direction ($110m/£82.7m) and American author James Patterson ($95m/£71.5m) are the only other two celebrities that finish higher than Ronaldo on Forbes' list.
Lionel Messi planning international retirement after Copa defeat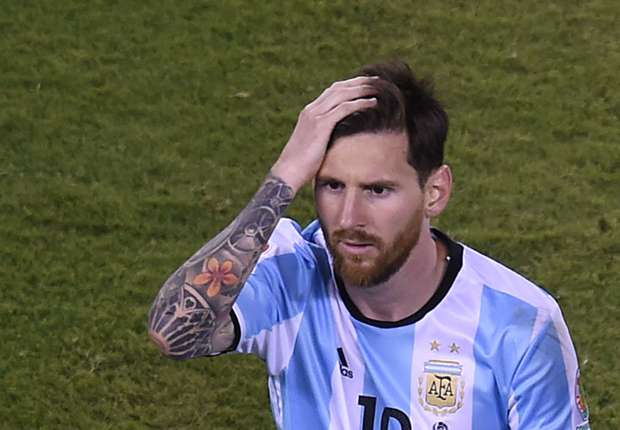 The Barcelona star says that he may not represent Argentina again after missing a penalty as the Albiceleste lost to Chile in a shootout at MetLife Stadium on Sunday

A frustrated Lionel Messi declared that he is planning to retire from international football following Argentina's loss to Chile in the Copa America Centenario final.

"The national team is over for me. That's four finals [lost]; it's not for me," Messi told reporters after losing his third final in as many years. "The decision is made, I think."

Sunday's match finished without a goal and went to a penalty shootout, with Messi missing his spot kick on the way to a 4-2 defeat.

It was the second time in as many years that Chile beat Argentina on penalties in the Copa, which itself followed the Albiceleste's loss to Germany in the World Cup final in 2014. Messi also was part of the Argentina side who lost to Brazil in the final in 2007.


Messi has been locked in a dispute with officials at the Argentine Football Association, taking his frustration to social media prior to the final, but his own performance in Sunday's final also seemed to be weighing on him after the contest.

"I feel a great sadness right now that this is happening again," he said. "I missed my penalty, which was super important. That's it."

Argentina's next matches are in World Cup qualification ahead of the 2018 tournament in Russia. Gerardo Martino's men sit third in the CONMEBOL pool after six matches.
'What a disaster' - Messi hits out at Argentina Federation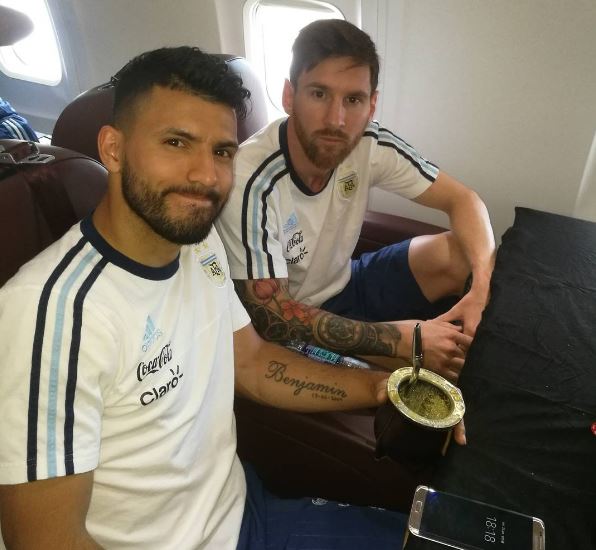 The Barcelona star vented his frustrations about the Argentine Football Association (AFA) on Instagram as his side prepare for the Copa America final against Chile

Argentina captain Lionel Messi hit out at the country's football association after the team's flight to New Jersey was delayed.

Messi was less than impressed with the Argentine Football Association (AFA) on Thursday, with the flight from Houston grounded ahead of Sunday's Copa America Centenario final against Chile in New Jersey.

Argentina's new all-time leading goalscorer after netting his 55th international goal in the 4-0 semi-final win over the United States, Messi took to Instagram to vent his frustration.

"Once again waiting on a plane to leave for our destination," Messi wrote.

"What a disaster the AFA are. My god!"

Messi's Instagram post drew a response from the AFA, who released a statement, which read: "The Argentine Football Federation informs that the flight which is transporting the national team to New Jersey suffered a delayed departure due to weather issues.

"Also, the AFA advises that all of the scheduled times of the transfers are designated by the organisers of the Copa America Centenario."
'Ronaldinho was more gifted than Messi or Ronaldo' - Deco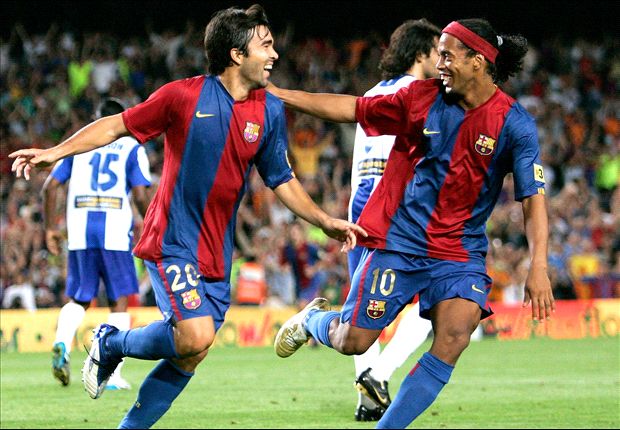 The ex-Portugal international enjoyed success at Barcelona with the Brazilian and believes he did not have to work as hard as the modern greats to play at such a high level

Former Barcelona midfielder Deco believes Ronaldinho was far more naturally gifted with a football than either Lionel Messi or Cristiano Ronaldo.

Ex-Portugal international Deco played alongside Ronaldinho during his time at Camp Nou before both left the club in 2008 having won two Liga titles and the Champions League in 2006.

And Deco feels the Brazilian World Cup winner's ability with the ball at his feet surpasses that of the mordern greats, though he concedes both Messi and Ronaldo have used their other strengths to become the world's best.

"Cristiano was young and athletic, very competitive," he said in his role as a pundit for Sony Six. "Messi worked hard to do what he can do with a football now at Barcelona.

"Ronaldinho was a natural with special ability. Whenever we gave the ball to him, the moves and goals were from a different world. He was far more gifted than Leo or Cristiano.
Justin Bieber invites Neymar for kick-about in back garden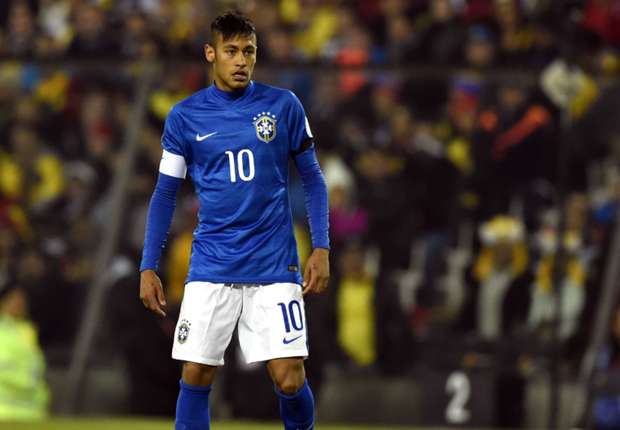 The Brazil international was invited to the Canadian singer's home recently, with the pop star impressing as the pair kept the ball in the air for over 30 seconds

With two months to go until the Olympic Games in Rio de Janeiro, Brazil star Neymar can be forgiven for unwinding after a hectic club campaign.

The Barcelona man's not completely stopped playing football, though, with Justin Bieber inviting him for a kick-about in his back garden.

The Canadian singer surprisingly held his own as the pair kept the ball in the air for as long as possible, with Bieber using his feet, head and shoulder to continue the sequence.

Neymar, meanwhile, looks effortless as he brings every pass under instant control.
Ronaldo returns to Real Madrid training ahead of Manchester City clash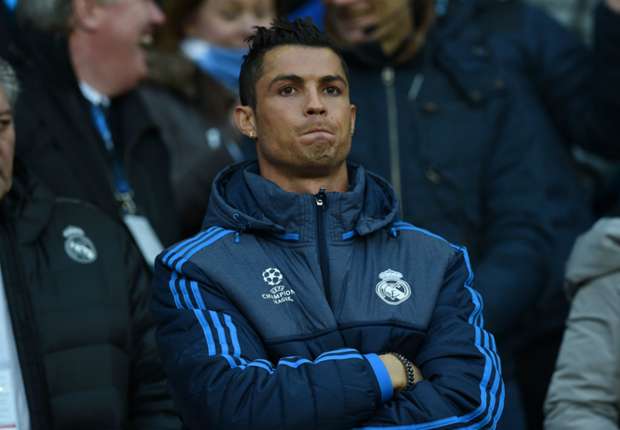 The Portuguese star has given Zinedine Zidane's side a boost ahead of the game at the Bernabeu on Wednesday as he steps up his recovery from a hamstring problem

Cristiano Ronaldo has returned to Real Madrid training as he battles to be fit in time for his side's Champions League semi-final second leg against Manchester City.

The Portuguese star has missed Madrid's last three games due to a hamstring injury but has taken to social media in recent days to show he is working hard to regain his fitness.

Zinedine Zidane admitted prior to Saturday's 1-0 win over Real Sociedad that both Ronaldo and Karim Benzema were doubts for the clash with the tie delicately balanced at 0-0 after the first leg at the Etihad.

However, Real Madrid have now confirmed that Ronaldo, who is the top scorer in this season's Champions League with 16 goals already, is back in training as they begin their preparations for the clash at the Bernabeu.
Neymar buys jet for $9.1 million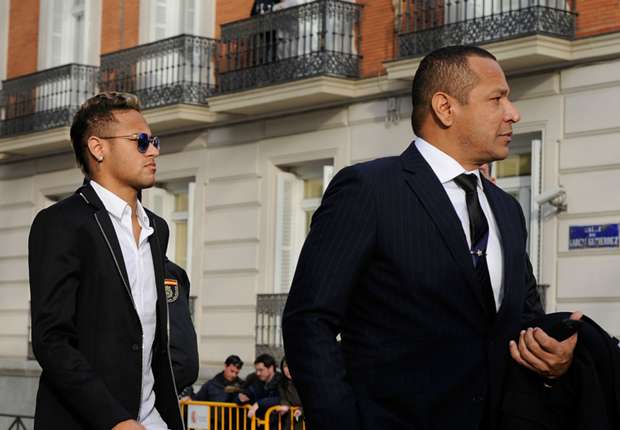 Barcelona forward Neymar spent $9.1 million (£6.2 million) on a new jet last year, according to Brazilian newspaper O Globo, meaning that his goalscoring statistics are not the only thing taking off!

A document shows that the Brazil international purchased the Cessna 680 aircraft in August 2015 through his company Neymar Sport and Marketing.

The business jet can carry up to 12 passengers, has a maximum range of 3,190 miles and can cruise at a speed of 890 kilometres per hour.

As part of an investigation into Neymar's tax affairs, the former Santos man had £32 million worth of assets frozen in February, including a yacht and another jet owned by the 24-year-old.

Barcelona forward Neymar spent $9.1 million (£6.2 million) on a new jet last year, according to Brazilian newspaper O Globo, meaning that his goalscoring statistics are not the only thing taking off!

A document shows that the Brazil international purchased the Cessna 680 aircraft in August 2015 through his company Neymar Sport and Marketing.

The business jet can carry up to 12 passengers, has a maximum range of 3,190 miles and can cruise at a speed of 890 kilometres per hour.

As part of an investigation into Neymar's tax affairs, the former Santos man had £32 million worth of assets frozen in February, including a yacht and another jet owned by the 24-year-old.


That won't stop Neymar getting around, though, with his shiny new plane still available to use and even having space for Luis Enrique and the Barcelona starting line-up.
Ronaldo caught watching a video of HIMSELF on Real Madrid's bench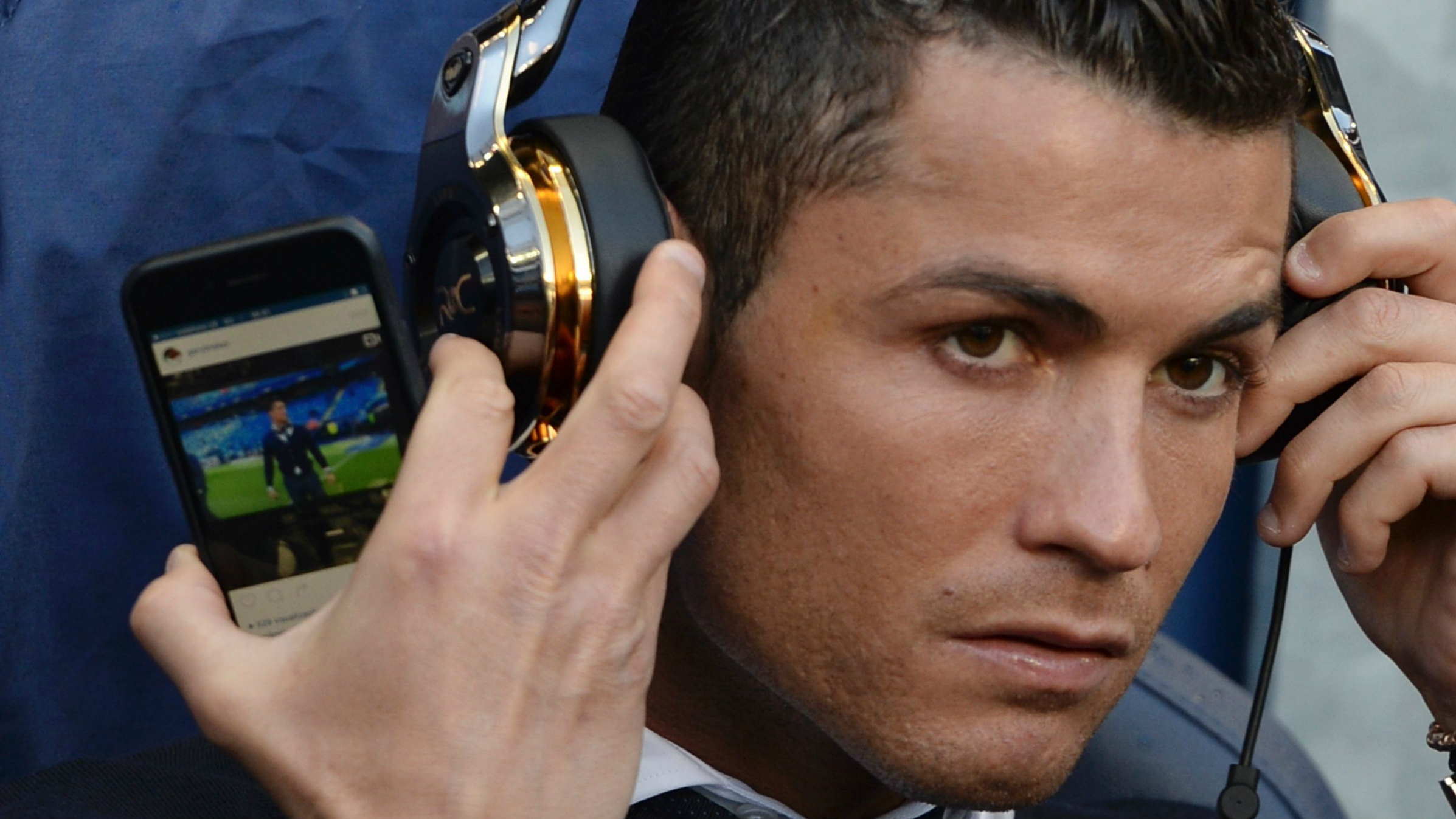 The Portugal star missed Tuesday's clash through injury, but passed the time on the bench before the game by checking out Gary Lineker's Instagram

Cristiano Ronaldo cut a forlorn figure on Tuesday evening after it was revealed that he would miss the Champions League clash due to injury.

But bizarrely, Ronaldo's way of passing the time before the game was to have a flick through Instagram.

And a video that seemed to take his fancy was one of himself from earlier that evening, which was posted on Gary Lineker.

Ronaldo missed the goalless stalemate but is expected to be fit for the return fixture next week.

Owen Hargreaves, a former team-mate of Ronaldo at Manchester United, met the Madrid star before the match and claimed that he would've played it it were the Champions League final.

"I hadn't seen him for quite some time and he looked a little bit disappointed sitting on the bench there just waiting," Hargreaves told BT Sport.

"We had a quick chat and I think he was quite upset with the fact he wasn't able to play.
'Never give up and be positive' - Ronaldo rallies Madrid team-mates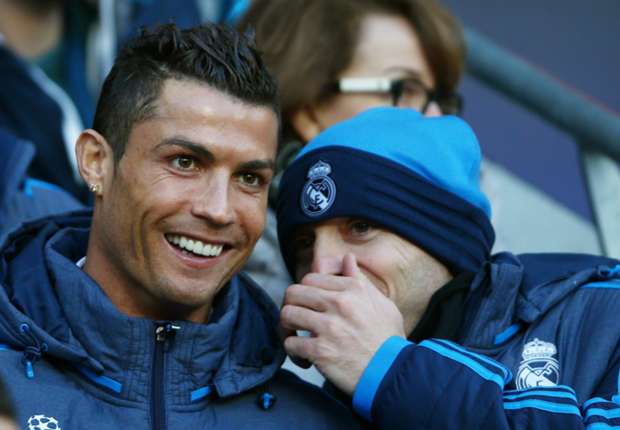 The Portugal star is carrying a thigh injury that may yet see him sit out another weeks, but he has offered his team-mates an optimistic message

Cristiano Ronaldo was keen to spread positivity around the Real Madrid camp after he sat out Tuesday's Champions League semi-final first-leg 0-0 draw at Manchester City.

Shorn of Ronaldo, before losing the half-fit Karim Benzema at half-time, Madrid were unable to secure a precious away goal as City goalkeeper Joe Hart made a flurry of stunning late saves at the Etihad Stadium.

Ronaldo has now missed Madrid's last two games with a hamstring injury.

He was quoted by AS before the game: "The strain is still there. I'll wait for the next game. If it was a final, I'd give it a try."

Madrid head coach Zinedine Zidane refused to give assurances over Ronaldo's fitness status for next week's second leg at Santiago Bernabeu.

But Ronaldo's message of "Never give up and be positive", posted on Instagram after the match can be viewed as a rallying cry to his colleagues, or a suggestion of his own determination to play the home leg.

Madrid director Emilio Butragueno preached patience with the Portugal star, suggesting it made more sense to have their star man fit for the second leg and a late-season title charge in La Liga.

He told reporters: "There are two legs so we're going to be prudent.
Mourinho: Messi makes winning easier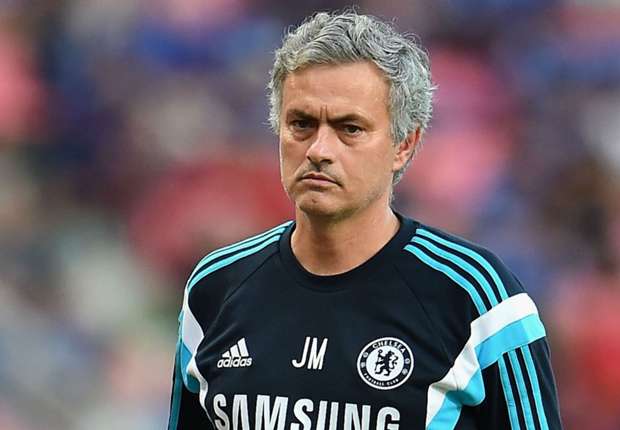 The former Chelsea boss claims the Argentine's brilliance is usually the difference but is adamant that a team's mentality prevails

Jose Mourinho has no doubt winning matches is easier with Barcelona superstar Lionel Messi in a team, but insists a team's mentality takes precedence over any individual player.

Five-time Ballon d'Or winner Messi has won a staggering 26 trophies during his senior career with Barca, including four Champions League titles.

The Catalan giants are on course to reach the quarter-finals of the Europe's premier club competition for the ninth straight season, heading into their last-16 second leg against Arsenal at Camp Nou on Wednesday with a 2-0 aggregate advantage.

Mourinho believes Messi, who scored both goals in the first leg at the Emirates Stadium, will likely prove the difference maker as Barca look to become the first side to successfully defend the Champions League trophy.

"First of all it's about individual players. Just to give you an example, Messi won the Champions League with three different managers," he said in an interview with BT Sport.

"I think it's easier to win with him, than against him. I am a football manager. I know that sometimes people think that the individual is more important than the team.

"But when I feel that it is time for me to take a permanent holiday - I still think that the team is more important than anything.

"But the obvious reality is that there are some players who can make a difference."

Mourinho has been without a club since he left Chelsea in December and hopes to return to work ahead of next season.

"Yes I was lucky enough to have good options since I left Chelsea in December – not just options but good options," the Portuguese added.
Messi sets new Champions League record against Arsenal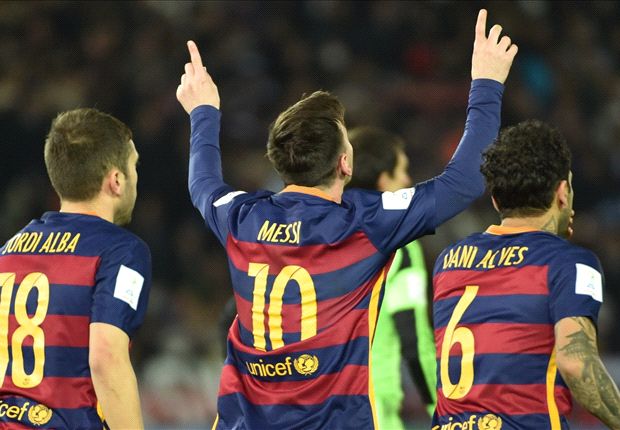 The Argentine has now scored nine goals against the Gunners as his fine finish rounded off a 3-1 win at Camp Nou on Wednesday evening

Another game and another record set by Lionel Messi - this time at the expense of Arsenal.

The Argentine capped off a 3-1 victory on Wednesday evening with a stunning scooped finish from close range, although the goal of the night was Luis Suarez's sublime effort to put Barcelona 2-1 up.

But Messi's goal was his ninth against Arsenal in the Champions League - and no other player in the competition's history has scored more against a single opponent.

Messi: I respect Ronaldo, but nothing more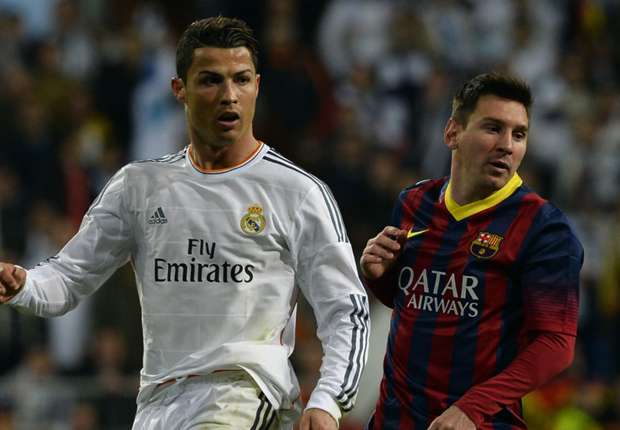 The Barcelona star insists there is a mutual respect between himself and his Real Madrid counterpart, but admits that he does not count the Portuguese as a friend

Barcelona star Lionel Messi insists there is a mutual respect between himself and Real Madrid's Cristiano Ronaldo, but admits their relationship does not go beyond that.

Messi and Ronaldo are widely considered the best players of the modern era, with the debate over which of the two is the greatest splitting players, pundits and fans alike.
Wenger: You have to win everything to make Arsenal fans happy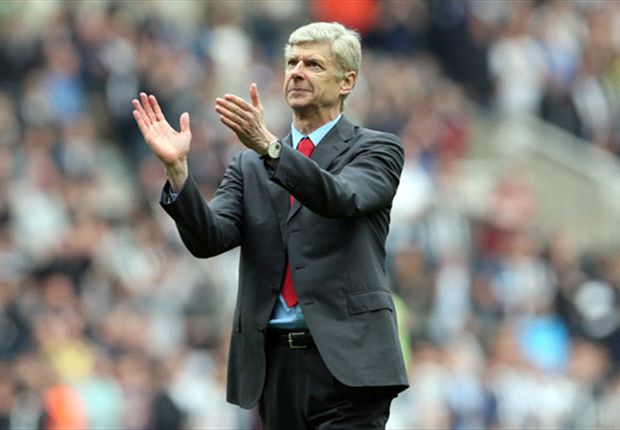 The French manager says he can live with the expectations of the Gunners fans ahead of their FA Cup quarter-final encounter with Watford on Sunday

Arsenal fans' unrelenting thirst for success is difficult to quench, according to manager Arsene Wenger, claiming his team's accomplishments are "never enough".

The Gunners sit third in the Premier League, have reached the Round of 16 in the Champions League and are in line to claim a potential third successive FA Cup triumph.

However, despite the team's positive results this term, Wenger remains increasingly likely to end his long-term tenure as boss on a whimper, with supporters unhappy with the club's domestic form.

"It's never enough," Wenger told reporters ahead of Arsenal's FA Cup quarter-final tie with Watford. "As long as you don't win everything, it's never enough.

"When we didn't win anything, they said, 'You didn't even win the FA Cup'. People always wants more.

"But, if you look at the history of Arsenal, we are a club who's won the cup more than anybody else. We've won it 12 times. And I have won it six times with my team."

Wenger understands the expectations of modern day supporters and says he will continue to strive for success in all competitions.

He added: "We have to live with exaggerations and I can do that.

"I have an affinity with Wembley. When you are at Wembley and you see the crowd coming in red and white – it's a special day in English culture.
Messi: I respect Ronaldo, but nothing more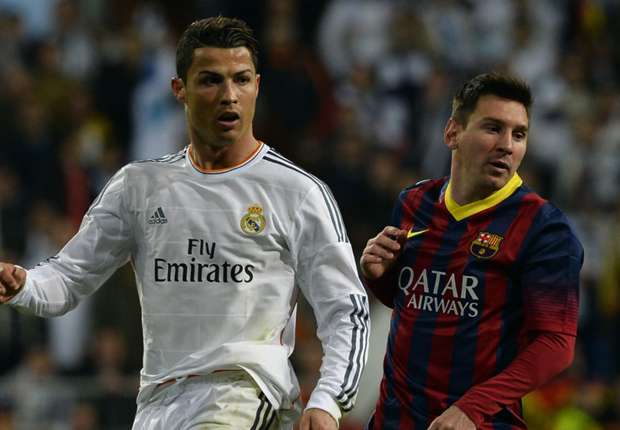 The Barcelona star insists there is a mutual respect between himself and his Real Madrid counterpart, but admits that he does not count the Portuguese as a friend

Barcelona star Lionel Messi insists there is a mutual respect between himself and Real Madrid's Cristiano Ronaldo, but admits their relationship does not go beyond that.

Messi and Ronaldo are widely considered the best players of the modern era, with the debate over which of the two is the greatest splitting players, pundits and fans alike.

No player outside the superstar duo has won the Ballon d'Or since 2007 and the battle for number one, as well as their allegiance to Spanish football's rival superpowers, has led to rumours that they dislike each other.

While Messi insists that they show respect towards one another, he stopped short of saying they have a pleasant relationship.

"We are professionals that defend our teams, and rivals in this game, nothing more than that," Messi told Argentine newspaper El Grafico.

"Sometimes it happens that we win or that we lose. There has always been respect and nothing more."

Messi counts seven La Liga titles, three Copa del Reys and four Champions League winners' medals on his incredible list of achievements with Barcelona, but is yet to taste international success, having been a losing finalist in the 2014 World Cup and 2007 and 2015 Copa Americas.

The 28-year-old has 49 international goals to his name and is closing in on Gabriel Batistuta's record of 57 for Argentina, but Messi insisted it is major honours as opposed to individual accolades that motivate him.
Barcelona vice-president slams Ronaldo comments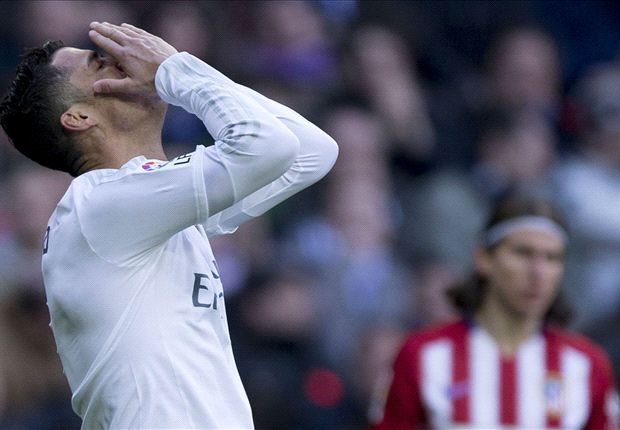 Jordi Mestre insists none of the Catalans' players would blame defeat on their team-mates as the Real Madrid star appeared to do on Saturday

Barcelona vice-president Jordi Mestre has criticised Cristiano Ronaldo for blaming Real Madrid's La Liga woes on his team-mates, claiming none of the Catalan club's players would ever do the same.

Madrid slipped to a 1-0 defeat to city rivals Atletico on Saturday thanks to a second-half strike from Antoine Griezmann.

That result, combined with Barca's 2-1 win over Sevilla on Sunday, leaves Madrid in third place, 12 points adrift of Luis Enrique's leaders.

And Ronaldo was quick to point the finger at his colleagues following their loss at the Santiago Bernabeu, saying "if everyone was at my level, perhaps we would be first".

Asked about Barca's commanding eight-point lead over Atletico at the top, Mestre added: "La Liga is not won at the end of February. That's not a cliche, it's true because we could slip up and I'm sure Real Madrid will bounce back. There are no free meals here."
Messi's wonder strike from behind the goal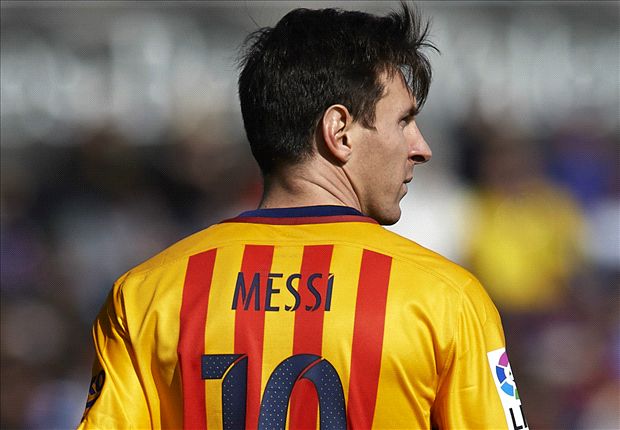 The Argentine made headlines this week with a clever penalty assist and is already showing off some new material courtesy of his famous left foot

The dust has barely settled on Lionel Messi's penalty-pass shenanigans and he's already upping his game.

Putting on a show for visiting Italian pop star Eros Ramazzotti, the Barcelona icon showed off another neat trick - this time curling one in from behind the goal!

And we thought hitting the crossbar from a corner was good.

See Messi's latest wonderful skills in the video below:

Barcelona penalty move meant for me, claims Neymar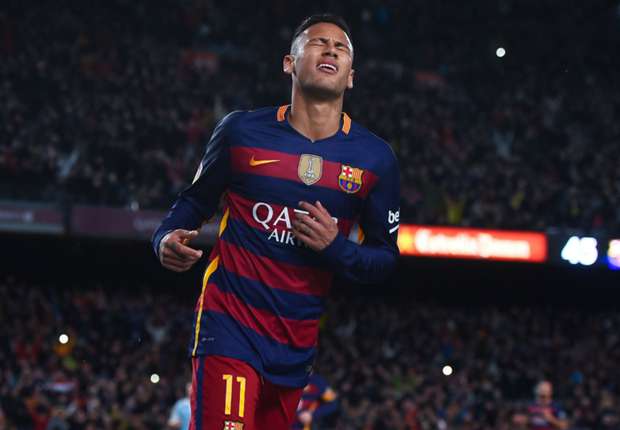 Lionel Messi passed from the spot to set Luis Suarez up for a third goal, but the Brazilian revealed that they their preparations had ended in him applying the finishing touch

The innovative penalty tactic employed by Lionel Messi and Luis Suarez in Barcelona's 6-1 win over Celta Vigo was meant to involve Neymar, according to the Brazilian.

Messi stunned the Camp Nou when he passed his penalty into Suarez's path for the Uruguayan to complete a hat-trick in the Liga rout on Sunday.

The Argentina star could have converted himself to net a 300th league goal, but drew plenty of plaudits for his inspired display, which saw him open the scoring with a wonderful free-kick.

And Neymar opened up on Barca's preparation for the set-piece, revealing that Suarez was not the one who was supposed to score.

"We trained on this penalty routine, but for me. However, Suarez was near the ball and scored." he told reporters.

"We are really happy to be unbeaten in 30 matches. We are playing in our way and we want to keep this streak going."

Neymar completed the scoring as Barca regained a three-point lead at the top of the table with a game in hand on title rivals Atletico Madrid and Real Madrid.
Ronaldo: I know why Messi took THAT penalty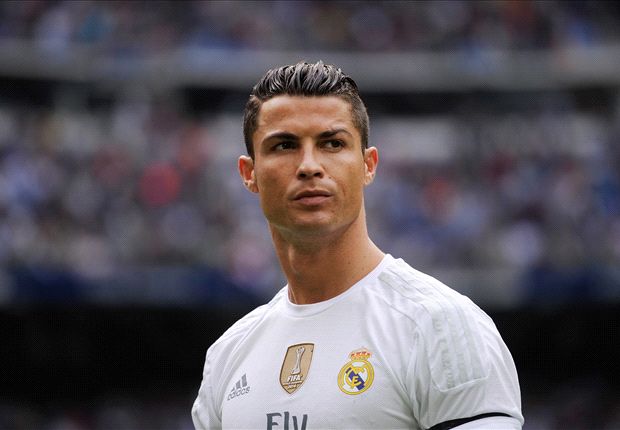 The Barcelona star has come under criticism for passing his spot kick to Luis Suarez in Sunday's 6-1 win over Celta but the Real Madrid talisman says he understands why he did it.

Real Madrid star Cristiano Ronaldo says that he understands why Lionel Messi decided to pass his penalty to Luis Suarez in Barcelona's 6-1 win against Celta Vigo.

The Barcelona star has been criticised by some for a lack of respect in passing from the penalty spot to allow his team-mate to round off his hat-trick late in the game.

Ronaldo, though, says that he knows why the Argentine opted for such a rare tactic in their trouncing of their opponents.

"Messi's penalty? I know why he did it but I don't have more to add," Ronaldo told reporters ahead of the first leg of his side's Champions League last-16 tie against Roma.

And while the Portuguese superstar did not go so far as to praise his Barca counterpart and perennial Ballon d'Or rival, he admits an admiration for Roma icon Francesco Totti.

"Totti is amazing, a reference for every player, and he has shown that age isn't important in football," Ronaldo enthused. "He is good for football, for kids and for everyone.

"This tie is as equal as Roma coach Luciano Spalletti says but, when the match starts, this can change. We will see at the end."
Ronaldo: I never spoke with Giggs, Scholes or Ferdinand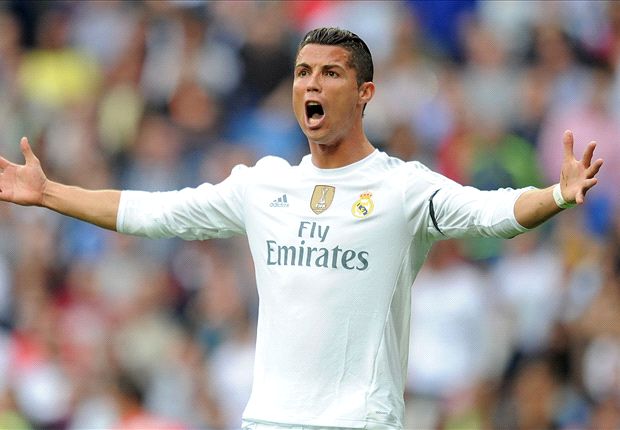 The Real Madrid star reacted angrily to suggestions that he doesn't get on with Gareth Bale and cited the Man United team of 2008 as an example of why friendships don't matter

Cristiano Ronaldo has revealed he rarely spoke to three of his former Manchester United team-mates with whom he shared some of his greatest triumphs.

The Real Madrid superstar hit out at questions relating to the strained relationship he is reported to endure with Gareth Bale and Karim Benzema ahead of the Spanish side's Champions League clash with Roma.

The 31-year-old insisted friendships off the pitch mean nothing as long as his team is winning on it and claimed he rarely spoke to the British core which played a key role in helping him win his first European title back in 2008.
Ronaldo I'm staying in Real Madrid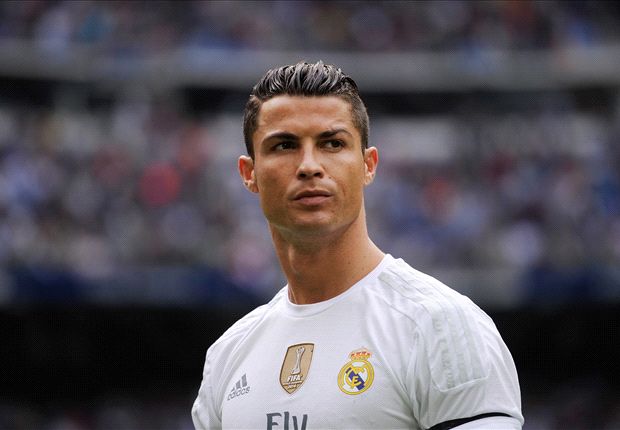 The 31-year-old has been linked with the likes of Paris Saint-Germain but is determined to see out his contract at the Santiago Bernabeu before he considers an exit

Cristiano Ronaldo has admitted he could leave Real Madrid at the end of his contract in 2018.

The Portugal international has been linked with Paris Saint-Germain and Manchester United in recent years but has repeatedly rejected speculation he could quit the Bernabeu.

However, when asked about his future as he was presented with the Pichichi prize for scoring the most goals in La Liga last season, he revealed he may not see out his career with Madrid.

"I have been in Spain six years. I was also at Manchester United for six years and that was a great experience, a great championship, but for me this is the best league in the world," Ronaldo said to Marca. "It's a privilege to be here.

"I want to be here for a couple more years and then we'll see. That's the duration of my contract and I want to give my all in that time."

The Madrid star, who was voted second in the Ballon d'Or earlier in 2016, also paid tribute to his support system at the Bernabeu as well as the club's supporters.

"I dedicate this award to the team, to the coaches, the staff and everyone at Madrid," he enthused. "Without them, I wouldn't have been able to score so many goals last season.

"Let's hope the fans keep supporting as they have been. They are spectacular. We will give everything on the pitch to try to win trophies and the Champions League once again."

Messi's kidney procedure explained as Barcelona star continues his recovery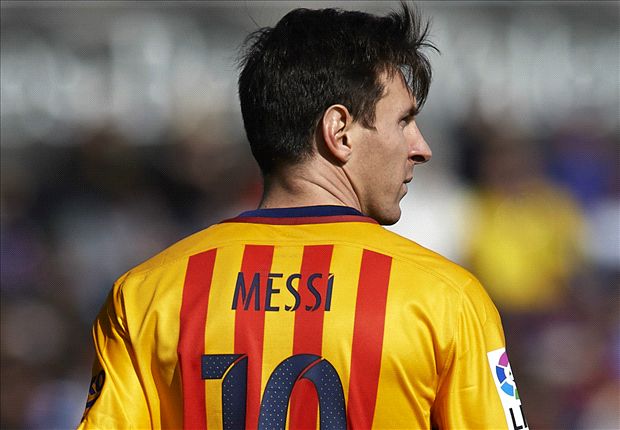 The Argentine attacker is out of hospital and resting at home in Barcelona after undergoing a procedure that is aimed at solving his renal problems

Barcelona forward Lionel Messi is out of hospital and recovering after a non-surgical procedure to cure his kidney problems, Goal has learned.

The 28-year-old first suffered a renal complication back in December during the Club World Cup and missed Barca's semi-final win over Chinese champions Guangzhou Evergrande.

The five-times Ballon d'Or winner was in hospital in Barcelona on Tuesday for a lithotripsy, an extra-corporeal treatment that typically uses ultrasound shock waves to break kidney stones into small particles that can then be passed out by the body.

The procedure does not require incision but is usually carried out under a local anaesthetic because the shock waves can be painful.

Sources close to the player have confirmed to Goal that the procedure was planned after Barca announced further tests on Monday.

The Argentine was treated on Tuesday for just under an hour and was accompanied by Barca doctors Ricard Pruna and Pepe Costa, along with his partner Antonella.

Messi is now resting at home and will play no part in Wednesday night's Copa del Rey semi-final second leg against Valencia, although Barca are already 7-0 up from the first match last week.

The player's kidney complications have continued since December, but this treatment is expected to be a success and he should be back in training with his team-mates on Wednesday.

If the problems persist, the player could undergo the treatment again in future in order to avoid surgery.
Ramos: Neymar to Real Madrid? Football is unpredictable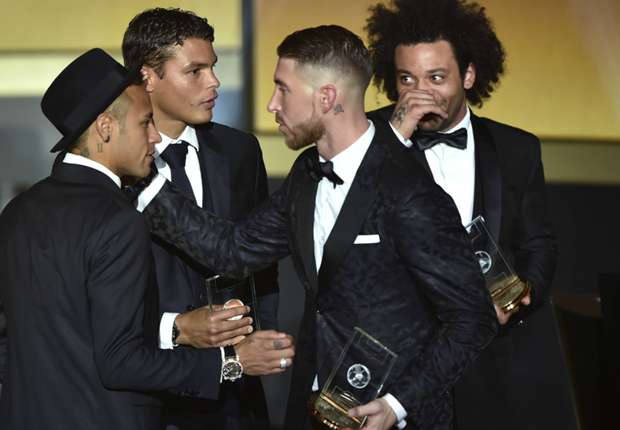 The defender has admitted he wouldn't be surprised to see the forward move to the Bernabeu in the future but ruled out ever joining Barcelona

Sergio Ramos has admitted "football is unpredictable" after being asked if he thought Neymar would ever join Real Madrid.

The former Santos man was reported to have met with a Madrid delegation ahead of the Fifa Ballon d'Or gala in Zurich.

The 23-year-old quickly denied such a meeting ever took place, while Barcelona coach Luis Enrique revealed last week that he expects Neymar to sign a new contract sooner rather than later.

That has not stopped Ramos from hailing the Brazil captain's talents, however.

"Neymar is a great player who can make the difference," the defender told reporters.

Neymar accused of tax evasion and forgery in Brazil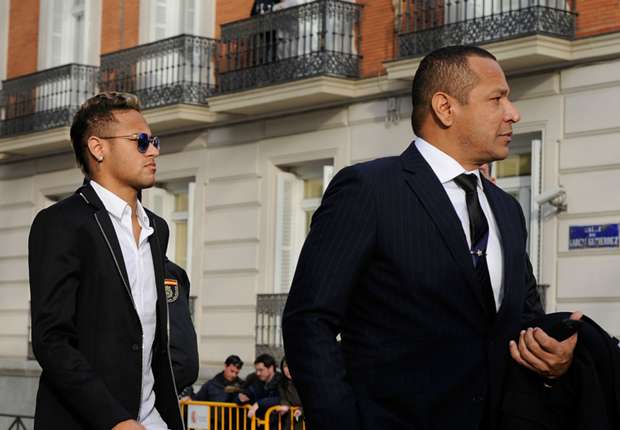 The Barcelona star faces fresh legal concerns in his homeland after Sao Paulo's state prosecution recommended he be charged

Barcelona and Brazil forward Neymar is facing accusations of tax evasion and forgery in his homeland.

Neymar, the player's father Neymar Sr, current Barcelona president Josep Maria Bartomeu and his predecessor Sandro Rosell are all accused of evading taxes and misrepresentation in order to "abolish taxes owed to the IRS of Brazil".

Brazilian state Sao Paulo's public prosecution office (MPF) confirmed that they had recommended the four men be charged by the federal court. A judge must now decide whether to take the case forward.

The prosecution's case centres around alleged fraudulent use of Neymar's image rights from as early as 2006, as well as irregularities in the Brazil captain's transfer from Santos to Barcelona in 2013.

An MPF statement claims that Neymar ought to have paid 27.5 per cent in income tax for any money received as a result of promotional work. However, as the funds were apparently redirected through companies owned by Neymar Sr, it is claimed that the rate paid was only 12.53 per cent.

A €40 million payment made in instalments by Barca to Neymar Sr's N&N Consulting company is at the centre of the Brazilian investigation into Neymar's money-spinning transfer to Camp Nou.

It is alleged that the sum, €10m of which was paid two years before the striker moved to Spain, was fraudulently listed as payment for management of image rights and scouting in South America.

Brazilian authorities froze an estimated R$188.8m (€43.4m) of Neymar and his family's assets in September last year in an attempt to reclaim money owed.

The Barcelona forward appeared in Spanish court on Tuesday to give testimony in a separate case concerning allegations of fraud brought by Brazilian investment fund DIS in relation to his transfer to Spain three years ago.
Ronaldo must realise he is not the boss at Real Madrid - Luxemburgo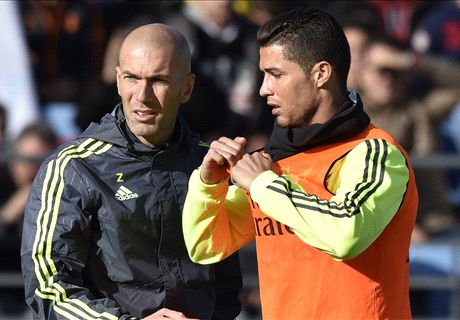 The former coach of the Spanish side says the club will have a problem if their star man attempts to over exert his influence on new boss Zinedine Zidane

Cristiano Ronaldo has to realise he is not the boss at Real Madrid following the appointment of Zinedine Zidane as the club's new coach, Vanderlei Luxemburgo insists.

Zidane was confirmed as Rafa Benitez's replacement on Monday after the Spaniard was sacked less than seven months into a three-year deal, amid rumours of disputes with key players including the Portuguese star.

Former Blancos boss Luxemburgo, though, has told Madrid's talisman that he must not attempt to over exert his influence in the dressing room.

"Zinedine Zidane was a leader in the dressing room when he was a player," he said.

"Cristiano Ronaldo will have to understand that there will be a person with leadership and great knowledge of football in there.

"The dressing room belongs to a player up to a certain point but then it belongs to a coach.

"If Ronaldo thinks he's the coach it will be difficult. He has to understand he's a player and not a coach. Zidane is a coach. If you can make that clear - it doesn't matter if it's Ronaldo or Messi.

"At Barcelona, Messi is a great example. Under Guardiola he was just a player. With Neymar, he's just a player.
Twitter goes wild over Ballon d'Or winner 'reveal'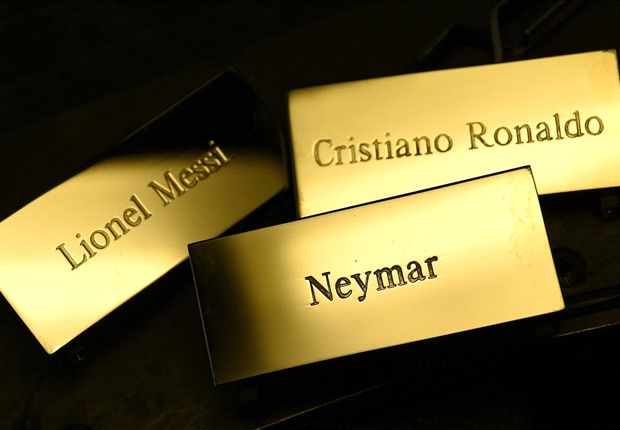 It is being claimed that Fifa have inadvertently let slip that Lionel Messi has won the prize, though football's governing body insist it is just a rehash of an old hoax

Social media has been abuzz with the claim that Fifa have accidentally revealed the Ballon d'Or winner five days before the announcement, with Lionel Messi's name attached to a rather official looking document.

The news originated from a tweet from Dutch journalist Michael Abbink, who writes for NU Sport, who appeared to have discovered a press release proclaiming Messi as the winner (and Germany's Celia Sasic as the Women's World Player of the Year).

Fortunately for fans of Cristiano Ronaldo and Neymar, however, the leak appears to have been a false alarm, with the document in question circulating as far back as November 2015.

The "announcement" was first picked up by Voetbal Primeur, who claimed it was a leaked document from European Sports Media (ESM) who regularly organise award ceremonies.

But ESM later removed the image from their website, and released a statement explaining: "Due to a technical problem at transmission, Lionel Messi and Celia Sasic were listed as FIFA Ballon d'Or winners 2015.

"Actually, they won the awards UEFA Best Player in Europe 2015 resp. UEFA Best Women's Player in Europe 2015. We apologize for this mistake."

Fifa have since confirmed that no leak has occurred, describing the latest claims as rehashes of the article from November, meaning you will have to wait until January 11 to find out who the winner is.
Zidane tells Manchester United & PSG they have NO hope of signing Ronaldo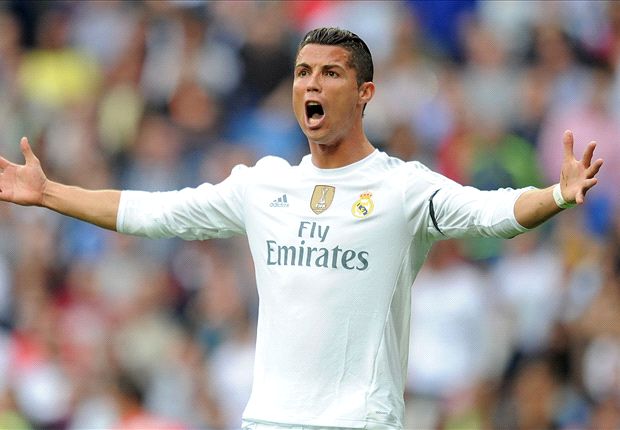 The World Cup winner insists the forward is the "soul" of his side and says the Portugal international will be played in his most comfortable position

Zinedine Zidane has told Manchester United and Paris Saint-Germain that they have no chance of signing Cristiano Ronaldo from Real Madrid.

Both United and PSG have been monitoring Ronaldo's situation at Madrid amid reports that he was unhappy during Rafa Benitez's reign.

But Zidane, who replaced Rafa Benitez as manager after the Spaniard's sacking on Monday, insists the Portugal international is the "soul" in his Madrid side.

"Cristiano Ronaldo is non-transferable," Zidane said at his press conference on Friday.

"He's the soul of this team. While he's here, he won't leave.

"Cristiano will play on the wings, how he's most comfortable. I won't tell him much. I want him to be happy."

Zidane revealed he has offered private words of encouragement to compatriot Benzema but feels there is not much that needs to be said when it comes to Ronaldo.

"I have said to Benzema in private: 'my God, you have some quality!'" he said.

"Cristiano will play on the wing. I'm going to say few things to Cristiano, I only want him to be happy.

"A player can always improve, be he 20 or 34, and I want to help them improve.

"It's difficult to know which player has impressed me the most. We have tremendous quality, I can't single out just one player. It's a pleasure for me to see them play."

Zidane also believes he has held the respect of the dressing-room since his spell as Carlo Ancelotti's assistant coach during the 2013-14 season and is not harbouring any concerns ahead of Saturday's match.

"I'm convinced that everything will go well," he added. "Nothing is worrying me at the moment. I'll sleep very well tonight because training was spectacular.

"I want the full support of the fans and I want to bring them joy. I want the Bernabeu fans to enjoy their team.
How Messi made history in the Club World Cup final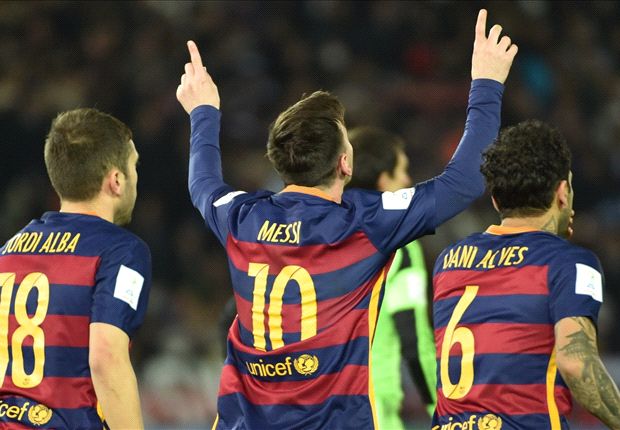 The Argentine was on target in the Club World Cup final on Sunday and it proved to be a significant goal for the Barcelona star, as his side triumphed over River Plate

Lionel Messi just keeps breaking records! The Argentine returned to the starting XI for the Club World Cup final and, having missed the semi-final victory over Guangzhou Evergrande, he made his mark in the win over River Plate.

The 28-year-old slotted home Neymar's knock-down to score the opening goal of the match, a strike that didn't just help Barca on their way to securing their fifth trophy of 2015, but also set a new record for the competition.
Argentine fans SPIT at Messi as Barcelona team-mates step in to defend him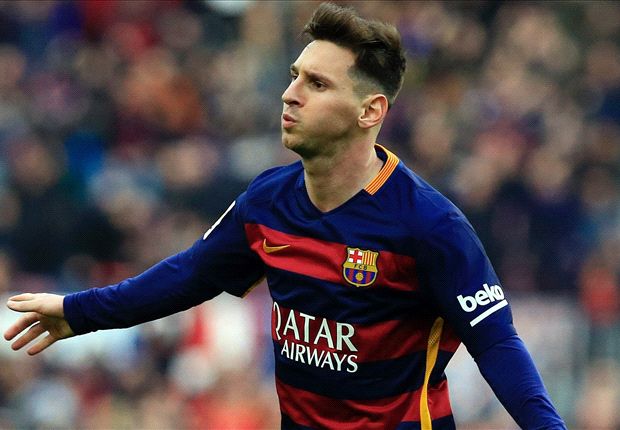 Lionel Messi was spat at by angry River Plate fans as Barcelona made their way home from the Club World Cup final, with team-mates forced to hold back the Argentine star.

The 28-year-old, who has endured a rather fraught relationship with fans of la Albiceleste in recent years, had earlier scored in the 3-0 victory over River in the final in Yokohama to send his countrymen packing.

Barcelona were at Tokyo's Narita airport ready to fly back to Spain with their latest trophy when the incident occurred at passport control, with a brief scuffle breaking out.

Reports suggest River fans began shouting abuse at Messi as the Barca team headed through the security gate, with one even spitting at the forward, who had to be held back by Javier Mascherano and manager Luis Enrique.

One of Messi's best friends in the Barca squad, Luis Suarez, was also seen calming down Messi, who had tried to confront the angry fans.

The situation was cooled by a combination of Barcelona officials and the intervention of Mascherano and Luis Enrique, though it will have done little to improve Messi's relationship with supporters from his home nation.

The fracas was witnessed by media and fans looking to take pictures with the Barca stars, while River directors who were nearby immediately condemned the behaviour of the fans to Argentine media.

Barcelona picked up their fifth trophy of the year with the comprehensive win over River on Sunday, with Messi opening the scoring before Luis Suarez netted twice more – the Uruguayan ended the tournament with five goals and the Golden Ball award.

The Catalan club do not play again until December 30, when they face Real Betis, and remain top of the Liga table after Atletico Madrid surprisingly lost 1-0 to Malaga.
Real Madrid fans boo Ronaldo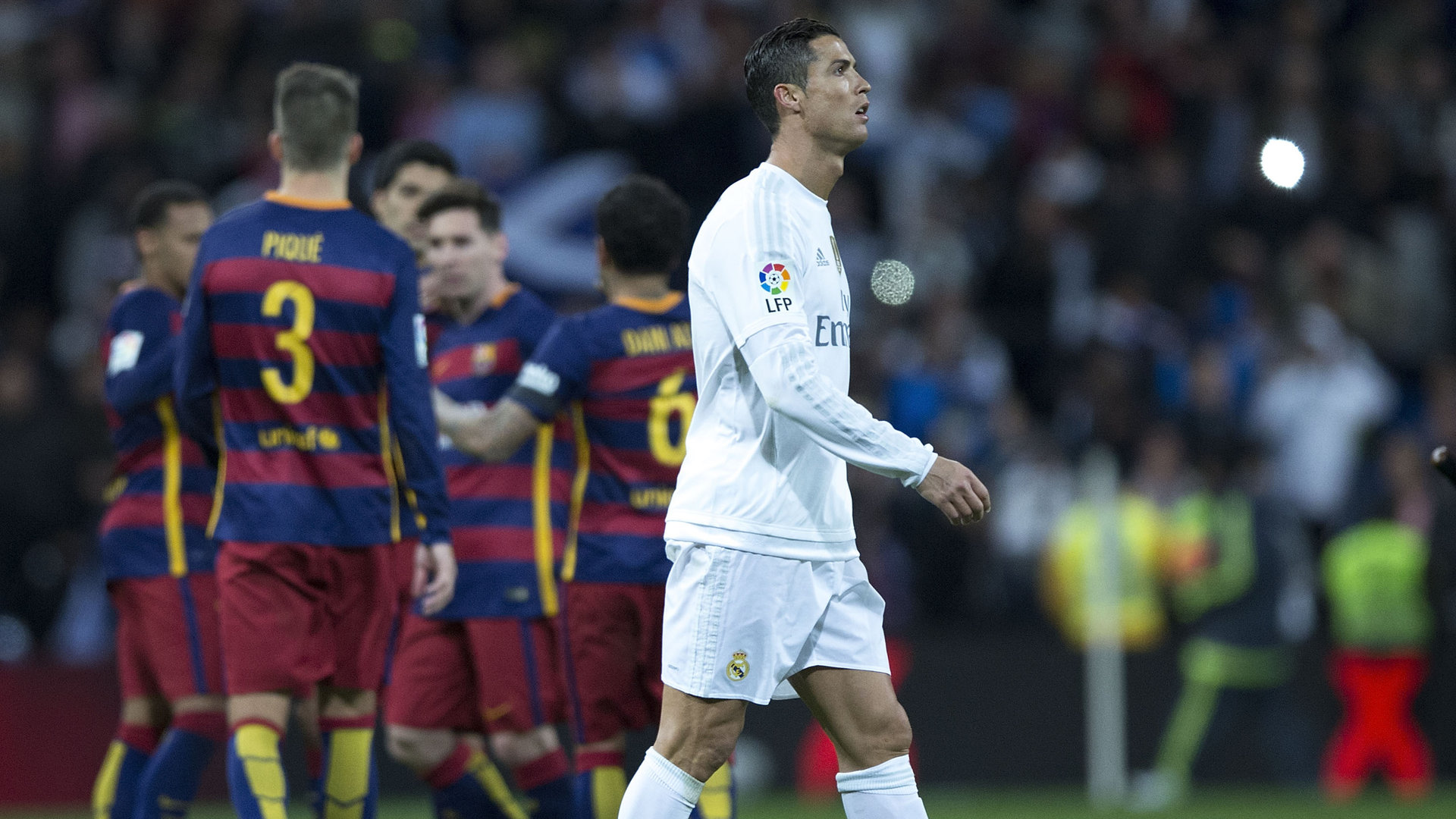 The Portugal international's performance in the Blancos 4-0 thrashing at home to Barcelona was bad enough to trigger widespread jeering from his own supporters

Real Madrid fans have vented their anger at Cristiano Ronaldo after watching their side sink to a crushing 4-0 defeat by Barcelona on Saturday at the Santiago Bernabeu.

Ronaldo was powerless to prevent Luis Enrique's side moving six points clear at the top of La Liga thanks to a double from Luis Suarez and goals from Neymar and Andres Iniesta.

The white handkerchiefs were out in force at the final whistle with Rafa Benitez now under increasing pressure having been forced to deny rumours of a rift between himself and key players including Ronaldo, Sergio Ramos and James Rodriguez in the build-up to his first Clasico as Real Madrid coach.

Ronaldo was certainly not the sole person to blame for a shambolic display at home to the European champions, but many of the jeers from Blancos supporters were directed towards him nonetheless.

The Ballon d'Or holder has not scored in his last three games and frustration at his performances have grown in the Spanish capital recently, despite bagging 13 goals so far this season.

Alves tells Ronaldo: You must accept the flak!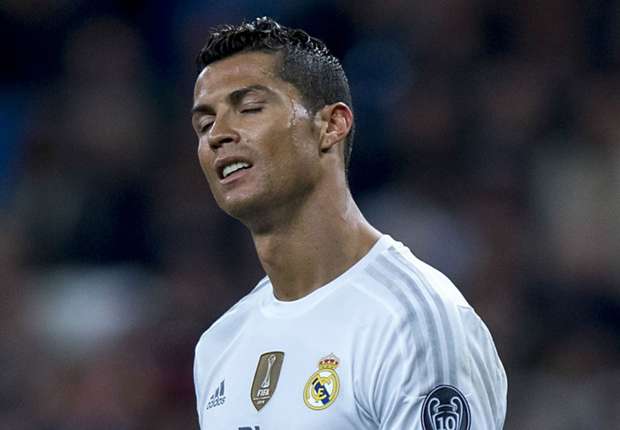 The Brazilian says the Real Madrid ace just has to deal with the criticism coming his way given he so willingly puts himself in the limelight

Barcelona full-back Dani Alves says Cristiano Ronaldo should expect to take most of the blame for Real Madrid's Clasico humiliation.

Barca cruised to a 4-0 success at the Santiago Bernabeu on Saturday, piling the pressure on coach Rafael Benitez, as well as president Florentino Perez and star forward Ronaldo.

But Dani Alves refused to offer any sympathy to Barca's fierce rivals, suggesting criticism comes with the territory for big-name players such as the Portuguese star.

"He's still Cristiano - a top quality player. Perhaps that's the problem," he told reporters.

"How can I say this? He's such a character, he likes to be the protagonist. If you want to be like that, when you win they speak about you and put you in the limelight but, if you lose, you must take the flak.

"If the team doesn't get things right or win it's going to be your fault.

"But we have enough to worry about ourselves without Cristiano. To be honest, I don't care what Cristiano does."
Ronaldo tips Mourinho & Chelsea to bounce back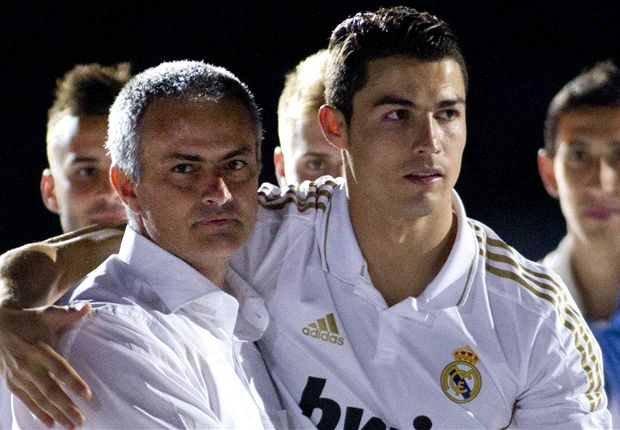 The 30-year-old has admitted that nothing surprises him in football anymore but believes his former Real Madrid manager will turn things around at Stamford Bridge

Real Madrid star Cristiano Ronaldo has backed his compatriot Jose Mourinho to bounce back from Chelsea's poor start to the season and turn the club's fortunes around.

Ronaldo played under Mourinho at the Santiago Bernabeu before his return to Stamford Bridge and hopes to see another one of Portugal's most famous exports return to title contention.

The 30-year-old has admitted, however, that after 13 years in professional football few things surprise him.

"I'm not surprised because in football anything can happen," Ronaldo told BBC Sport. "I'm not surprised.

"Of course he is a manager that I was working with for two years and I know his potential.

"I know him and Chelsea are going to pass this tough situation.

"As a Portuguese man of course I want to see the Portuguese people at the top level all the time, so this is what I wish for him - that he can go through this bad situation and make Chelsea fans happy, because I think they deserve it."
Madrid give Benzema vote of confidence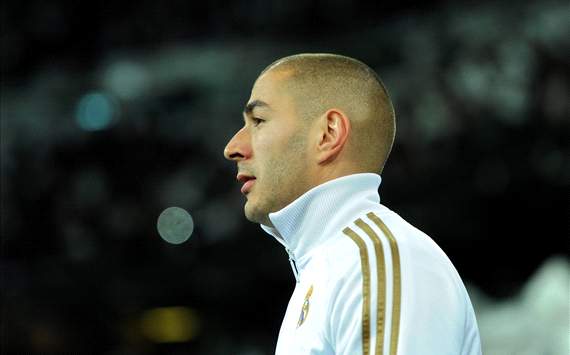 President Florentino Perez met with the striker on his return from spending a night in jail and the club are ready to back their player in the belief he can prove his innocence

A bomb went off at Real Madrid on Thursday. And this time, it had nothing to do with the results, the performance of the team, the sporting project or the club's position in La Liga or the Champions League. No, this particular matter involving Karim Benzema was much more delicate.

The French forward was charged with conspiracy to blackmail his international team-mate Mathieu Valbuena over a sex tape and spent the night in jail in Versailles after giving testimony to a judge in Paris.

Logically, that story set alarms bells ringing at Real Madrid and was the major item on the agenda for the Spanish side on Wednesday night and throughout Thursday. And Goal can confirm that the matter has caused "concern" with the powers that be at the Santiago Bernabeu. More and more so, in fact, as the full details of the story filtered through overnight.

Benzema landed in Madrid first thing on Thursday and went straight to training, where he is stepping up his recovery from injury to prepare - if possible - for this Sunday's game away to Sevilla.

There, at the club's training ground in Valdebebas, he was met by president Florentino Perez, who was eager to hear his player's version of the events of the previous 24 hours in order to gauge the severity of the media storm awaiting the club.

Following the meeting, Madrid released an official statement supporting Benzema.
"Karim Benzema restarted his training session this afternoon in the Ciudad Real Madrid after giving evidence to the French authorities in the city of Versailles," the statement read.

"President of Real Madrid, Florentino Perez, has held a meeting with the player in which he expressed his full support and confidence in the goodness of his performance and his complete innocence.

"The club acknowledge and value his professional commitment, his demonstrated partnership and his unblemished attitude within the first team during the six years that he is part of Real Madrid."
Ronaldo: I'm the best player in the world, not Messi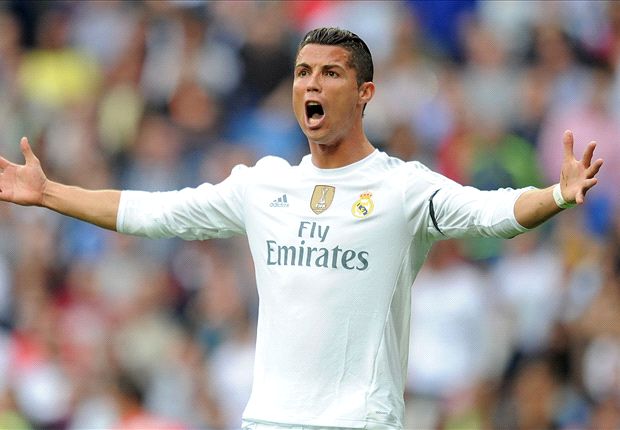 The Portugal international insists he is not bothered by his rival's achievements in 2015 and says his mentality has allowed him to become one of the world's greats

Cristiano Ronaldo believes that he is the best player in the world ahead of Lionel Messi.

The Real Madrid forward has been battling for top spot with the Barcelona star and has won the Ballon d'Or ahead of the Argentine for the past two years.

Messi heads into this year's ceremony having won the treble with Barcelona, but when asked about his rival's achievements, Ronaldo told El Pais: "It doesn't bother me.

"If you look back over my past eight years, I've always been at the peak; and that is difficult. Name me someone else who has done it? After that, being No.1 or No.2 is a matter of small details, such as if you win trophies or not.

"Perhaps for you, Messi is the best; in my head, I am the best – and everyone should think that about ourselves. That is why I have been able to achieve so much in my career.

"It was hard for me to watch Messi picking up several Ballon d'Ors. I'd be thinking, 'Why should I go to the gala?'"
Messi the only one who deserves Ballon d'Or - Matthaus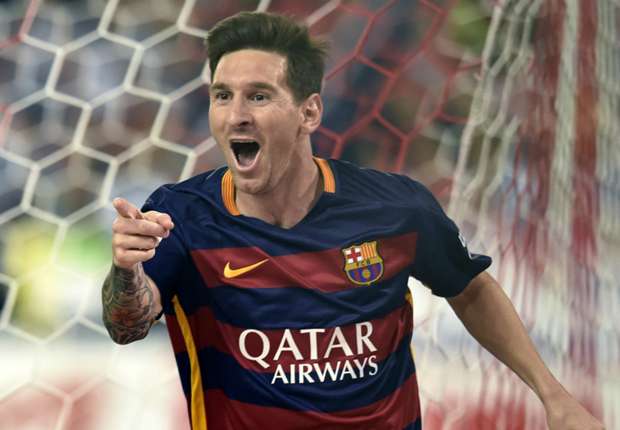 Not only did the former award winner back the Argentine to win his fifth prize, but he also believed Luis Enrique would take best coach to complete a clean sweep for Barcelona

German football idol Lothar Matthaus has thrown his weight behind Lionel Messi to win the 2015 Ballon d'Or, insisting that no-one else merits the award.

The forward helped Barcelona to an unprecedented second treble during 2014/15, and also played a key part in Argentina's run to the Copa America final this year.

And for Matthaus, Messi stands out as the sole candidate as he seeks his fifth Ballon d'Or.

"There is only one player who deserves the prize: Lionel Messi," 1990 prize-winner told Fifa's official website.

"He has returned to a wonderful level with his club, and has not just won the Champions League but also the Copa [del Rey] and Liga double. Although titles with Argentina get away from him.

"Despite everything, his goal-scoring record speaks for him, the brilliance of his performances, as well as the triumphs he has celebrated for Barca.

"He has extraordinary class and constantly shows the uniqueness of his play. It would surprise me a lot if the trophy didn't go to him."

The German also commented on the coaching award, also signalling a Barcelona man - Luis Enrique - as the favourite.

"Since this year there has not been a European Championship nor World Cup, it is natural for the focus to be more on club football and there Barcelona have been head and shoulders above the rest," he explained.
Ronaldo presented with record fourth Golden Shoe award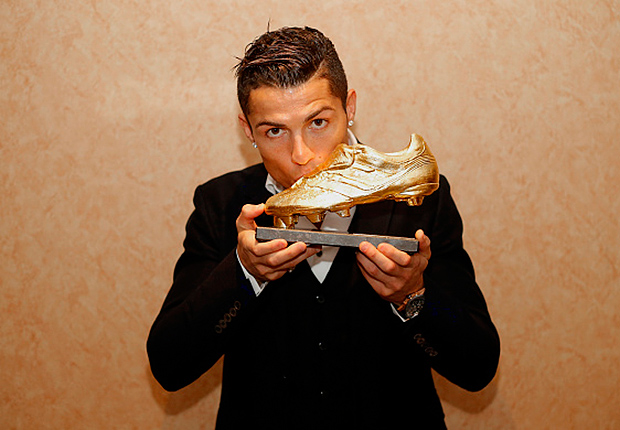 The former Manchester United forward has been presented with the prize for Europe's highest goalscorer, pipping rival Lionel Messi to the prize

Cristiano Ronaldo has been presented with a record fourth Golden Shoe award in a ceremony on Tuesday, after scoring 48 goals in the 2014-15 season.

Ronaldo collected the award, given to Europe's highest goalscorer over a season, ahead of rival Lionel Messi, as the Barcelona forward managed a total of 43 goals, two less than his La Liga counterpart.

The former Manchester United attacker has won the award on three previous occasions, twice while at current club Real Madrid and once when leading the forward line at Old Trafford.

The 30-year-old ended the last campaign without any silverware at the Santiago Bernabeu, as Messi's Barcelona swept to an impressive treble, but the Portugal captain has again been recognised for his individual goalscoring exploits.

Ronaldo's remarkable goalscoring record was recently commended by the Madrid club, with a ceremony dedicated to the forward overtaking club legend Raul as the all-time top goalscorer for Los Blancos and the latest Golden Shoe award only further recognises his achievements.
Cristiano Ronaldo will retire at Real Madrid - Ancelotti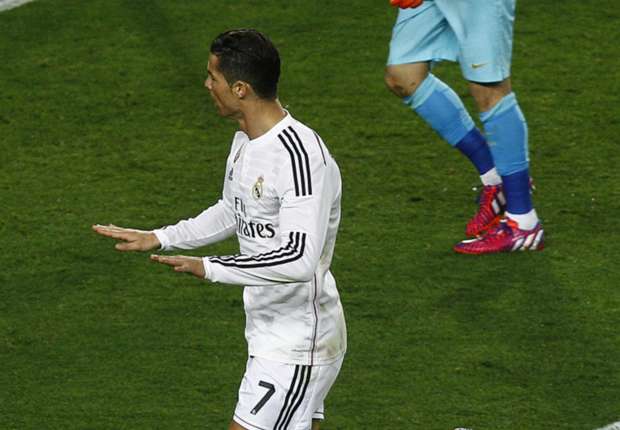 The Portuguese goalscorer has been linked with transfers to Manchester United and PSG, but his former coach at the Bernabeu believes he will not be moving

Carlo Ancelotti believes Cristiano Ronaldo is destined to stay at Real Madrid until the end of his career.

Ronaldo has a contract with Madrid until June 2018, but has recently been linked with his former club Manchester United and Paris Saint-Germain.

Nevertheless, ex-Madrid boss Ancelotti would be surprised if his former pupil were to leave the Santiago Bernabeu.

"He etched his name into the record books at Real Madrid the other day when he equaled Raul's goalscoring record," Ancelotti told Le Parisien.

"I cannot imagine him leaving Real Madrid.

"I think he will stay at Madrid until the end of his career. Everybody at the club loves him."

Ronaldo netted twice in Madrid's 2-0 Champions League win over Malmo earlier this month to equal Raul's tally of 323 goals and seems set to become Madrid's sole all-time top goalscorer after the international break.

Ancelotti also had his say on Angel Di Maria, another player he coached at Madrid and who joined Paris Saint-Germain this year after an unsuccessful season at Manchester United.

"Di Maria will help PSG progress, because he is a team player more than anything else. He is not a selfish player at all," the Italian added.

"I played him in midfield at Madrid because we needed to find a solution after Sami Khedira got injured. He did very well in midfield.

"But I do not think that is his best position. He is even better in attack. He could play on either wing and even as a centre forward."
Ronaldo in spiky rant at world's press: I am not obliged to speak!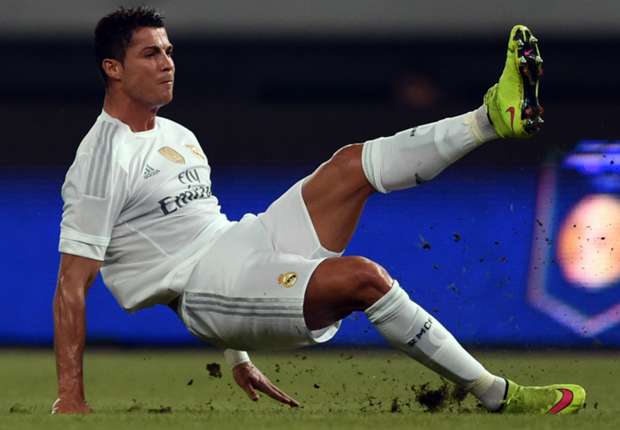 The Portugal international scored twice in Europe to take his career goal tally to a landmark figure, before turning on the press who he feels have not respected him in the past

Cristiano Ronaldo broke his own media ban to criticise the world's press after bringing up 500 career goals with a brace in Real Madrid's win over Malmo in the Champions League on Wednesday.

The 30-year-old has not spoken publicly for nearly six months after growing tired of the way his comments and personal life were often reported.

However, after bringing up even more goalscoring milestones, including moving level with Raul as Real's all-time top scorer with 323, he decided the time was right to end his silence.

"When I don't speak with the press it's because something's not going well," he explained in an interview with El Partido de las 12.

"Everyone can think what they want. I don't speak with the press more because the questions aren't good, that's why. Why do you ask about things that happened five or six months ago?

"Ask me about today, not things from a while ago. Why do I always have to speak? I am not obliged to speak. If I don't speak, another [player] does."

Ronaldo highlighted his latest goal scoring feats, claiming he never imagined he would match club legend Raul's record figure following his arrival from Manchester United in 2009.

He added: "I'm really happy to become the [joint] record goalscorer in the history of Madrid — it's not something I expected when I arrived. I am satisfied with the record and I've already spoken with Raul. He phoned to say congratulations."

Finally, the Portuguese star stated that he is content in the Spanish capital, although he refused to rule out a possible move in the future.

"I don't know what can happen, but in this moment I am fine, I am happy here," he responded to questions about one day leaving the Santiago Bernabeu.

"My relationship with the manager [Rafa Benitez] and with the president [Florentino Perez] is good. I've always got on well with both of them. I'm good here, but I don't know what can happen in the future. I don't know."
Mourinho: I'd forgotten what winning felt like!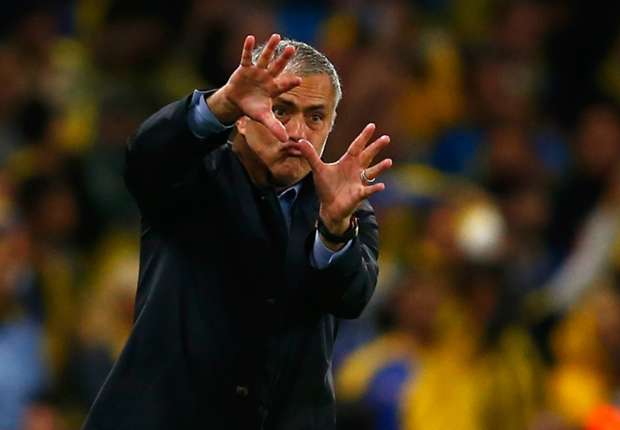 The Blues boss says a much-needed victory in the Champions League will give his side a boost ahead of Saturday's clash with Arsenal

Chelsea manager Jose Mourinho joked that he had forgotten what winning felt like after watching the Blues cruise to a 4-0 Champions League win over Maccabi Tel Aviv at Stamford Bridge.

The Premier League champions went into the clash having tasted victory just once this season, against West Brom at the Hawthorns, and having lost their last two games in a row.

Eden Hazard missed an early penalty for the Blues but goals from Willian, Oscar, Diego Costa and Cesc Fabregas gave a much-changed Chelsea side a morale-boosting victory.

"I forgot the feeling, for so long we don't win a game, so good, it's a good feeling," Mourinho told reporters.

"The penalty we missed, I think, was a big test for us because when everything goes against you, red cards, penalties, decision, luck, injuries, and you start a game you have to win and after five minutes you miss a penalty I think it's a great test of the team's character.

"I think it was good we had an extra negative so I'm happy with the performance and the result."

Chelsea now turn their attentions to Arsenal who they welcome to Stamford Bridge on Saturday and Mourinho feels victory was vital ahead of taking on the Gunners.

"I can imagine waking up tomorrow after a defeat, to train at Cobham after a defeat, two days before a derby against Arsenal, I can imagine how difficult it would be for everyone after a defeat so the victory is very important," he added.

"In the last two seasons we didn't start well at home - against Basel and Schalke - we put ourselves in a position where we have to go away and win points. In this moment, these three points, give us a good situation."

Defeats for Arsenal, Manchester United and City mean Chelsea are the only English team to taste victory in the Champions League so far this season but Mourinho says that does not make him happy.

"No I think it's sad, I think it's bad. I'm not happy with that. I want City, United, Arsenal to lose in the Premier League, I don't want them to lose in the Champions League," he explained.

"Season after season it's difficult for English teams to be successful, when you can make 12 points and you make only three it's bad news for the English game."
Pedro: Valdes gave me Van Gaal warning prior to Man Utd snub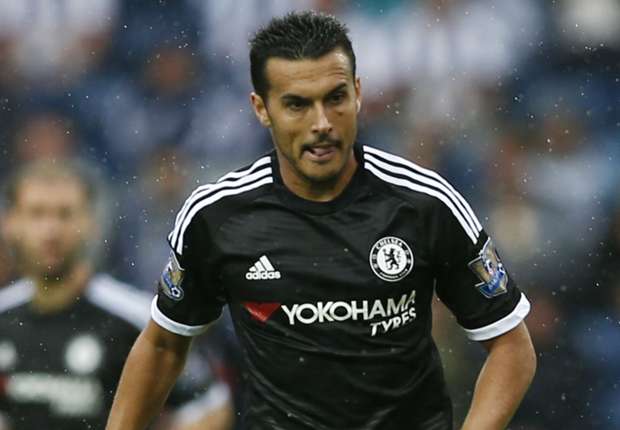 The winger has admitted his former team-mate told him his only "problem" at Old Trafford was with the coach but insists it did not influence his decision to choose Chelsea

Pedro has revealed his Spain team-mate Victor Valdes warned him of his "problem" of playing under Louis van Gaal at Manchester United before he joined Chelsea.

The winger was linked with a move to Old Trafford for much of the summer before Chelsea took advantage of their rivals' indecision by completing a late deal.

And while United goalkeeper Valdes spoke highly of the club and its supporters, Pedro admits he did not recommend life under Van Gaal.

"He told me it was a very good club with great supporters and the only problem was with the coach," Pedro told Marca.

Valdes has been left out of United's Champions League squad following the collapse of David de Gea's move to Real Madrid and Pedro believes his former Barcelona team-mate is being treated unfairly.

"It is true that I do not like the treatment of my [Spain] team-mates, especially Victor, who has been a reference for me and is a model professional," he added.

"I don't think it's fair, but that did not influence my decision [to join Chelsea].

"I just saw Man Utd wasn't convinced to take the step of signing me, they were delaying a lot and I needed a team with which to start the new season. Chelsea acted more decisively."
Messi wins Best Player in Europe award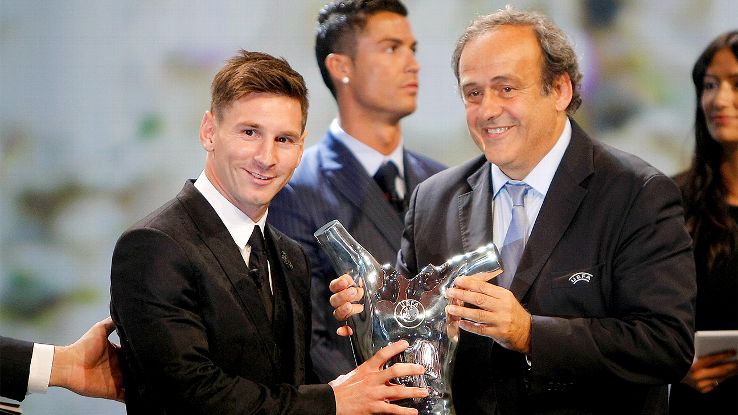 The 28-year-old has picked up his first individual award of the season after being handed the prize after the Champions League group stage draw

Lionel Messi has won the Uefa Best Player in Europe Award for the second time after beating Luis Suarez and Cristiano Ronaldo to the prize.

The 28-year-old shone in the second half of last season as he inspired Barcelona to the treble, with the club lifting the Champions League, Copa del Rey and La Liga.

He was awarded the trophy after the group stage draw for this year's Champions League and thanked his team-mates in the aftermath of the event.

"It was an incredible year for us," he said. "I don't know if there's a secret, the dressing room was united and that made for an unforgettable year.

"Thanks to my team-mates, we are all represented. I wouldn't be here if not for them and the club."

Messi finished level on goals with Real Madrid star Ronaldo and Barcelona team-mate Neymar in Europe in 2014-15 - as all three men found the back of the net 10 times.

His Champions League haul helped him to a final tally of 62 goals in 67 games in all competitions for club and country, which means he is again likely to battle it out with Ronaldo for the Ballon d'Or in January.

Messi first won the Uefa Best Player in Europe Award back in 2011 on the back of helping the Catalans win yet another European crown.
Messi wishes Pedro all the best at Chelsea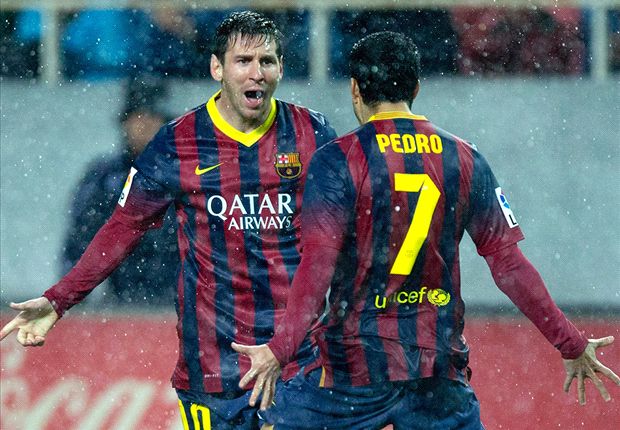 The Argentine bid his friend farewell after confirmation that the Spaniard would be ending his 11-year association with Barcelona

arcelona star Lionel Messi has wished Pedro all the best at Chelsea following the completion of the winger's €30 million transfer.

The 28-year-old ended a month-long transfer saga that saw him linked heavily with Manchester United only for Jose Mourinho's Blues to swoop in late to seal a four-year deal at Stamford Bridge.

Messi, who has spent 11 years alongside Pedro on Barcelona's books, reminded his Facebook followers of the fond times he has spent with the Spaniard and wished him well in the Premier League.

"We've shared really great moments in together over the years," the Argentine forward wrote on his official page. "Good luck in the new chapter of your life, Pedro!"

Pedro has won three Champions Leagues, five Liga titles and three Copa del Rey trophies since first linking up with the Catalans' senior squad in 2008.

The winger will go down in Camp Nou folklore for opening the scoring in their fourth European title in 2010-11, when they defeated Manchester United 3-1 at Wembley.

More recently, Pedro scored the winning, extra-time goal in Barca's 5-4 Uefa Super Cup triumph.
Mourinho key to Chelsea move, says Pedro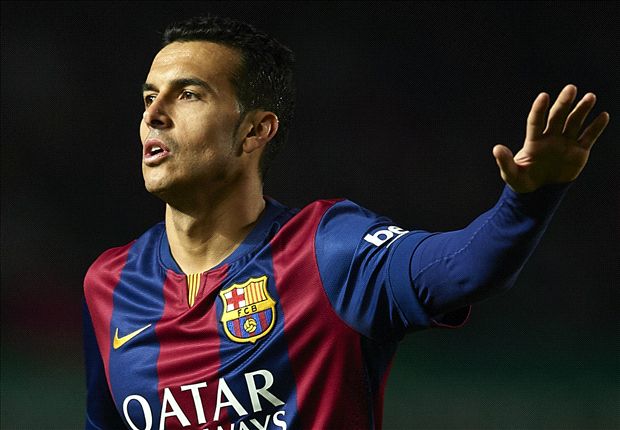 The 28-year-old moved to Stamford Bridge despite weeks of negotiations with Manchester United and now hopes to match his trophy haul at Camp Nou with his new team

Pedro says Jose Mourinho was key to his move to Chelsea having previously been close to joining Manchester United.

The 28-year-old arrived from Barcelona in a deal worth up to £21.4 million (€30m) earlier on Thursday after the Premier League champions had hijacked the Old Trafford outfit's own attempts with an 11th-hour bid.

Pedro, who won 20 trophies during seven years in the Barcelona first team, hopes to continue that success at Stamford Bridge alongside international team-mates Diego Costa, Cesc Fabregas and Cesar Azpilicueta.

"It's absolutely great to be here ... [Mourinho] is one of the main reasons why I'm here. He phoned me a few times and said he needed me to make the team stronger," he told the club's official website.

"He has won titles wherever he has been. I am really looking forward to playing under him and hopefully winning more titles.

"I spoke to Cesc. We are very good friends. I knew I would feel at home here and that was one of the main reasons why I decided to join.

"He's a great player, he's got brilliant vision and he links up really well with the other attacking players. I know we work well together on the pitch so I can't wait to play with him again.

"I have also played with Diego Costa and Cesar Azpilicueta before, for the national team, so I feel very comfortable here.

"I do everything possible to win. I have helped Barcelona win titles and I want to do exactly the same thing at Chelsea, because ultimately we are all here to win things."
Messi should have told Argentina to go to hell - Tevez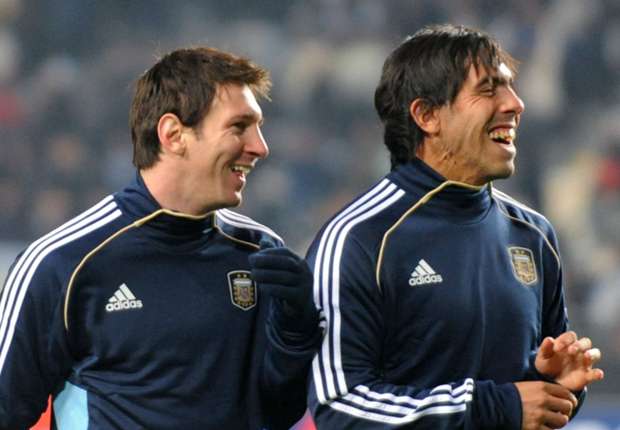 The striker says criticism of his international team-mate is over the top and praised his continued commitment to the national side

Carlos Tevez says he wouldn't play for Argentina again if he was subjected to the same criticism as Lionel Messi in his homeland.

The Barcelona star's performances for his country during this summer's Copa America were slammed by supporters, while Diego Maradona and coach Tata Martino even questioned his commitment to the national side.

However, Tevez has hit out at his critics and praised the 28-year-old for continuing to pull on the Albiceleste shirt in light of his treatment.

"If I were Messi and had to listen to the criticism he has had, I'd have told Argentina to go to hell," Tevez told television channel America. "He has to really love the Argentina shirt to keep coming back.

"You can criticise a player who didn't play well or who wasn't fit for a match but you can't say he doesn't step up or say awful things outside of football about him as they have, you just can't.

"As a journalist, you have to give a message each day. You can be in agreement or not, you can like a player or not like him, but you can't kill him like that."

Messi has broken numerous goalscoring records for Barcelona and won every major honour for his club but is yet to win a major trophy with Argentina.
Neymar reveals the toughest defenders and best goal of his career
The Barcelona forward also named the three former stars he wished he could have played alongside

Neymar has named Sergio Ramos as one of the toughest defenders he has had to face during his career.

The Barcelona star described the Real Madrid centre-back as "a great defender" when asked who he considered to be the most difficult stoppers he has played against.

Blaugrana team-mates Javier Mascherano and Gerard Pique also earned Neymar's praise, along with countryman Thiago Silva.

"It's hard to say, there are so many top defenders," he said during a Q&A session with Fifa TV. "Mascherano, Pique, Thiago Silva, Sergio Ramos - he's a great centre-back. There's a lot."

Neymar went on to highlight his goal for Santos against Flamengo - a brilliant solo run which saw him win the Fifa Puskas Award in 2011 - as the best in his career so far.

"I've already scored so many special goals that have been significant for my career, and I'll never forget any of them. But the one I'm going to choose is the goal against Flamengo, the one that won me the Puskas award," he said.

The 23-year-old named Zinedine Zidane and former strikers Romario and Ronaldo as three retired players whom he would have loved to play alongside - but it is another Brazilian forward he considers his idol.

"I always loved Robinho, ever since I was little, and I had the pleasure of playing alongside him - not just at Santos, but also with Brazil," he added.

"I'm a big fan of Romario, he's someone I'd have loved to play with. Zidane, too. I just got to play with Ronaldo once, in his very last game for Brazil, but I'd have loved to play more with him.

"I think those three are the main ones I'd have liked to play alongside."
Ronaldo & Ramos to return to Real Madrid training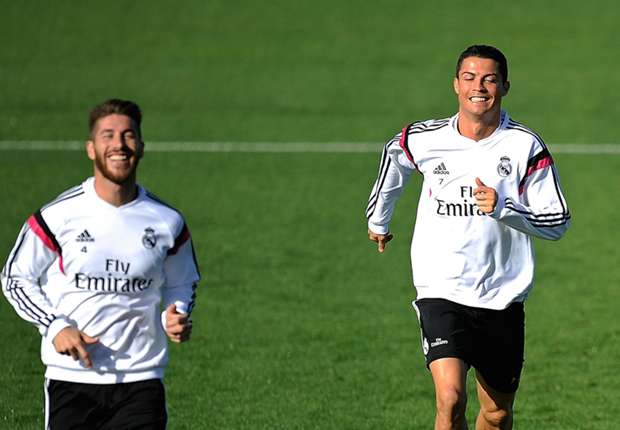 The defender and attacker have been plagued by injury problems during the summer but will be fit for the start of the new Liga season

Real Madrid duo Cristiano Ronaldo and Sergio Ramos are expected to return to full training on Tuesday, after recovering from minor injury problems.

Ramos - who is yet to sign a new contract at the Santiago Bernabeu following interest from Manchester United - missed Sunday's friendly at Valerenga due to a knock he suffered against Bayern Munich in last week's Audi Cup.

Ronaldo, meanwhile, picked up a back problem prior to the pre-season tournament in Germany, thus ruling him out of the subsequent trip to Norway.

However, neither player was viewed as a doubt for the start of Real's domestic campaign against Sporting Gijon on August 23 and both are now set to join up with their team-mates for training on Tuesday having worked on their fitness at Ciudad Real Madrid.

The pair could now feature in the Santiago Bernabeu Trophy against Galatasaray next Tuesday.
Mourinho: I'll manage for another 20 years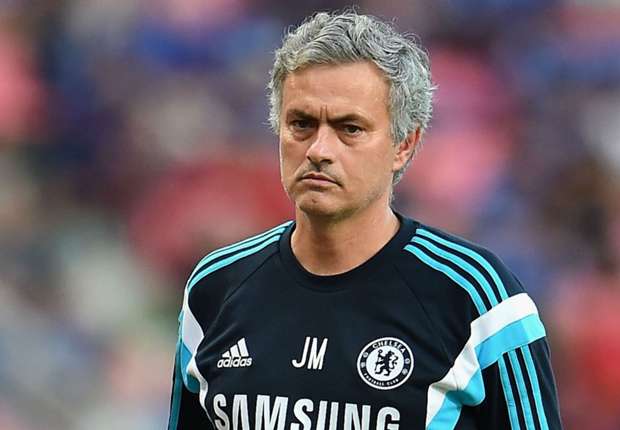 The Chelsea boss intends to extend his career for as long as his health will allow as he aims to add to an extensive trophy cabinet already boasting 18 major titles

Chelsea boss Jose Mourinho could be around to challenge Premier League opponents for another 20 years as he eyes a long future in the game.

The Portuguese has won 18 major trophies and counting in his managerial career but has no desire to slow down as he looks to utilise his ever-growing experience down the line.

"I see myself going into the seventies - not for ever and ever but while my health is good," Mourinho told reporters.

"It is a job where experience is very, very important. With players, there is a moment when their experience has a fight with their physical condition. With managers, no. Unless you lose your appetite then that is a different story but I see myself now better than I was 10 years ago. I am in evolution, not even in stability."

The Blues manager is keen for his side to relish their status as defending champions this season, expecting a tougher fight in the Premier League as teams all across the table bolster their squads with ambitious signings.

"Being champion doesn't change me for bad, it changes me for good and hopefully with the players it is the same thing," he continued. "I want them to feel good, not bad - because we won last season, we do not have space for failure.

"We go into the most difficult domestic competition in the world. It has more candidates and more top teams and I think [fewer] points will win the title [than last season]. There will be more defeats and more lost points for the top teams.

"Crystal Palace buy Yohan Cabaye and Connor Wickham. I welcome this mentality. It is a great thing. It was always difficult to win matches in England. I think that now it is more difficult. I gave Crystal Palace as an example but I could also give you Stoke, Newcastle and Watford.

"It is going to be more difficult now for all of us."
Ronaldo: I never thought I'd be a professional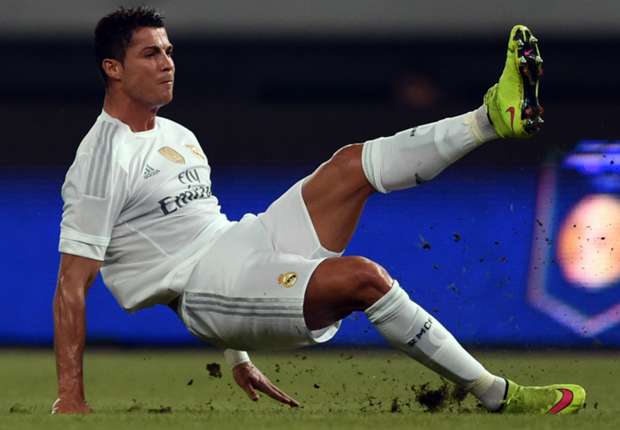 The Real Madrid sensation says he began to play football simply out of enjoyment and did not consider himself a special talent

Cristiano Ronaldo admits he never truly believed he would become a professional footballer when he first began to play the game as a child.

The Real Madrid and Portugal sensation began to train with Andorinha on his home island of Madeira in his youth, but says he never considered himself a special talent.

"In my family, we all love football. I remember that one day I was playing in the street and my father told me: 'Why don't you train at the club when I go to work?'. I said yes, why not? So I started to play," Ronaldo told Herbalife.

"I went to train every day and I enjoyed being part of the team. My father was always there for me.

"At first I felt I was different to the other children. I never thought I was going to become a professional or go to Manchester United, Real Madrid or Sporting.

"At that time I just wanted to enjoy it and it wasn't going through my head that I had talent. At first I didn't think that."

However, the former Old Trafford ace admits it took just a few short years of training before he began to visualise a career at the very top.

"After three or four years I started to think: 'I want to play there'. I got to watch all of the matches and I dreamed of wearing the shirts."

Ronaldo and Madrid face Tottenham in their latest pre-season outing in the Audi Cup in Munich on Tuesday.
Xavi 'angry and sad' at Casillas treatment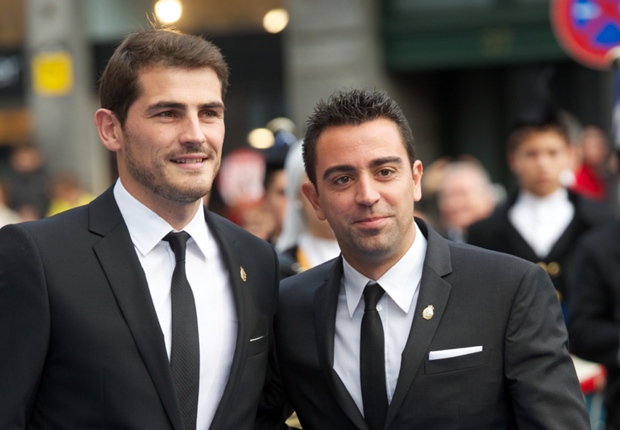 The Spain legend has criticised Real Madrid for the way they handled the departure of his friend and admits that he will vote in the Barcelona presidential election

Barcelona legend Xavi says Real Madrid's treatment of Iker Casillas over his departure has left "a bad taste" in his mouth.

The goalkeeper, who won five league titles and the Champions League three times during a 25-year period at the Santiago Bernabeu that started when he was nine-years-old, sat alone in Madrid's media room as he announced his departure from the club on Sunday in an emotional press conference.

The club were criticised for the way the announcement was handled, which lead to them putting together a last-minute tribute for the club icon.

Xavi, who praised his long-term friend in an article in La Vanguardia this week, says that the handling of the situation made him "sad and angry", insisting he deserved more respect from the club.

"It leaves a bad taste in my mouth," the former Barca player, who now plays for Al-Sadd, told RAC1. "I wrote a letter stating my opinion. He didn't deserve such a tepid send-off; he deserved more.

"They held a tribute for him but he looked sad. It makes me feel sad and angry that his farewell was like that. Maybe last year the same would've happened to me.

"I left in the best way possible but Madrid didn't lift any trophies. Nevertheless, he deserved more."

Barcelona's presidential election is being held on Saturday and Xavi has admitted that he plans to vote for one of the candidates, with Joan Laporta and Josep Maria Bartomeu seen as the favourites.

"I'll go to vote; I like to participate in everything. It's a big day for the institution and the club, and the more participants, the better," he said. "I'll go with my mother. We both know who we're going to vote for; I've known for a long time, but I won't reveal my vote because I think that has to be confidential, and more so in my position.

"I don't know what will happen because all four have had a great campaign. The debate was very respectful and it was a good image for Barca.

"Some candidates don't want to be linked to Qatar and I respect that."
Messi and Neymar left out of Barcelona squad for US tour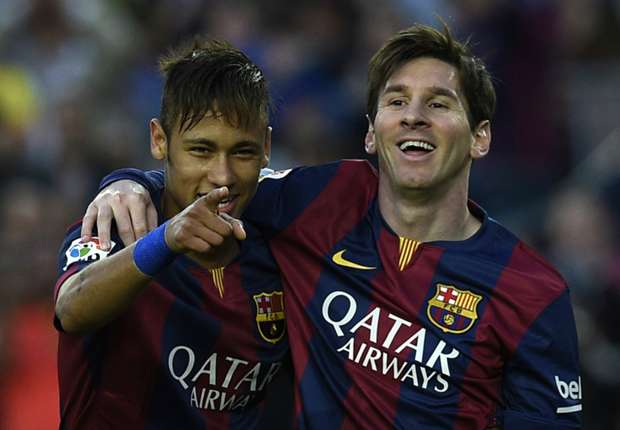 The Copa America stars have been given an extended holiday and will not travel with the rest of the team, while Arda Turan and Aleix Vidal have been included

Barcelona have left the likes of Lionel Messi, Neymar and Javier Mascherano out of the squad for their upcoming United States pre-season tour.

The Catalan side will play in the International Champions Cup, in which they will take on LA Galaxy, Manchester United and Chelsea as they travel through the USA.

Luis Enrique named 24 players in the squad that will travel across the Atlantic on Saturday, with Messi, Neymar, Javier Mascherano, Claudio Bravo and Dani Alves all missing, having been given extended holidays following their Copa America exploits.

The coach has included new signings Arda Turan and Aleix Vidal, who will not be able to play in a competitive game for the club until January because of their transfer ban.

The full squad:

Marc-Andre ter Stegen, Jordi Masip, Jose Suarez, Gerard Pique, Ivan Rakitic, Sergio Busquets, Pedro, Andres Iniesta, Luis Suarez, Rafinha, Marc Bartra, Douglas, Jordi Alba, Sergi Roberto, Adriano, Thomas Vermaelen, Jeremy Mathieu, Arda Turan, Aleix Vidal, Sandro, Munir, Alen Halilovic, Sergi Samper and Gerard Gumbau.
Casillas: I'm committed to Porto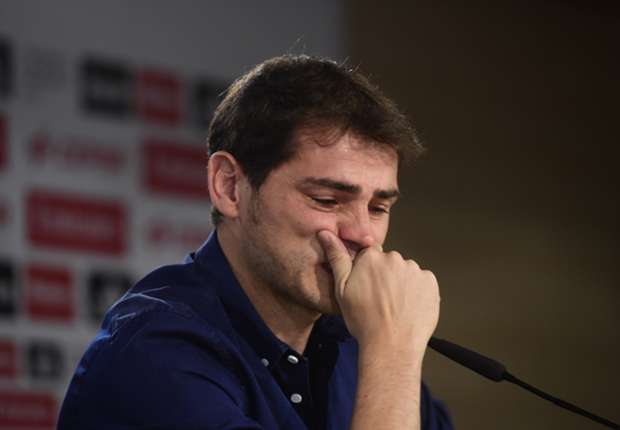 The goalkeeper bid a teary-eyed goodbye to Real Madrid on Sunday but he insists that he is now happy to be at the Estadio do Dragao

Iker Casillas says that he is fully committed to the Porto cause - despite ongoing speculation that he never wanted to leave Real Madrid.

The Blancos academy product was sat alone at the Santiago Bernabeu on Sunday as he tearfully announced he was leaving the Blancos, thus ending a 25-year association with the Liga giants.

Casillas' parents have claimed that their son was forced out by club president Florentino Perez, whom they accused of leading a public smear campaign against the goalkeeper.

The Blancos supremo denied this while sat alongside Casillas at a hastily arranged farewell press conference on Monday, insisting the World Cup winner wanted to leave.

Casillas has refused to be drawn into the manner of his exit but dismissed the suggestion that he does not want to be at Porto.

"Nobody can doubt my effort or my commitment to my new shirt," the 34-year-old shot-stopper told EFE.

"I will continue to work with the same enthusiasm and the same desire.

"In just a few days here, I have already felt the love and support of the fans on social networks, at the airport, in the stadium and on the streets of Porto.

"My first impression is that these are unbeatable fans.

"I'm happy, excited and eager to start this new project. Porto are one of the biggest clubs in Europe and certainly the best team in Portugal."
Valdes hits back at Van Gaal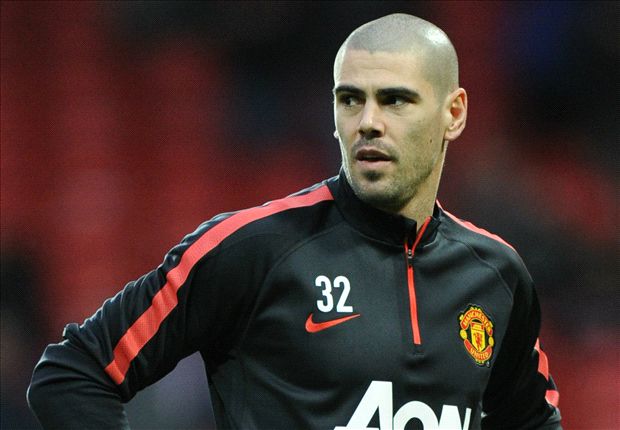 The Dutchman claimed that the former Barcelona goalkeeper refused to play for the reserve team, but he has now hit back at the Dutchman with a less than cryptic Twitter post

Victor Valdes has hit back at Louis van Gaal, claiming the Manchester United manager lacks respect.

Van Gaal criticised Valdes in a press conference in Seattle, explaining his reasons for excluding the former Barcelona No.1 from the tour party.

Yet the Spaniard has fired back at his boss on Twitter, posting a picture of the Under-21 fixtures he played a part in, along with an image of himself and his reserve team-mates.

The Dutchman said on Wednesday: "Valdes is not selected [for the tour] because he doesn't follow my philosophy. The philosophy is how you play football and how you maintain your match rhythm," said Van Gaal.

"He refused last year to play in the second team. There are a lot of other aspects in the philosophy how you have to play like a goalkeeper at Manchester United.

"When you are not willing [to apply] the principles of that philosophy there is only one way, and that is out.

"For us this is a big disappointment. We thought he would follow our philosophy."

Valdes signed an 18-month contract in January but is in talks with Valencia over a possible loan move.
Messi never disappoints, says Van Gaal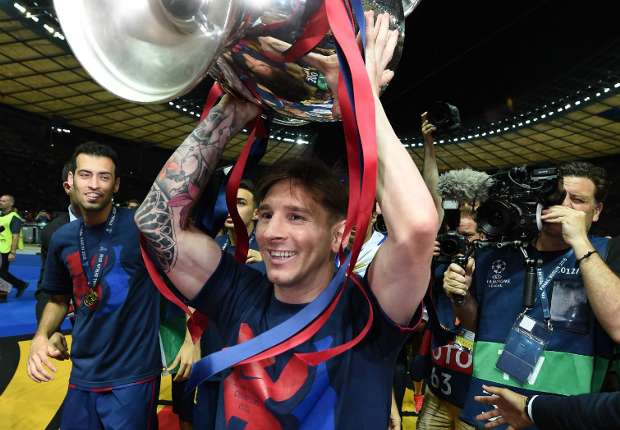 The former Netherlands boss has praised the prolific Argentine, before admitting he is eagerly anticipating the friendly game against Barcelona

Manchester United manager Louis van Gaal has voiced his admiration for Lionel Messi and hailed the Barcelona star's consistency and humble attitude.

The 28-year-old is widely regarded as one of the best players the game has ever seen and the Dutch coach has nothing but praise for the Argentina international.

"Messi proves himself nearly every game," Van Gaal told United's official TV channel.

"Despite his immense talent, he remains very modest. I like that in him and I respect Messi a lot."

United meet Barcelona at the International Champions Cup later this month and Van Gaal is looking forward to meeting some old friends from his time at the Catalans, while admitting Xavi and Andres Iniesta's success makes him proud.

"It will be nice to see friends from my time there again, but there are a lot of new players," he added.

"I have to say that Barcelona still play with some players that I coached, so that is nice to see. But a lot of the staff have also remained there.

"Of course, you are always pleased that players who made their debut under you play so many times and for so long for a club. Xavi and Iniesta in particular are fine examples, but Victor Valdes as well."
Messi: There's nothing more painful than losing a final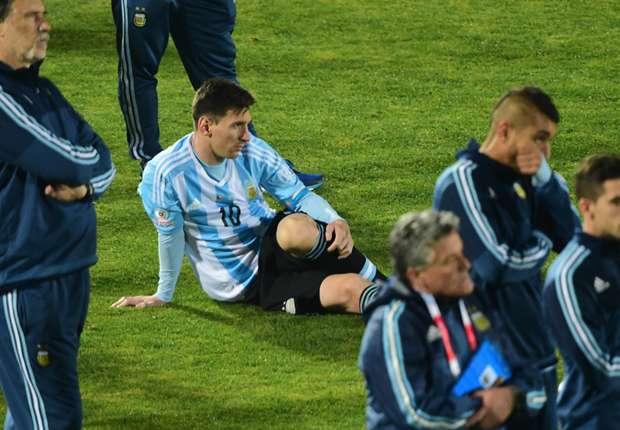 The Argentina captain has sent a message of thanks to supporters following their Copa America defeat to Chile

Lionel Messi has lamented how final heartbreak is a football pain like no other in a mesaage of gratitude to Argentina supporters.

Messi, who skippered his national side to extra-time defeat in the World Cup final against Germany last summer, suffered another crushing loss for the national side as Chile emerged victorious in the Copa America showpiece after a penalty shootout.

The Barcelona ace has since expressed his thanks to fans after another Argentina's 22-year wait for silverware was extended by the host nation in Santiago.

"There's nothing more painful in football than losing a final," he wrote on his official Facebook page.

"But I don't want to leave it any longer to say thank you to everyone who has always supported us and continued to during the tough moments."

Unconfirmed reports in Spain suggested Messi turned down the award for the Copa America's best player following Argentina's defeat.

The 28-year-old's family was also attacked in the stands during the final at the weekend, while sections of the Argentine press have been hugely critical of the Rosario-born star and his team-mates after their latest final loss.
Messi family attacked at Copa America final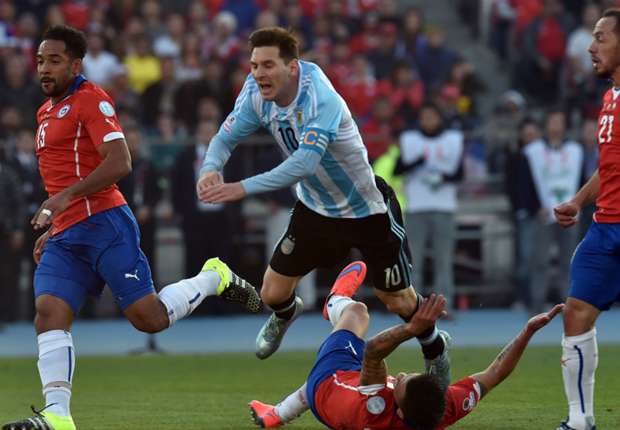 Members of the Argentina star's family were set upon by Chile fans during the first half of the clash between the two sides on Saturday

Members of Argentina star Lionel Messi's family were attacked by Chile fans during the first half of the Copa America final between the two sides on Saturday evening.

The incident occurred just before half-time when supporters of La Roja began to insult the Barcelona forward's family.

The 28-year-old's brother Rodrigo was hit by one fan after an angry exchange and the whole family were moved to a television cabin at half-time for their own safety.

The family of striker Sergio Aguero were also insulted by a sector of the Chilean fans.

Messi, meanwhile, was handed some rough treatment by the rival defenders at the Estadio Nacional and was struck in the chest by a violent kick from defender Gary Medel in the first half.

Casillas wants Porto move, says agent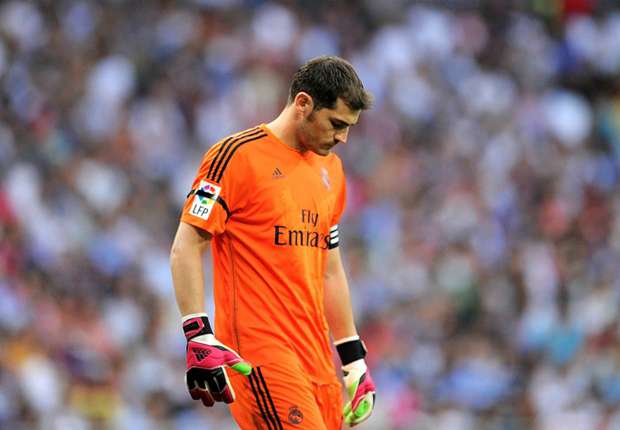 The experienced goalkeeper appears to be on his way out of Madrid and seems set to continue his career in Portugal

Iker Casillas' agent Carlo Cutropia has revealed that the goalkeeper is keen to leave Real Madrid for Porto ahead of the 2015-16 campaign.

The 34-year-old's future at the Santiago Bernabeu side is in doubt due to the club's desire to lure Manchester United goalkeeper David de Gea back to La Liga, while Keylor Navas has also set his sights on the No.1 jersey at Madrid.

Casillas is therefore open to a move away from the Bernabeu and he is hopeful Madrid will allow him to join Porto.

"Casillas is pretty excited about the opportunity to join Porto," his representative told Record.

"We hope Real Madrid will allow him to move on and give him an easy exit."

The Spain international has made over 700 appearances in all competitions for Madrid since breaking into the first team in 1999-2000.

He has won five La Liga titles with Madrid, as well as two Copa del Rey trophies, four times the Supercopa de Espana, three Champions Leagues, two Uefa Super Cups, the Fifa Club World Cup and the Intercontinental Cup.

His contract with Madrid is due to expire in June 2017.Milan
Messi under attack after the Copa final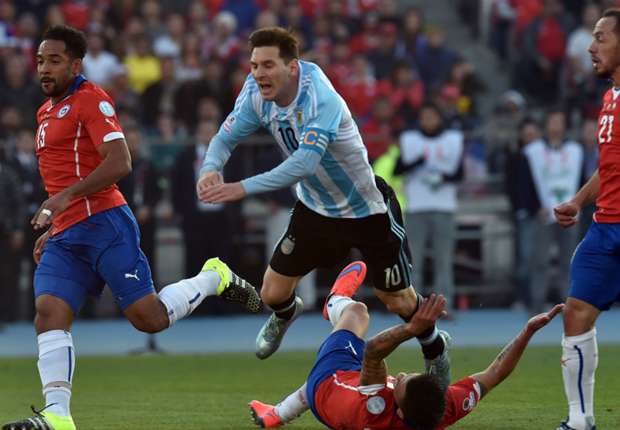 The Barcelona ace's international record is under attack again, with the success-starved Albiceleste having lost two major finals in the space of a year

Lionel Messi's father has defended his son against claims that the forward's Argentina career must still be classed a failure.

The four-time Ballon d'Or has long been touted as the finest player of all time but there are those that believe that he will always rank behind Pele and Diego Maradona unless he tastes international glory.

Messi's appeared set to fulfil his apparent destiny at last year's World Cup in Brazil but Argentina were beaten in the final by Germany.

After a spectacular season at Barcelona, whom a resurgent and fully fit Messi inspired to a treble, it was thought that the 28-year-old was perfectly primed to end his country's 22-year wait for a Copa America title.

However, Messi was unable to lead Argentina to victory, with Gerardo Martino's men losing 4-1 on penalties to hosts Chile in the tournament decider.

Consequently, the Rosario native's status is now being questioned again within his homeland, much to the annoyance of his father, Jorge.

"Many only understand failures and that forces them to see their own failings in others," Messi Senior told Diez Mas.

"Unfortunately, we live in a world of show and harsh criticism sells better than constructive criticism.

"But Leo just plays football and stops worrying about the rest."

Jorge also revealed that Messi has always been a quiet, humble, unassuming character - even if he did have something of a mischievous streak as a child.

"Lionel grew and grew up in a family like any other in Argentina, where everything is achieved with sacrifice and respect," he added.

"Our culture, our country, is like this: everything is achieved through sacrifice and that will forge your values.

"He never did anything mischievous when he was young because he was always a good boy. Naughty, yes, but never difficult!

"It was hard for him to leave [Argentina for Barcelona at 13], but that has to do with what I have been saying: We are a family that has managed to do things thanks to sacrifice."
Maldini: Messi & Barcelona will break all the records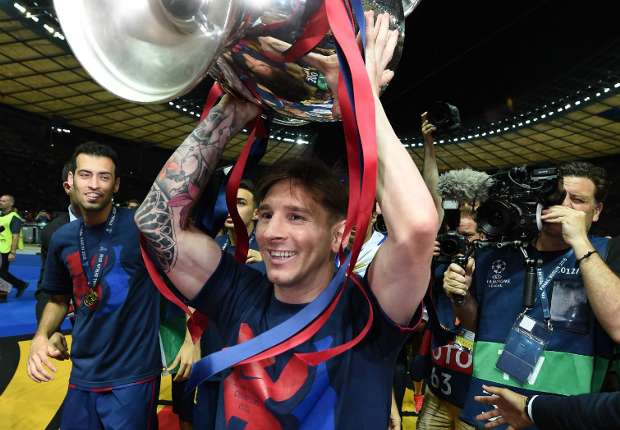 The Milan legend believes the Catalans' No.10 is destined toleave a better legacy than Diego Maradona and lauded the treble-winners' talent

Italian legend Paolo Maldini has predicted that Lionel Messi and his current Barcelona comrades are destined to "break all the records".

In Luis Enrique's first season in charge at Camp Nou, the Catalans won La Liga, the Copa del Rey and the Champions League to complete the second treble in the club's history.

Having matched the achievements of Pep Guardiola's 2009 side, Maldini thinks Messi, Neymar and Luis Suarez can help Barca leave an even greater mark in the history books in the coming campaigns.

"Messi, Neymar and Suarez are phenomenal and the statistics speak for themselves," the iconic former defender told Sky Sport.

"Barcelona have already made history and the team's destined to break all the records."

Maldini, who won five European Cups and Champions League titles during his illustrious AC Milan career, also thinks that Messi could ultimately be considered better than former Serie A and international adversary Diego Maradona.

"Leo Messi is the best player in the world," he added. "From what I'm seeing, he's approaching the point where he is perhaps overtaking Maradona in terms of everything he's achieved in recent years."
Ronaldinho has agreed to join Antalyaspor - president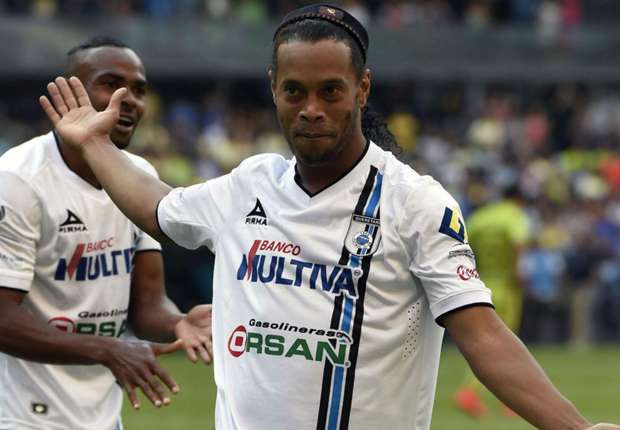 The club chief, Gultekin Gencer, says the club and the player have agreed personal terms and the deal will be official in the coming days

Ronaldinho has reached an agreement to join Antalyaspor, the Turkish side's president has revealed.

The Brazil legend rescinded his contract with Mexican side Queretaro and had been linked to a move to Turkey.

The newly-promoted club are set to complete the signing of Samuel Eto'o as well as the former Barcelona attacker, and president Gultekin Gencer says there will be another big transfer coming soon.

"We reached an agreement with Ronaldinho," he told TRT Spor. "I think within two days it'll be made official.

"Besides Eto'o and Ronaldinho, we will make another big-name signing.

"When it's done, we'll set the world on fire!"

The attacker then appeared in an Instagram video, telling fans: "Hi to everyone. I will be in Turkey with you soon."
Ramos staying at Madrid, says mother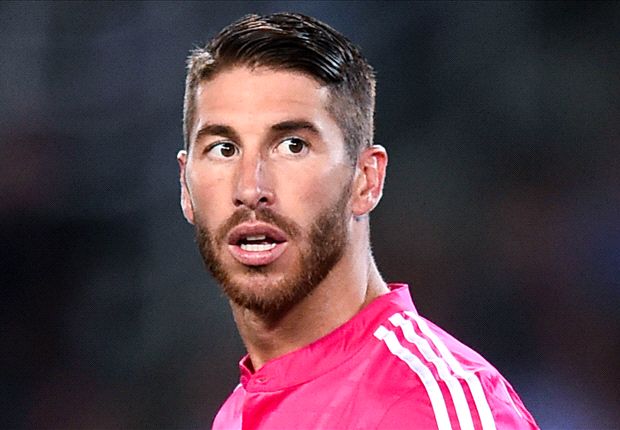 Reports on Monday claimed the defender had informed the club of his desire to leave the club for Man United but his parent says he wants to stay put

The mother of Real Madrid defender Sergio Ramos has denied speculation her son wants to join Manchester United.

There were widespread reports on Monday that the defender had informed Madrid of his desire to move to Old Trafford, with United said to have made a bid for the 29-year-old.

Ramos's discontent at the Bernabeu is believed to stem from president Florentino Perez's failure to deliver on his promise to reward him with a new and improved contract.

But, in a fresh twist to the saga, the Spain international's mother has revealed his intention remains to stay at Madrid.

Paqui Ramos told Antena 3: "Of course, his first choice is to stay at Madrid. Manchester United? I don't think so, he wants to stay in Spain."

At the start of the month, Barcelona presidential candidate Jordi Majo claimed he had been offered Ramos by his agent as an 'electoral trump card'.

His representative later denied Majo's comments.
Aguero: Goals will come for gambler Messi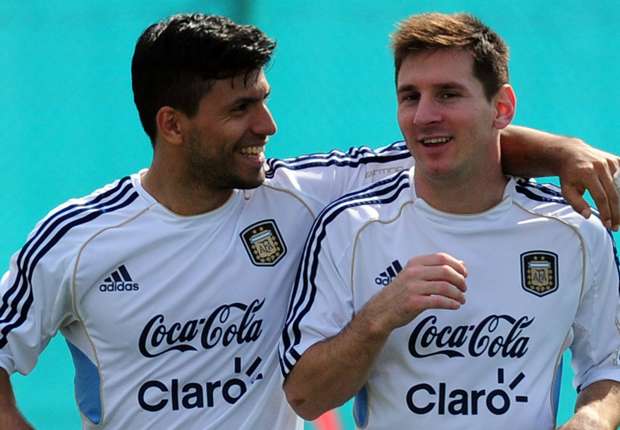 The Argentina striker - a close friend of his compatriot - says the Barcelona star is always striving to succeed and commented on his Man City future

Argentina forward Sergio Aguero has lauded Lionel Messi's goalscoring persistence as they bid to win the Copa America together.

Aguero, 27, and Messi, 28, have played together for a decade internationally - at youth and senior level - winning the 2008 Olympics and the 2005 Under-20 World Cup alongside each other.

Having come so close to World Cup glory last summer - losing to Germany in the final in extra-time - Argentina are now the clear favourites to win the Copa America following the elimination of rivals Brazil.

Ahead of Tuesday's semi-final clash with the conquerors of Dunga's side, Paraguay, Aguero has defended Messi from criticism after the Barcelona attacker netted only once in his side's first four matches in the South American tournament.

"Messi always wants to do better and when he does not score goals he starts saying 'I did not get lucky,'" he told TyC. "But I tell him 'be quiet, the goals will come, you have to be patient'.

"Leo is always under such pressure to score goals. It is the same for me, though there are 10 other players in the team than yourself.

"Obviously everyone can make mistakes, but Messi always gambles and keeps going and going. And that gives us all confidence, because if Leo keeps going then we do too."

Aguero, who has scored two of Argentina's four goals so far in the Copa America, also downplayed suggestions that he will depart Manchester City ahead of the 2015-16 campaign.

"Every year I end up talking about my Manchester City future," he added. "But I'm comfortable and at peace there - I have not thought about going somewhere else."
Messi: I'll give everything to win Copa America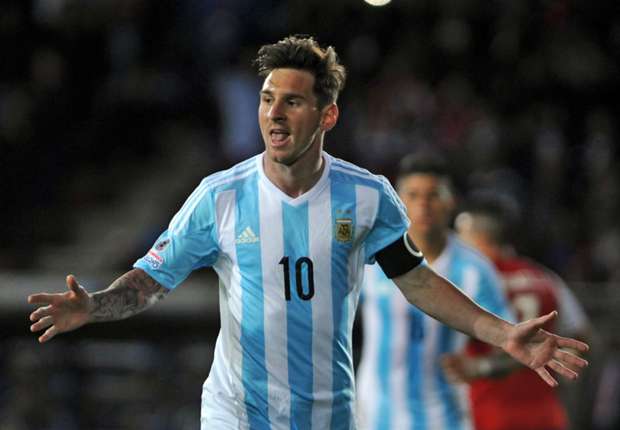 The forward is set to win his 100th Argentina cap against Jamaica and he is desperate to land major silverware with his country

Argentina star Lionel Messi will "give everything" to win Copa America 2015 ahead of his 100th cap for his country versus Jamaica.

The Barcelona phenomenon has won a plethora of honours at Camp Nou, triumphing in La Liga seven times, the Copa del Rey on three occasions and the Champions League four times.

However, success with Argentina has remained agonisingly out of reach for the four-time Ballon d'Or winner - he was part of the team that lost the 2007 Copa America final to Brazil and captained his nation as they lost to Germany in last year's World Cup final.

Gerardo Martino's men are on the cusp of a place in the quarter-finals in this year's Copa in Chile and, as he prepares to reach his century of appearances, Messi has vowed to do everything he can to lead the side to pick up the trophy at the end of the campaign.

"I would give everything win the Copa America," he told La Nacion. "This group deserves it for the way they fight. We had a great World Cup and we deserve it.

"It's what I dream of. Winning the Copa America would us some give peace of mind for the coming World Cup qualifiers. Not only for my team-mates, for the coach and for me, but for the country, too. The fans also want us to succeed."

Regarding his 100th cap - which will come in Saturday's Group B contest against Jamaica barring a late injury - Messi hopes that he will finally have some silverware to go with his century of international appearances.

"I'm very happy to be here and hopefully I can celebrate another victory and once and for all win a title with Argentina," he added.

"In these 100 games I have had incredible experiences, really great times. They are unforgettable.

"I've been through situations that have helped me grow as a player, but unfortunately with no title to show for it. Hopefully I'll have one to go with these 100 games."
Ronaldo criticises Neymar: He's going through a tough time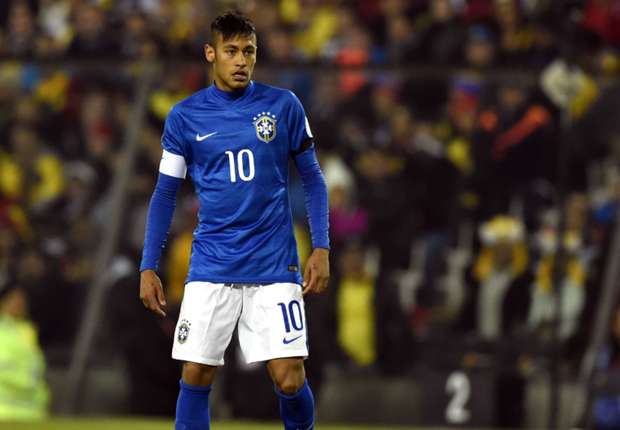 The Brazil icon was not impressed with the 23-year-old's conduct after the 1-0 defeat to Colombia, after which he was sent off

Brazil legend Ronaldo has criticised Neymar after he received a red card following his side's defeat to Colombia in the Copa America.

Neymar will miss his side's final group game against Venezuela and has been given a provisional suspension on top of that for a red card he received after the final whistle of the 1-0 loss.

The 23-year-old appeared to kick the ball at Colombia's Pablo Armero and then seemingly attempted to headbutt Jeison Murillo, which prompted a scuffle on the field.

Neymar defended his conduct by saying that referees wind him up, but he got no sympathy from Ronaldo, who was not impressed by the Selecao captain's conduct.

"It's not justified, what he has said and done," he said on Globo. "Currently he is going through a tough time.

"He is acting very aggressively and he is not accepting anything that happens.

"In the Brazil jersey, you cannot do that."
Barcelona can win the treble every year - Busquets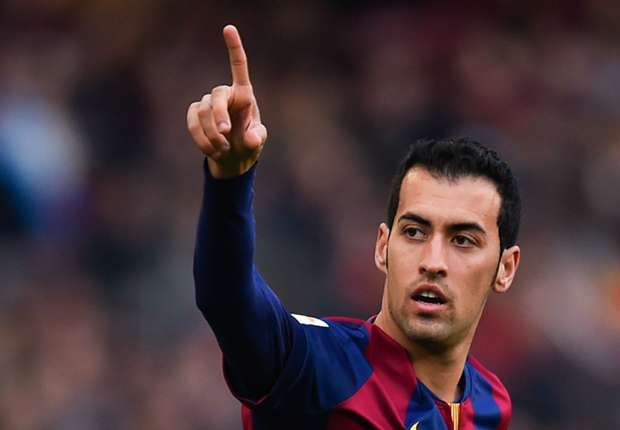 The midfielder says the team are strong enough to dominate domestically and in Europe for the foreseeable future

Sergio Busquets believes Barcelona are young and strong enough to win the treble every season.

The Catalans won the Champions League, Copa del Rey and La Liga last term to become the first side ever to have lifted three major trophies in one season twice.

Barca first achieved the feat under Pep Guardiola back in 2009 and Busquets says the current squad are capable of doing it again in the coming years.

"The joy of winning is permanent, you cannot take it away," he told El Pais.

"All you want is more, more, more. And we have players of incredible quality, a super young team and a unique opportunity to extend this level of performances.

"In the Champions League final, if you take away Dani Alves, Javier Mascherano and Andres Iniesta, I don't think there was anyone over 30-years-old in our team.

"Marc-Andre Ter Stegen is super young and Neymar, Jordi Alba, and the rest - we are all between 23 and 28 years.

"We can win the treble every year, no one is invincible, but we have huge potential."

The 26-year-old also discussed in detail the evolution of Lionel Messi, who has operated in several different positions this season having played in a central role in previous years.

"Messi is improving every year and there have been tactical changes that have benefited the team and benefited him in recent years - he played false nine for a while and that caught our opponents by surprise and generated more surprise because there was more space.

"Now, after moving to the wing he makes the field huge. The diagonal passes from Alba, for example, are spectacular. He has been reinvented. Leo evolves and does so with the team. He is impossible to stop. He is the best."

Xavi's lifelong association with Barcelona came to an end after the season drew to a close, with the midfielder signing for Qatari side Al Sadd and Busquets admits life at Camp Nou won't be the same without him.

"I can't imagine the dressing room without Xavi, it's going to be weird. His presence is remarkable. He would arrive early and always say something to the group. We will feel his absence."
Xavi: Extraordinary Neymar needs to show respect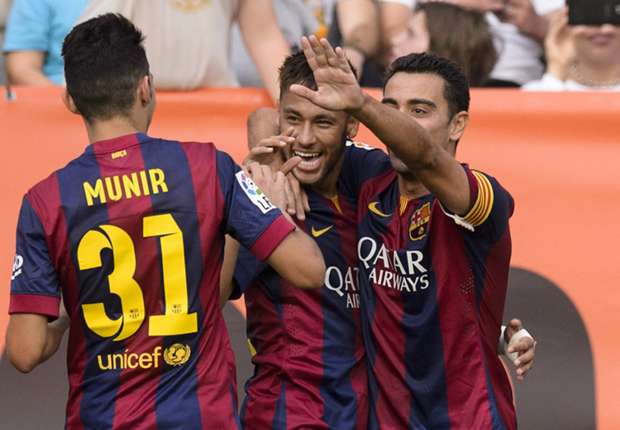 The iconic midfielder offered advice to his ex-club mate, instructing him to think about how he behaves on the pitch, but hailed him as a hard working and humble player

Former Barcelona captain Xavi believes former team-mate Neymar must think about how he acts on the pitch, insisting that what is acceptable in Brazil does not go down well in Europe.

The midfielder was referring to an altercation Neymar found himself involved in during the final minutes of the Catalans' 3-1 Copa del Rey final win over Athletic Bilbao, when the Basque players had taken offence at a piece of extravagent skill he attempted.

And Xavi used the example to question the 23-year-old's mentality, stating the young Brazilian had to cut out the elements of his game that simply were not tolerated in the European arena.

"He needs to seriously think about how he should act. Maybe that sort of thing is accepted in Brazil, but it's a thorny issue in Spain," Xavi told Sport .

"He should reflect about it because he's an extraordinary, hard-working and humble lad, but he has that Brazilian attitude, according to which such things are part of the show, while here they're seen as a lack of respect."

Neymar has not only been accused of unsporting behaviour during his stint in Spain by opponents but team-mates as well, with Xavi himself caught on video berating the forward while Barcelona celebrated winning their treble with an open top bus parade on Sunday.

"He was trying to take my shoes off and they were pushing me when I was standing on the edge of the bus. I told them to stop messing around and to focus on the fans, since the parade is for them," he added.

"It's alright to have three or four beers, but the parade is for the supporters, to thank them, and you can't just be in your own world."
Copa America win would make up for World Cup, says Messi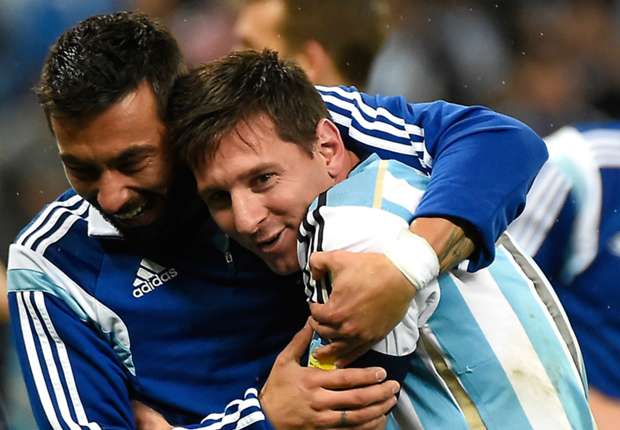 The Argentina captain wants to erase the memory of last summer's World Cup final defeat to Germany and claimed he would pay just to watch several of their opponents play football

Argentina talisman Lionel Messi claims winning the Copa America in July would erase the memory of their 2014 World Cup final loss to Germany.

The Albiceleste skipper is currently in Chile preparing for their tournament opener against Paraguay on Saturday and expects his team to justify their tag as one of the favourites to claim the trophy.

Importantly, the 27-year-old is hoping to exorcise the memory of Argentina's defeat on penalties in the World Cup final a year ago and acknowledged his incredible run of form in recent months.

"I'd love to win the Copa America for everything it would mean for us after enjoying a spectacular World Cup and coming so close," Messi told reporters.

"This Argentina generation wants to win and we're aware that we are the favourites. As a team, we deserve to win something. We know that it would be the best thing ever to end the season by lifting the Copa America.

"I don't know if this has been my best year, but I feel fine myself, and very happy. With the national team we are all in good shape and we have some great players who can help us to achieve what we want.

"We're going into this in better shape than we did at the World Cup because we had a few players injured. It's important for us, and for Argentina because it's been a while since we last won it."

The star is also hoping he and his compatriots at Barcelona will be carried into the Copa America by the momentum of securing a treble with the club.

"We [Barcelona] won every competition we entered and it's incredible to do the treble again," he continued.

"Thankfully, we were able to fulfil our objectives with our club and hopefully we can now gain more success with the national team which is what we all want.

"But all of our rivals are going to be difficult; this is one of the closest tournaments in a long time. I love good football and would pay to watch Brazil, Colombia and Chile."

Apart from Paraguay, Argentina have been drawn with holders Uruguay and Jamaica in Group B.
Pique thanks Ronaldo's party singer as Barcelona celebrate treble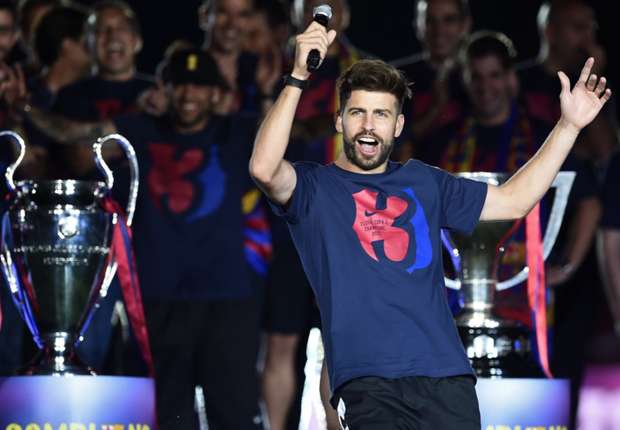 The centre-back could not resist taking a swipe at Real Madrid after Sunday's parade, while Luis Enrique paid tribute to Xavi

Barcelona defender Gerard Pique thanked Cristiano Ronaldo's party guest Kevin Roldan as the Catalans celebrated winning the treble on Sunday.

Ronaldo caused huge consternation among Real Madrid fans when he opted to go ahead with his 30th birthday celebrations hours after his side were thrashed 4-0 by Atletico Madrid in Feburary.

Colombian singer Roldan, who performed at the event, insisted afterwards that the reaction had been over the top, after fans became incensed when photos of some Blancos players partying circulated on social media.

Barca went on to beat Madrid to the Liga title and sealed an incredible treble when they won the Champions League on Saturday and, as the team paraded their successes to supporters on Sunday, Pique could not resist a swipe at his side's bitter rivals.

"We are the best team in the world! Thanks to all and thanks to Kevin Roldan, it all started with you," he told dans at Camp Nou.

Head coach Luis Enrique thanked the supporters for sticking by the team during their difficult start to 2015 and paid tribute to Xavi, who is now bound for Qatar.

"The ambition of these players has no limit," Luis Enrique said. "You and I know it has not been an easy path, with a lot of difficulties.
"We asked for your support when things went wrong and that was what happened, you have been with us. Thank you. We keep making history and we'll try to do it again in the future.

"Xavi is a great player, but also a great person, he has always given his support to the team."

Xavi himself added: "We have the treble! Thanks for your presence here at the stadium and in the parade... It has been amazing. Thanks to Luis Enrique, to the staff and also to the team for this season. Thanks a lot, I'll miss you."

Andres Iniesta, the man of the match in the 3-1 final win over Juventus, gave a special mention to his home town as well as Catalunya on the whole.

"I feel very proud to belong to this team. Congratulations to the team, to the club. Visca Barca, visca Catalunya and visca Fuentealbilla."
Cruyff: Messi saved Barcelona against Juventus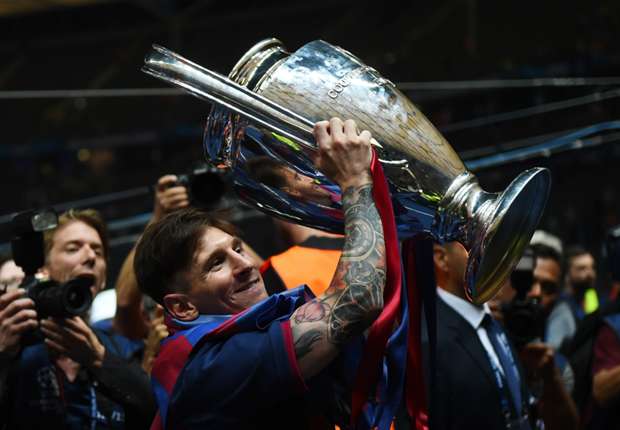 The Dutch legend argued the Argentine had been instrumental in the Champions League final despite not scoring or setting up any goals

Johan Cryuff believes Barcelona could not have beaten Juventus 3-1 in the Champions League final without their talisman Lionel Messi showing off the selfless aspects of his game.

Messi was expected to show up decisively in the Berlin final but failed to score, while Ivan Rakitic, Luis Suarez and Neymar all found the net as Juventus even managed to shut the Argentine down for long spells of the game.

But Cruyff argued it was the other side of the four time Ballon d'Or winner that the world witnessed on Saturday, with his work and sacrifice for the team being fundamental to the Catalans' eventual success.

"It was a fun Champions League final to watch, also because Barcelona and Juventus both played as we all expected," the Dutchman, who won the European Cup with Barca as coach, wrote in De Telegraaf.

"With his style of play, Messi relieved his team. Against Juventus, you could see how he works at Barcelona.

"You didn't see him participate in a lot of moves, but just check how often he put pressure on his direct opponent and won back ball posession. How many free-kicks did he win?"

The 68-year-old saw Netherlands surrender a 3-1 lead to lose 4-3 to the United States in Amsterdam on Friday and he blamed the defeat on the lack of the very team spirit amongst the players that Messi displayed the following day.

"I missed that sense of sacrifice during the Netherlands' loss to America. Playing means to help other players, instead of causing problems for your own team-mates."
Neymar: Dani Alves would have a new deal if I was Barcelona president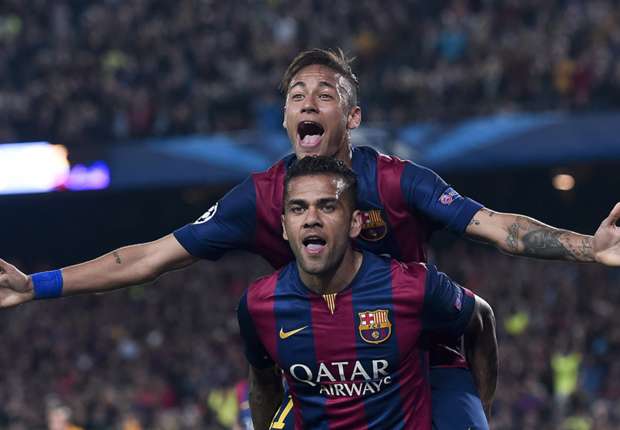 The forward is surprised his team-mate has not been tied down and thinks the Champions League final against Juventus will be their toughest game of 2014-15

Neymar has claimed he would have given Dani Alves a new contract by now if he was Barcelona's president.

The right-back, 32, and the Catalans are engaged in what Paris Saint-Germain boss Laurent Blanc has called "a game" as the player awaits a proposal he likes from his current club.

Neymar, who has been team-mates at Camp Nou with Alves for two years and also played alongside the defender with Brazil, has given his backing to the player described by Lionel Messi as the best full-back on the planet.

"I hope that Dani Alves stays," the 23-year-old told Sky Sport. "If I was the president I would have renewed his contract already."

Ahead of Saturday's season climax in the Champions League final, Neymar has acknowledged the threat Juventus will pose

"We know Juventus, we know they are a top team and they have not qualified for the final by chance," he continued. "It will be a difficult game and we will try to give the best version of ourselves.

"I think this will be the most difficult game of the whole season, but we want to make history and we are close to doing so.

"Head coach Luis Enrique has dedicated several days to studying our opponent and we are preparing for it in the best way possible."

He added: "If we win the Champions League, I will die my hair blonde!"

Neymar has scored 38 goals in 50 games for Luis Enrique's side this season, contributing to a new Spanish league record with his team-mates Lionel Messi and Luis Suarez, leading to suggestions they are the best attacking trio of all-time.

"I don't know if with Messi and Luis Suarez we are the best trident, but we have entered into the history books and for me it is a great honour to be part of it," he said.
Jerzy Dudek claimed the coach singled out the former Real Madrid
Jerzy Dudek claimed the coach singled out the former Real Madrid midfielder as a potential leak during his time at the Bernabeu, but the Chelsea boss is baffled

Jose Mourinho insists he is baffled by suggestions from Jerzy Dudek that he said Esteban Granero might be a "rat" in an expletive-filled rant during his time at Real Madrid.

The Polish goalkeeper claimed in a new book that the now-Chelsea boss went into a wild, accusatory rage when his plans to play Pepe in midfield against Barcelona in 2011 were leaked to the press.

After drawing the Clasico 1-1, an angry Mourinho is alleged by Dudek to have labelled current Real Sociedad midfielder Granero as one of the potential leaks.

However, the Portuguese coach does not understand where the claims have come from and questioned what purpose Dudek's anecdote has in his soon-to-be-released book.

"Don't make me laugh," Mourinho responded when Marca put the quotes in question to him. "Dudek really said that? Granero is a great professional and a lifelong friend of mine.

"What do you say the book is about? About training goalkeepers? And what is he out to do, transmit his experience to the children that are dreaming of being goalkeepers?"

Mourinho has also distanced himself from a possible move for Atletico Madrid star Antoine Griezmann. The Frenchman has been rumoured to be one of Chelsea's summer targets as they look to rejuvenate their Premier League title-winning squad, but the Portuguese coach has dismissed such claims.

"Griezmann is a great attacker but he is not one of our targets to strengthen the squad for next season," he added. "We're not interested in him."
Maradona: Messi the best in the world but my goals were more beautiful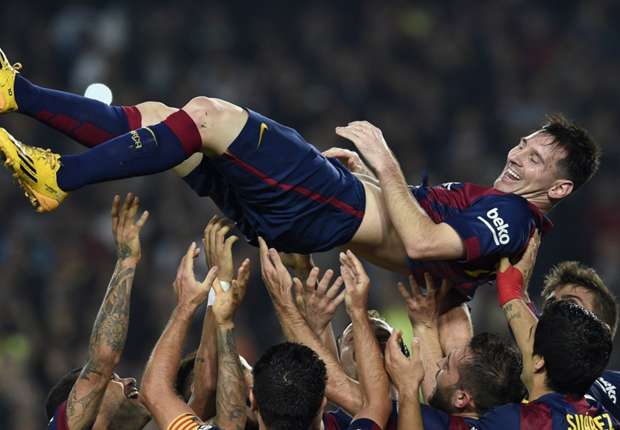 Messi the best in the world, but my goals were more beautiful - Maradona

The Argentine legend says that while his compatriot is more prolific, he was a more stylish and spectacular finisher

Diego Maradona says Lionel Messi is currently the best player in the world, but insists his own goals were "more beautiful" than those of the Barcelona star.

The Argentine legend, who played for the Catalan club, as well as the likes of Napoli and Boca Juniors during a glittering career, is often been labelled as the greatest ever to play the sport.

And while he believes his countryman is the best there is in the modern game, rating him above Real Madrid ace Cristiano Ronaldo, he says that Messi is still developing as a footballer.

"I think the goals come with the style. I think Messi is finding his own style, but he is killing it with the goals. This makes you accelerate the pace. Most likely, he will find his style very soon," Maradona told CNN.

"I think that I had my own style from the very beginning, so that is the point at which I could be better than Messi. But Messi has scored 300 goals, whereas I think I scored a little over 200 in my whole career.

"But the thing is, my goals were more beautiful!"

Messi scored two goals in Barcelona's 5-3 aggregate victory over Bayern Munich, which saw them book a spot in the Champions League final against Juventus.
Carlo Ancelotti suspended for remainder of Liga season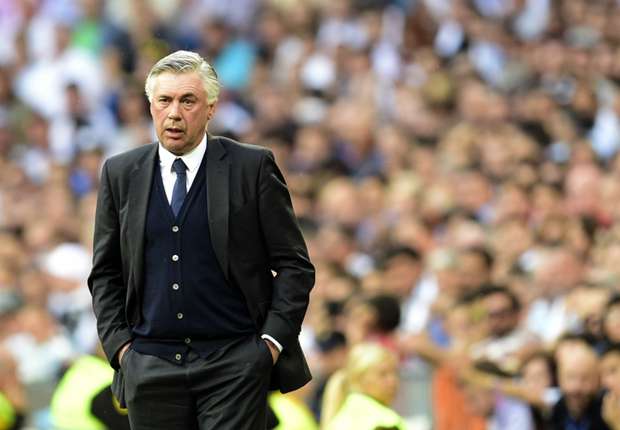 With the news that their coach will not be in the dugout for either of the final two games of the season, winning La Liga just got a little harder for the capital side

Real Madrid coach Carlo Ancelotti will miss the remainder of the Liga season after being handed a two-match suspension by the Spanish Football Federation (RFEF).

The sanction was related to the ironic applause Ancelotti is alleged to have directed at officials during his side's 2-2 draw with Valencia on Saturday.

Ancelotti was found by the RFEF to have violated Article 117 of the Disciplinary Code, which states that those who "address referees, managers or officials in terms or attitudes of contempt or disregard … are punishable by suspension".

Referee Carlos Clos Gomez's report read: "At the end of the match the local coach Don Carlo Ancelotti, from 30 metres, turned to me applauding, ostensibly in disapproval with the officials' performance."

The 55-year-old is now set to miss his side's remaining Liga fixtures against Espanyol and Getafe, in which the reigning European champions will attempt to overhaul Barcelona's four-point lead at the top of the table.

Real Madrid host Juventus on Wednesday hoping to overturn a 2-1 first-leg deficit to book a place in the Champions League final against Barcelona in Berlin on June 6.

Goal has learned that Real Madrid will appeal the decision.
Bayern stars losing faith in Guardiola, says Matthaus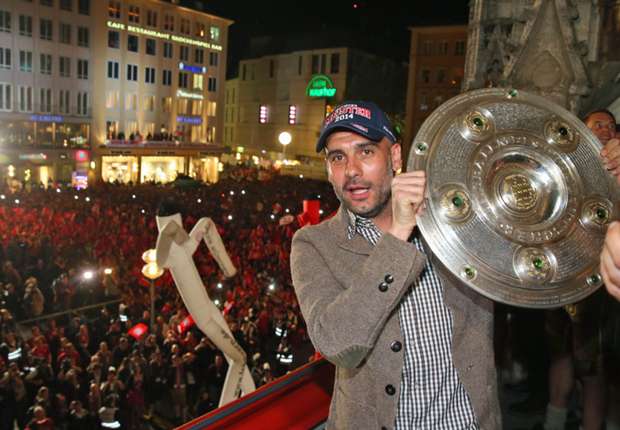 The Bavarians have lost their last four games in all competitions and the Germany legend believes the players are beginning to run out of patience with their coach's methods

Former Bayern Munich stalwart Lothar Matthaus believes the current crop of Allianz Arena stars are losing faith in coach Pep Guardiola's methods.

The 44-year-old has led the Bavarians to back-to-back Bundesliga titles since arriving in Germany two years ago, but has failed to have the desired impact in the Champions League.

His side were beaten 5-0 on aggregate to Real Madrid in the semi-finals last term and face a similar fate 12 months on after losing 3-0 to Barcelona in the first leg of their last four tie last week.

On Sunday Bayern legend Franz Beckenbauer claimed Guardiola had paid the price for allowing Xherdan Shaqiri to leave the club in January and now Matthaus has added to his list of critics.

"Guardiola has already said that their season is over and he's been rotating his team so much that he's unsettling the team," he told Sky Deutschland.

"His team no longer has the stability they had for over eight months, enchanting football fans up and down Germany.

"It seems the players are losing a bit of belief in the coach, and he hadn't expected that."

In addition to their likely Champions League exit, Bayern crashed out of the semi-finals of the DFB-Pokal to Borussia Dortmund on penalties and have lost their last four games in all competitions.

'Messi the greatest club player of all time' - Carragher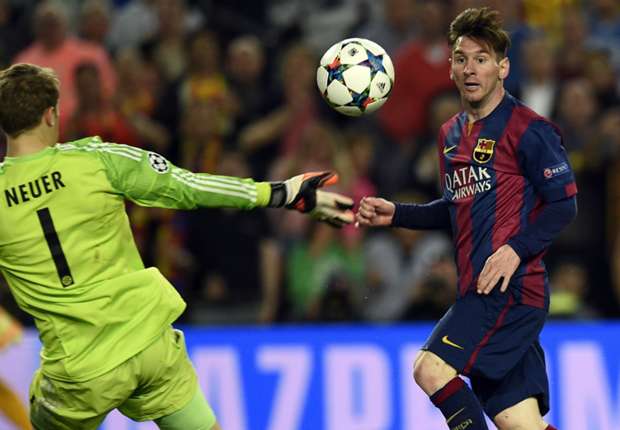 The former England international believes that the Argentine's consistency over the past decade puts him above the likes of Alfredo di Stefano, Diego Maradona and Johan Cruyff

Liverpool icon Jamie Carragher believes that Lionel Messi has proven himself the best club player of all time.

The Argentine is the talk of the football world once again, after a stunning two-goal salvo in Barcelona's 3-0 victory over Bayern Munich in the first leg of their Champions League semi-final at Camp Nou on Wednesday.

Numerous ex-players were quick to argue that the four-time Ballon d'Or winner's stunning performance offered conclusive proof that the diminutive No.10 deserves to be recognised as the finest talent the game has ever seen.

Carragher feels that an argument could still be made that Messi needs to lift the World Cup to be ranked No.1 but the former England international is in no doubt that the 27-year-old has surpassed all others at club level.

"His achievements over the last decade have been so breathtaking that you could say he has outstripped those who have gone before — and it is quite possible we will never see them bettered," he wrote in The Daily Mail

"The men with whom we are comparing him are gods — Diego Maradona, Johan Cruyff, Franz Beckenbauer and Alfredo di Stefano. Pele doesn't enter the debate. He won 10 league titles and two Copa Libertadores with Santos but I feel European competition has always been more competitive.

"It gets said that the standards in La Liga are not taxing for him and Cristiano Ronaldo but look at Messi's record in the Champions League: he now has an astonishing 77 goals — two of which defined finals against Manchester United in Rome (2009) and at Wembley (2011) — in just 97 games. His consistency is remarkable.

"He has taken Barcelona to heights they had never known. During his time, they have turned one European Cup into four with the promise of a fifth in Berlin next month. They have also dominated Spanish football and a sixth league title in 10 years is within their grasp.

"I understand the game is now not as physical as it used to be in the days of Maradona and Cruyff but they never had to endure the scrutiny and exposure that comes with today's game, the constant analysis of performances and the pressure to produce results, which Messi has to deal with ...

"The job of facing the 27-year-old, who is now scoring 50 or 60 goals a season from his free role, however, is now the most difficult in football, as the unfortunate Jerome Boateng found out to his cost on Wednesday.

"Quite simply, Messi has been the greatest player in the best club team we have ever seen."

Messi's double against Bayern saw him reclaim the all-time Champions League goalscoring record from Real Madrid ace Cristiano Ronaldo.
Guardiola: I've never been so proud of my players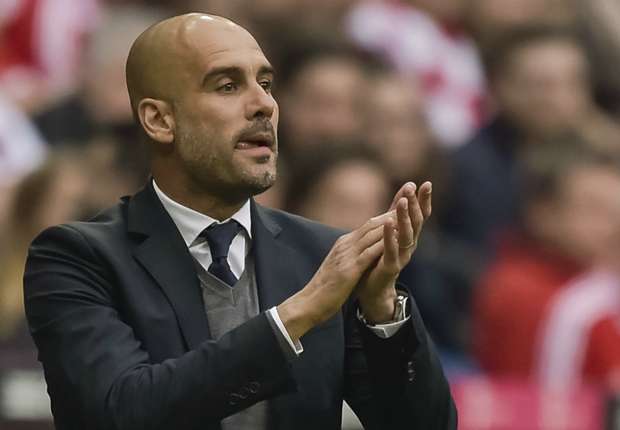 The coach refused to blame his players after watching them crash out of the DFB-Pokal at the semi-final stage on penalties

Pep Guardiola says Bayern Munich should not feel any shame after they lost to Borussia Dortmund in the DFB-Pokal semi-final on Tuesday.

Pierre-Emerick Aubameyang's 75th minute goal cancelled out Robert Lewandowski's opener to take the game into extra-time.

Both sides failed to find a winner and so a penalty shoot-out ensued, with Dortmund emerging victorious after Bayern missed all four of their spot-kicks, while Ilkay Gundogan and Sebastian Kehl converted for BVB.

"I am proud of my team. In fact, I have never been this proud of my players," Guardiola told Sky.

"We played very well. It was the best game we have played against Dortmund since I arrived at Bayern.

"This is nothing to be ashamed of. We lost a football match. To be ashamed would need something worse.

"This does not mean anything for the Barcelona game. That is a new match and a new competition."

Arjen Robben made his return from injury after a month on the sidelines when he came on in the 71st minute, but had to be replaced less than 15 minutes later with a thigh injury, while Robert Lewandowski was also substituted with a head injury.

"Arjen is injured, Thiago picked up a knock and Lewy needs to go to hospital with a concussion. I don't know if Lewandowski will play against Barcelona," Guardiola concluded.
Luis Enrique: Barcelona can get even better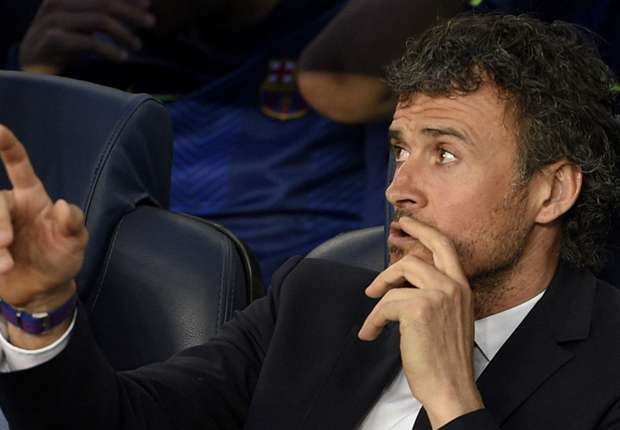 Despite beating Getafe 6-0 on Tuesday night, the coach feels his team can still improve on the physical and tactical side of their game

Luis Enrique believes Barcelona have the attacking power to beat any side in the world but is convinced they can still get even better after dispatching Getafe 6-0.

The win stretched their lead at the top of La Liga to five points over Real Madrid, who have played a game less as they meet Almeria on Wednesday.

Lionel Messi and Luis Suarez scored two goals each while Neymar and Xavi also found the net as the Blaugrana produced a blistering performance, but the coach feels they can get even better physically and tactically.

"When the team is that effective, we make it very difficult for any opponent," he told reporters. "It was a tough game but we finished it in the first half.

"If you look at the physical side of our game, it can be improved and so can the tactical side. I do not remember a match with so many spectacular goals.

"There is room for improvement, certainly, but in matters of results it is complicated."

Tuesday's win was the side's 20th league clean sheet and Luis Enrique believes it shows the overall strength of the team.

"Not only does the team score, but they are all so supportive that they help with the defensive work and all we are playing at an extraordinary level."
'Ibrahimovic is a stupid, big-headed, flat-track bully' Bertrand-Demanes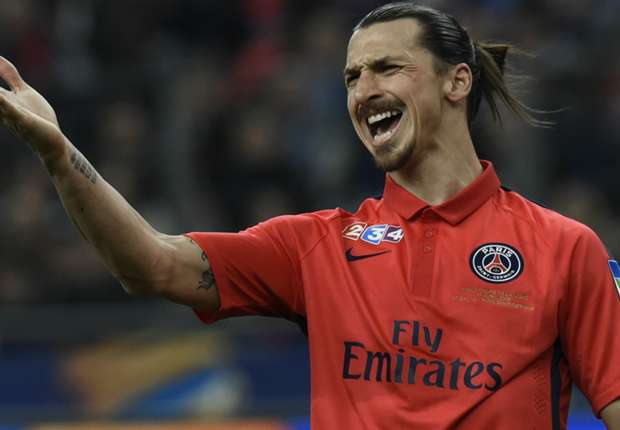 The ex-Nantes goalkeeper says that the Swede is as "thick as two short planks" adding that PSG must sell him if they are to progress to the next level

Former France international Jean-Paul Bertrand-Demanes says Paris Saint-Germain should get rid of Zlatan Ibrahimovic, arguing that the striker is nothing more than a "stupid, "big-headed", "flat-track bully" who needs "a good slap".

PSG had not been champions of France since 1994 when Ibrahimovic joined the capital club from AC Milan in the summer of 2012 for an estimated fee of €20 million.

The Sweden international has since fired the Parc des Princes outfit to back-to-back Ligue 1 titles, while they are currently on course to record a domestic treble.

However, Bertrand-Demanes says that Ibrahimovic is actually holding PSG back, claiming that while the 33-year-old is capable of running riot in Ligue 1, he does not deliver in the Champions League, with Laurent Blanc's men having been swept aside by Barcelona in the quarter-finals earlier this month.

The ex-Nantes goalkeeper also says that Ibrahimovic does not have the requisite intelligence to play alongside a striker, as underlined by the fact that PSG forward Edinson Cavani often has to play wide to accomodate his team-mate through the middle.

"I don't like Ibrahimovic," Bertrand-Demanes told L'Equipe. "He is so big-headed. The problem is people make him think he's intelligent, but he's as thick as two short planks.

"He's not a caricature but not far off; he's a flat-track bully. You can be big-headed when you're [Luis] Suarez or [Lionel] Messi and score goals against Bayern Munich or Real Madrid.

"I'm sorry but, if you only score a hat-trick against Nancy... If PSG want to progress they need to get rid of him. He is a problem for PSG.

"You can't ask him to accept playing up-front alongside someone because he's too stupid."

Bertrand-Demanes then took aim at France international Florian Thauvin, lashing out at the attacking midfielder for the way in which he forced through a move from Lille to Marseille last summer by effectively going on strike.

"[Ibrahimovic] is like Thauvin," he added. "They both need a good slap."

"When you see what Thauvin did to Lille to go to OM, you understand.

"These people have chick peas for brains and treat others like idiots."
Verratti: Messi more beautiful to watch than Ronaldo & Hazard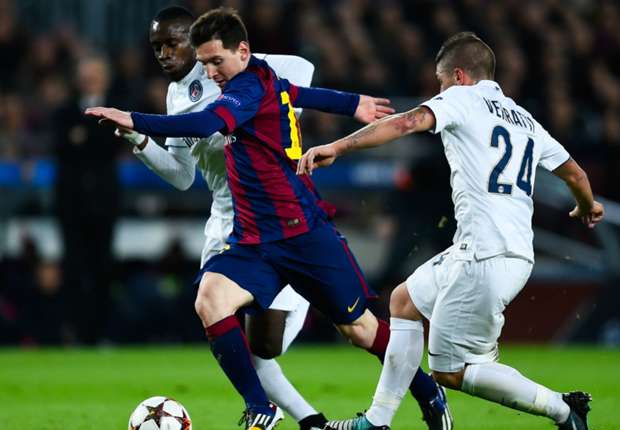 The Italy international thinks the Argentine is the toughest opponent he has faced and says he would love to emulate Andrea Pirlo in his career

Paris Saint-Germain star Marco Verratti says Lionel Messi is the toughest player he has faced and the most captivating to watch, ahead of Cristiano Ronaldo and Eden Hazard.

The Ligue 1 champions have faced Barcelona three times in this season's Champions League alone, with Messi helping the Catalans to a 3-1 win at Parc des Princes on Wednesday.

Though he missed that match through suspension, Verratti is in no doubt that the Argentine is the best opponent he has ever faced, ahead of Real Madrid sensation Ronaldo and Chelsea favourite Hazard, formerly of Lille.

"Yes, the toughest and the most beautiful to watch," he told L'Equipe when asked if Messi was his sternest adversary.

"I have played against greats, like Ronaldo and Hazard. But I love watching Messi's touch of the ball, his style."

Verratti has regularly been earmarked as Italy's long-term successor to Juventus stalwart Andrea Pirlo and the 22-year-old says he would love to emulate the playmaker's career.

"Our style of play is still a bit different," he said when asked if he agreed with the comparisons.

"Pirlo has won everything: the World Cup, the Champions League... it's a great honour to be compared to him. I hope to have his career."

The former Pescara youngster also admits is habit of attempting to play out of danger has landed him in trouble with his team-mates in the past.

"There are times when it is worth taking risks," said Verratti. "That's my style of play. If you lose the ball in those few seconds, it's dangerous, but if you succeed you can damage your opponent.

"At the beginning, yes [they reproached me]. Thiago Silva, among others. But now they often tell me to keep doing it because it helps the defenders or attackers retrieve the ball."

Finally, Verratti said the backing from PSG's supporters has left him convinced he made the right decision to join the club in 2012 - but refuted the idea that he has already become 'the boss' of Laurent Blanc's midfield.

He continued: "In football today, there is no boss. Football has changed - you need a great team, not just one player. No one can make the difference alone.

"I didn't expect it here because there are great champions here and I'm abroad. When you hear your name like that, in the stadium, it makes you think you made the right choice to sign. The best way to thank the fans is to play as much as possible and stay as long as possible."
Clasico defeat will help Madrid - Ancelotti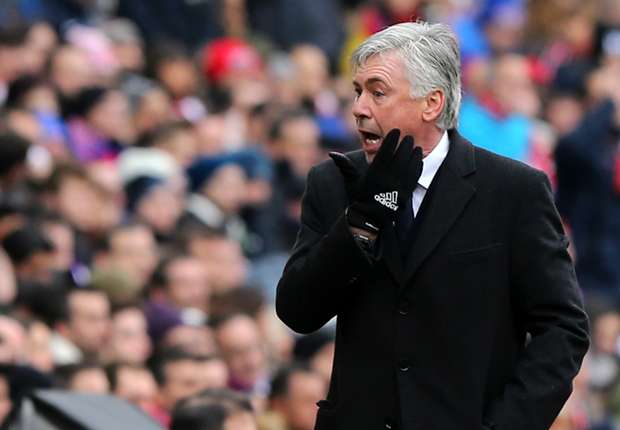 Despite losing the game, the Italian felt his side at least returned to their normal playing style after several weeks of poor performances

Real Madrid boss Carlo Ancelotti says the club's Clasico defeat to Barcelona will ultimately prove to be a positive.

The Italian's side were beaten 2-1 at Camp Nou on March 22 but the former AC Milan and Paris Saint-Germain boss saw big improvements in his team from previous weeks.

Madrid have disappointed since the turn of the year, which has allowed Barca to leapfrog them at the top of La Liga and open up a four-point gap.

But Ancelotti believes his players are slowly returning to something like their normal selves and says the defeat to their arch-rivals will benefit them in the long run.

He said: "The defeat was hard, but the sensations were good because they returned to play as we wanted and as we know. That will help us win more in the future."

Madrid overcame Schalke in the last-16 of the Champions League to set up a quarter-final tie with Atletico Madrid and Ancelotti admitted retaining the trophy is his priority.

"As I always say, the first objective is to reach the Champions League final and the second is overcome the opposition in the final.

"This Real Madrid has all the conditions to compete at all levels in all competitions, so the goal is to win."

Guardiola: I am not the best coach in the world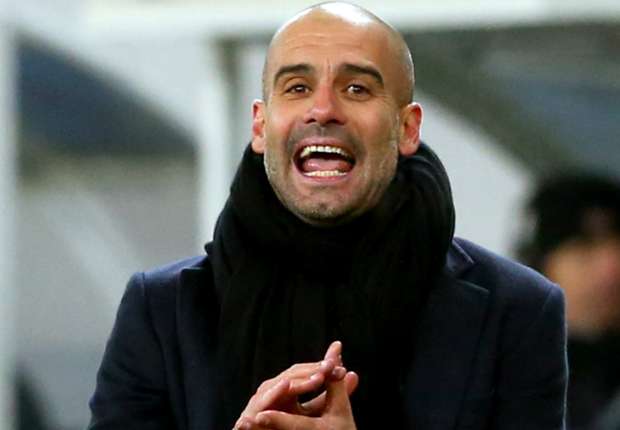 The Bayern coach remains modest irrespective of all the praise and has admitted that a crucial period awaits as the Bavarians dream of the treble

Pep Guardiola has dismissed suggestions that he is the best coach in the world as he feels the players are the ones making the difference in the end.

The Bayern Munich boss is widely regarded as one of the best tacticians in the game, yet he remains humble despite all the praise.

"I am not the best coach in the world," Guardiola said at a press conference. "I am only here to help my players.

"I am very motivated and have a lot of faith in my players."

Guardiola then went on to admit that a crucial period awaits Bayern as they aim to secure the treble this term.

"I am going through the most difficult period at Bayern since I got here," the former Barcelona trainer stated. "These next few months are a huge challenge to me.

"April is a decisive month. Every game is like a final. The players must understand that we demand even more now. We are the ones to blame if we don't win."

The Catalan also had his say on Saturday's Bundesluga encounter with Borussia Dortmund, insisting that expects a tight affair even though BVB currently sit 10th in the standings, 31 points behind his table-toppers.

"The game against Dortmund is still a Klassiker, regardless of their position in the table," Guardiola added. "BVB have a great team.

"I expect them to play attacking football, but I want us to dominate. I think it will be a great game."

Nedved: Real Madrid not as strong as Barca & Bayern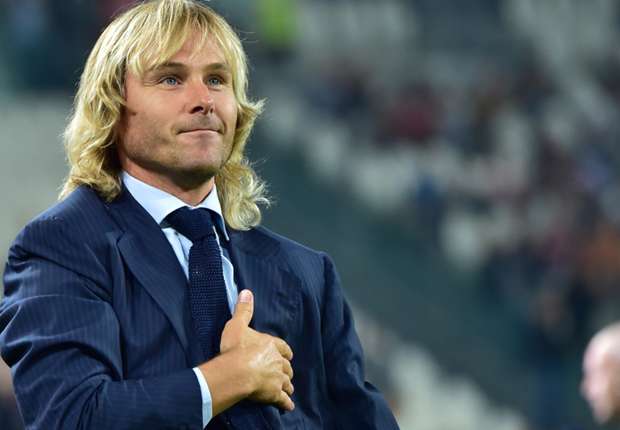 Los Blancos won the 2013-14 Champions League but they have suffered a dramatic dip in form since the turn of the year

Juventus director Pavel Nedved says that Barcelona and Bayern Munich are the best teams in Europe, claiming that Real Madrid are not as strong as they were last season.

Madrid won the 2013-14 Champions League, defeating Bayern 5-0 on aggregate in the last four before beating city rivals Atletico 4-1 in the final.

Carlo Ancelotti's men embarked upon a 22-winning streak in all competitions this term but their form has dipped dramatically since the turn of the year, with Los Blancos losing top spot in La Liga to Barca and only scraping into the quarter-finals of the Champions League by edging out Schalke 5-4 on aggregate after a shock second-leg loss at the Santiago Bernabeu.

Consequently, when it comes to weighing up the respective merits of those involved in the race for this season's European Cup, Nedved feels that there are two obvious frontrunners.

"It's good [for Juve] to have avoided Barcelona and Bayern Munich, who are the best teams in Europe at the moment," the former Ballon d'Or winner told El Mundo Deportivo.

"Real Madrid are not at the level of last year. But everything can change very quickly."

Juve will face Monaco in the last eight after the Ligue 1 outfit sneaked into the quarter-finals thanks to a victory on away goals over Arsenal, whose 2-0 success in the principality nearly overturned a 3-1 first-leg deficit.

However, Nedved says he saw enough during the principality club's win at the Emirates to suggest that they can cause the Bianconeri problems.

"Obviously there were more famous possible opponents we could have drawn, but we must not underestimate Monaco," the Czech added.

"They went dangerously close to being knocked out at home, but they impressed me against Arsenal in London."
Pedro: Barcelona exit talk is logical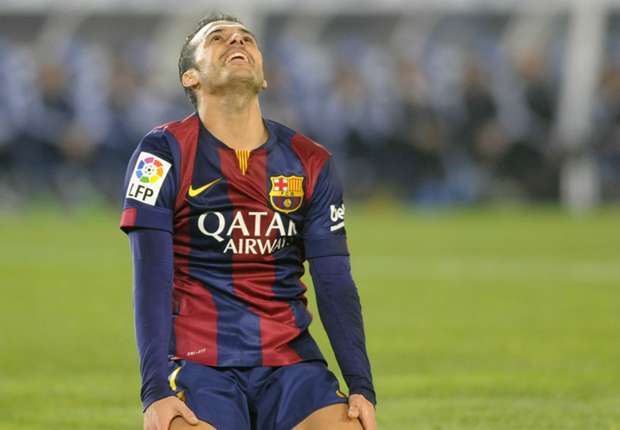 The forward describes his situation at Camp Nou this season as "difficult" and feels speculation linking him with a departure is a natural consequence

Barcelona attacker Pedro has admitted rumours he could leave the club are only logical due to his lack of playing time.

Lionel Messi, Neymar and Luis Suarez are firmly established as Luis Enrique's first choice options in attack at Camp Nou and the Masia graduate has been pushed to the sidelines, making just 12 league starts so far this season.

Pedro has been linked with a move to England and acknowledges it is only normal for observers to believe he will leave Barca this summer.

"When you do not have a lot of playing time, of course you do not feel like one of the important players," he told Al Primer Toque.

"When you play few games, not many minutes, it is normal that there can be talk of leaving. That is logical.

"It is the same for all players; everyone wants to play. When you do not play in important games, then it is a difficult situation.

"There is a lot of talk at the moment. I am relaxed but it is difficult."

However, Pedro's focus is on securing silverware before the end of the current campaign. Barca sit top of La Liga and will face Paris Saint-Germain in the Champions League last eight, with a Copa del Rey final against Athletic Bilbao also to look forward to.

He continued: "The most important thing is to remain calm and finish the season well. I hope I can help the team. There is no decision yet and at the moment I am with the club."
Ex-One Direction star Zayn Malik invited to Finn Harps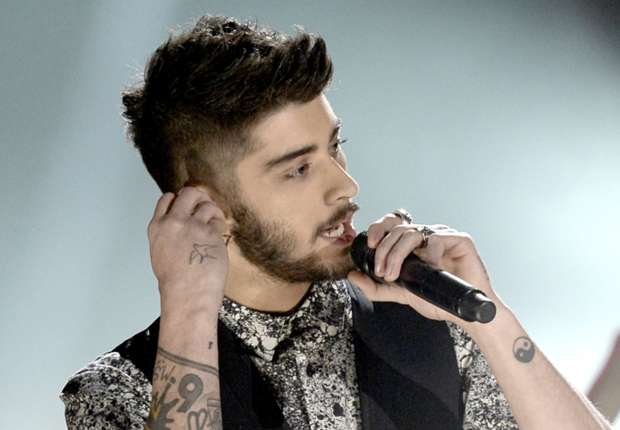 The singer is now without a band, but clearly has plenty of options to keep boredom at bay, including a complimentary night at Finn Park

League of Ireland First Division club Finn Harps have made ex-One Direction star Zayn Malik an enticing offer ahead of their clash against Cobh Ramblers on Friday.

With the singer now without a band, the Donegal-based club are keen to alleviate any boredom by offering the 22-year-old free entry to Finn Park as well as a delicious 50 per cent off the price of soup, should he require warming up in midst of the cold Irish spring.

The One Direction ensemble are more renowned for their attendance at games in more salubrious surroundings, but this is an offer Malik would be foolish to miss and who knows, with Louis Tomlinson previously striking up a rapport with Doncaster Rovers, Malik could re-launch his career in the League of Ireland!
Henry: Messi was treated differently for his infamous handball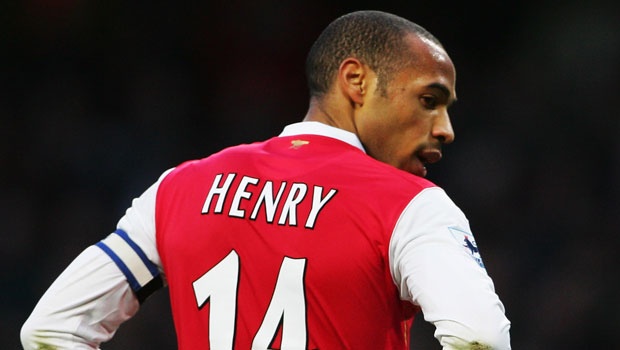 The ex-Arsenal and Barcelona star is still bitter he was so heavily criticised for the role he played in France earning a spot at World Cup 2010

Thierry Henry says the reaction to his infamous handball against Republic of Ireland was unfairly hysterical, claiming that when Lionel Messi was involved in a similar incident, he was labelled "a genius", whereas it was if he had "killed someone".

The former France international used his hand to control a cross during the second leg of his country's 2010 World Cup qualification play-off with the Irish in Paris before teeing up William Gallas for a goal that saw Les Bleus book their berth in South Africa courtesy of a 2-1 aggregate win.

Henry was vilified for his perceived dishonesty both by the press and his peers but he pointed out that former Barcelona team-mate Messi did not have his character called into question after scoring with the aid of his hand in a game against Espanyol in 2007.

"You are talking about people I spent so many times on the pitch with," he told Canal Plus.

"I just said to them, 'Yes, it was hand, I'm sorry.' And you know what? They told me: 'We don't blame you.'

"I saw Liam Brady, the Arsenal legend, and he asked me: 'Did you touch it with your hand?' And I answered, 'Yes, it was my hand.' I spoke to the press that night. I could have ignored them but I didn't.

"I spoke honestly - it was a reflex. A reflex by a competitor, just like when you reach out for the ball on the line when your goalkeeper is beaten.

"When I see Messi scoring against Espanyol, diving to touch the ball with his hand, people say, 'What a genius, now he is closer than ever to Maradona.' But when it was me, it was like I had killed someone."

Henry also dismissed the suggestion that his decision to leave Barca for MLS outfit New York Red Bulls just six months after the handball incident was in any way influenced by the flak he received in his native France for the alleged act of poor sportsmanship.

"I have always wanted to go there [to the United States]," the Arsenal icon added.

"Anyone who knows me would tell you that. Also, to escape what? To escape who? I wanted to go as soon as 2009, but I didn't because I kept playing with the national team. That is total rubbish."
'Ronaldo must face ban or fine for Clasico celebration'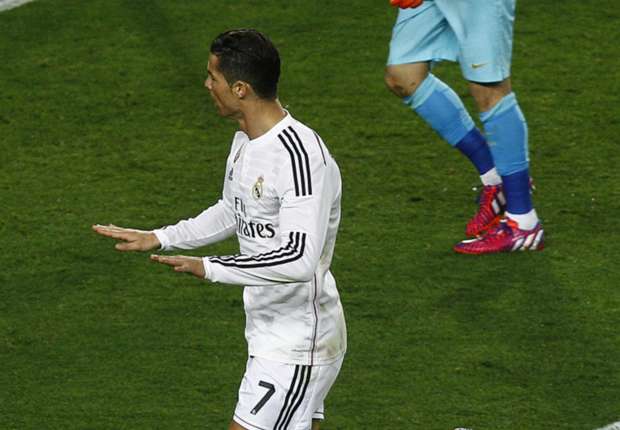 LFP chief Javier Tebas believes the Real Madrid forward should be punished for gesturing towards Barcelona fans after his goal in Sunday's Clasico

Cristiano Ronaldo's provocative celebration in the Clasico "must" see him face a fine or suspension, according to La Liga president Javier Tebas.

The Real Madrid forward taunted the Camp Nou crowd with a 'calm down' gesture after scoring the equaliser in Sunday's clash with Barcelona, although Jeremy Mathieu's opener was eventually added to by Luis Suarez.

The LFP chief is adamant players should not bate opposition fans in the way that Ronaldo did and says he will push for the Portugal international to be sanctioned.

"We have to be careful with provocative gestures by a player when he scores a goal or with any other provocation or conduct that could incite violence among spectators," Tebas told reporters.

"It must be sanctioned, from a fine up to a suspension. We will look into it."

If the LFP decide to suspend Ronaldo for one match then he will be absent for their first clash after the international break at home to Granada, though a harsher ban could see him miss games with Rayo Vallecano and Eibar.

In addition to criticising Ronaldo, Tebas also questioned Real Madrid's reluctance to allow the Copa del Rey final between Athletic Bilbao and Barcelona to be played at the Santiago Bernabeu later this season.

"I wish it were the Bernabeu," he added. "However, it is the decision of the club and we must respect their decision not to allow it, for whatever reason."

Real Madrid were eliminated from the Copa del Rey at the last-16 stage by Atletico, who were subsequently dumped out of the competition by Barca in the quarter-finals.
Pep marvels at Messi on Camp Nou return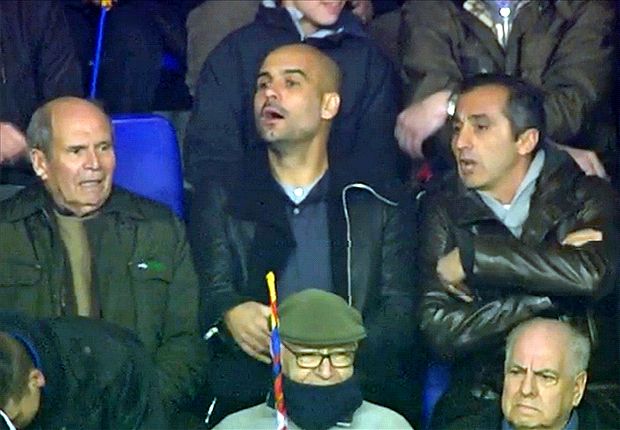 The Bayern Munich boss continued his brief trip to Spain by watching his former club play in Europe

Pep Guardiola made his first return to Camp Nou on Wednesday after a near three-year absence and admitted it felt "really good" to watch his old club Barcelona take on Manchester City in the Champions League.

Guardiola opted against renewing his contract at Barca towards the end of the 2011/12 campaign after a trophy-laden spell at the club with whom he made his name as a player.

Having claimed three La Liga titles, two Copa del Reys, two Fifa Club World Cups and two Champions League crowns as coach, he cited fatigue for his decision to walk away.

After a year-long sabbatical in New York, he returned as boss of Bayern Munich for the start of the 2013/14 campaign and was quick to maintain the Bavarian club's dominance of German football.

Bayern have never been drawn against Barca during that time, denying Guardiola the chance to go back.

He was present on Wednesday, however, to see Barca's last-16 second leg against the English champions. The 44-year-old was captured by television cameras sitting in the stand with his father and personal assistant, former Spanish water polo player Manel Estiarte.

At half-time he gave his assessment of the opening 45 minutes to Catalunya Radio: "[Lionel] Messi is very good, very good. It's a real luxury to watch him. The Barca players are very good and they are having a great season. They have played well and created a lot of chances. Let's see what the draw brings."

"It's a great game we are watching. I hadn't been back here for a while and I feel really good to be watching the game in the stands. It's very special."

Barca went on to win the game 1-0 to advance 3-1 on aggregate.

On Tuesday night, he was at the Vicente Calderon to witness Atletico Madrid's penalty shoot-out win over Bayer Leverkusen.

Bayern are already through to the quarter-finals after a 7-0 aggregate victory over Shakhtar Donetsk.

'Ronaldo should lose the cocky attitude' - Real Madrid legend Santillana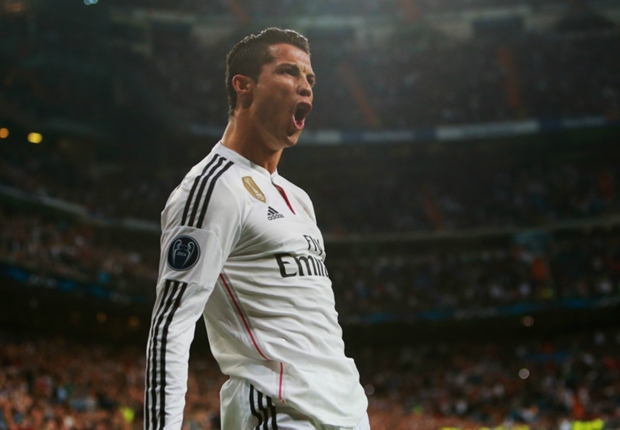 The former Blancos striker says neither he nor the Santiago Bernabeu faithful have much time for the Portuguese's alleged arrogance

Real Madrid legend Carlos Santillana says Cristiano Ronaldo needs to lose his "cocky attitude" if he wants to retain the affection of the club's supporters.

Ronaldo has scored a staggering 293 goals in 285 games in all competitions since joining the Blancos from Manchester United in 2009 and last season he fired the Spanish side to a 10th European Cup.

The Portugal international started 2014-15 in sensational form but his attitude and behavior since the turn of the year has drawn a lot of criticism.

In particular, his decision to go ahead with his 30th birthday party celebrations just hours after the 4-0 derby defeat to Atletico Madrid upset some fans and reportedly some team-mates.

Santillana, who spent 17 years at the Santiago Bernabeu during his playing days, thinks Ronaldo should not be whistled by Madrid fans but should at least act less arrogantly if he truly wants to be embraced.

"Sometimes I don't like his attitude," the former striker told reporters on Thursday.

"It is something that Real Madrid's fans don't like, so imagine what rival fans think of him.

"We don't have to boo him, but he should correct his cocky attitude."

Ronaldo will be hoping to get Madrid supporters back on his side when Carlo Ancelotti's side face Barcelona in a crucial top-of-the-table clash with the Liga leaders at Camp Nou on Sunday.
Messi: Not long ago I was a disaster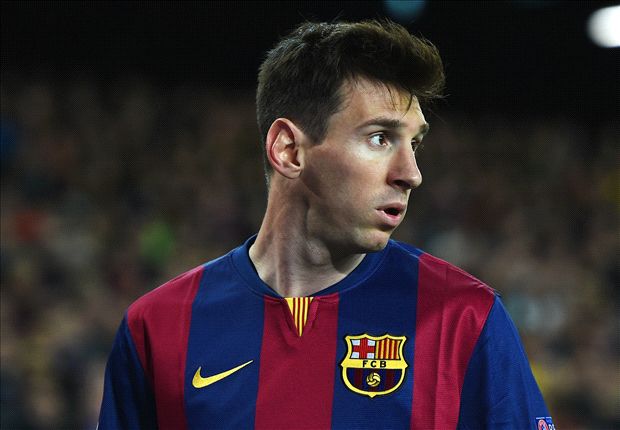 The Argentine has played down his fine form of late but admits that he is feeling confident heading into Sunday's crunch Liga clash with Real Madrid

Lionel Messi has joked that he has suddenly gone from being a disaster to back to his best after a fine display in Barcelona's Champions League win over Manchester City.

The Argentine set up Ivan Rakitic for the only goal of the game at Camp Nou as the Catalan side beat the Premier League giants in both legs, winning 3-1 on aggregate.

And Messi was full of praise for his side and City goalkeeper Joe Hart, but played down reports that he is now back performing at the peak of his considerable powers - just a couple of months after his attitude and form were being questioned by the press.
"Not along ago, I was a disaster," he told Canal+. "I'm not going to be a disaster and then suddenly in my best moment.

"Hart saved everything. We did everything we could to score more goals, but their goalkeeper had a fantastic game, so we have to congratulate him.

"But we were able to go through and that was the most important thing.

"We played a great game. We are at a very good level and there are important games ahead – Madrid, the quarter-finals… I am feeling good and enjoying myself, but there is a long way to go."

The attacker is looking forward to Sunday's Clasico clash with Real Madrid and feels his side are in good form.

"We started the year in a different way, with our hopes and dreams renewed. We have started well. We have had our ups and downs, but there are a lot of games and the important thing is that we are at a great level and we have to stretch that run.

"We have a lot of respect for Madrid and Cristiano Ronaldo. Madrid are even more dangerous like this. We can't say if they are in good or bad form.

"Individually they have impressive players and they could be even stronger than usual. We will try to play our natural game."
'Ibrahimovic is Messi, Ali and Tyson rolled into one'
The player's agent says the unique qualities of the striker mean there is no chance his current club will sell him this summer

Zlatan Ibrahimovic's agent says the Paris Saint-Germain star has the "technique of Lionel Messi, the character of Muhammad Ali and the strength of Mike Tyson".

The Sweden international, 33, hit the headlines for the wrong reasons at the weekend when he branded France a "sh*t country" in a foul-mouthed rant at a referee following PSG's defeat to Bordeaux.

Although Ibrahimovic later apologised for the disparaging remarks he made about France, he has since been criticised by several politicians in the country, prompting speculation he could depart the club at the end of the season.

However, Raiola says the Ligue 1 champions couldn't possibly afford to sell him given the unique qualities of the former Milan and Barcelona star and compared him to three sporting icons.

"Theoretically, Ibrahimovic could be sold this summer - but PSG would have to actually want that. Which leads me to say that it would be virtually impossible," he told L'Equipe.

"Today he is still the most important player in PSG's project. Where's his potential replacement? Where's the new Zlatan? It's impossible to find someone like him today and PSG know that.

"Zlatan is unique – he's the only player in the world who measures 1.96 metres, has the technique of Lionel Messi, the character of Muhammad Ali and the strength of Mike Tyson.

"I've never forced players to do things they don't want – Zlatan will extend his deal beyond 2016 if he wants to. One thing he won't be, though, is a benchwarmer. He is the star of the team or he is gone."

Blaise Matuidi is another player on Raiola's books and despite admitting the PSG midfielder would be a great fit for the Premier League, he believes there is no chance of him leaving this summer.

"He could've left last summer, but it's his dream to win everything with PSG," he continued. "Blaise could be brilliant in English football.

"Yes, he could leave, but there's just one problem: PSG's owners are not in football to make money. They just want to have the best team. Matuidi doesn't want to leave."
Messi-obsessed Ronaldo should be sold by Real Madrid - Stoichkov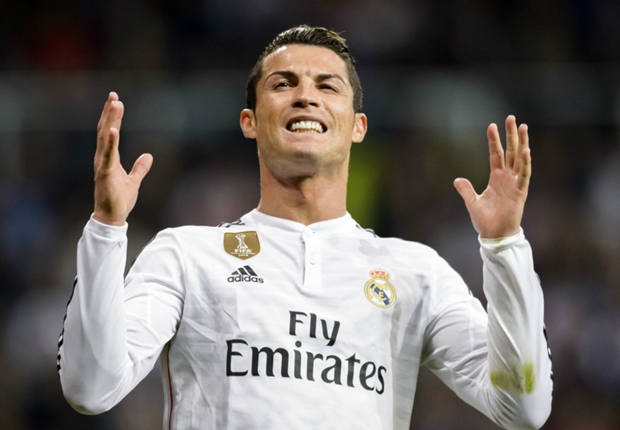 The ex-Barcelona star feels Real Madrid should sell the forward as his determination to match his Argentine rival is holding him back

Hristo Stoichkov believes Cristiano Ronaldo's obsession with Lionel Messi is holding the team back and that Real Madrid should cash in on him.

While the Portuguese star has scored 41 goals in 39 games in all competitions for Madrid this season, he has had a dip in form since the start of 2015, having scored two in the last seven Liga matches.

The attacker has come under a lot of criticism in recent weeks and even decided not to celebrate Gareth Bale's goal against Levante on Sunday.

Stoichkov believes Ronaldo's attitude will begin to hinder the rest of the Blancos side and believes his determination to be seen as a better player than Messi is having a negative effect on his performances and those of the team.

"You can never get angry because a team-mate has scored and not celebrating is to commit suicide as a team-mate, because then you are worth nothing and you are worth nothing to your team," he told Sportium.

"You can't doubt the quality of either Ronaldo or Messi. Messi is where he should be and Cristiano is going through a difficult time, but all players go through rough patches. I was whistled as well in my time. It's up to the coach to make decisions and to speak to the player.

"Maybe the obsession with Messi is affecting him, but I'm not inside his head. Messi motivates his team-mates and if Ronaldo doesn't score it affects his team.

"At times like that you have to display your personality; 99 per cent of players can't answer the question 'why am I being booed?'

"Messi is at the level of Pele, Diego Maradona and Johan Cruyff and what annoys Cristiano is that he is only compared to Messi.

"You'd have to ask Florentino Perez about Ronaldo's future. Sooner or later, Cristiano will be sold by his president. The world of football is like that, but it depends on his president.

"I don't know if they are short of money. If they are, it's a good moment to sell him."
Deco: Ronaldo works hard but Messi is pure talent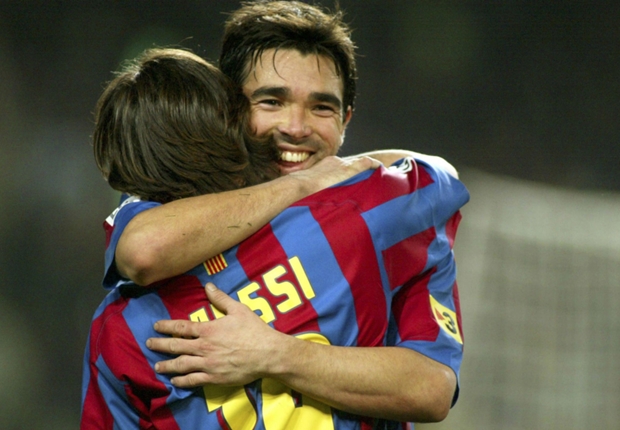 The former Portugal international feels that the Argentine is more naturally gifted, though he added that Ronaldinho is the most skilful player he has ever come across

Deco believes that Lionel Messi could be the best player he has ever played with, and explained that the Argentine is pure talent whereas Cristiano Ronaldo is a product of hard work.

The now-retired 37-year-old played alongside Messi during his time at Barcelona, while he and Ronaldo were team-mates at international level with Portugal.

Deco has the utmost respect for both players, who have won the last seven Ballon d'Or awards between them, but feels that Messi has the edge.

However, the former playmaker suggested that another former team-mate, Ronaldinho, could be even more gifted than both.

"[Leo and Cristiano] are different," he told FourFourTwo. "Messi was born with talent. Cristiano also has talent but it's amazing how hard he works at it; how professional he is.

"It's difficult to pick one but maybe Leo is the best I've ever played with. Although, Ronaldinho did things that I've never seen anyone do."

Deco was more decisive when it came to picking the best coach he has ever played under, explaining that Jose Mourinho, with whom he won the Champions League in 2004, changed the entire mentality of Portuguese football.

"I think he's the best, though I've had many great coaches: Fernando Santos, Carlo Ancelotti, Felipe Scolari," Deco said.

"However, Mourinho brought something different. He brought ambition because in those days in Portugal it was difficult to imagine that one of our clubs could win the Champions League."
Xavi relieved he stayed at Barcelona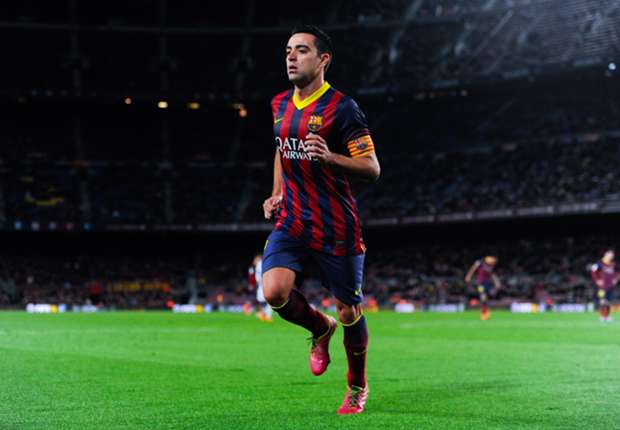 The midfielder was all set to quit Camp Nou and move to MLS side New York City, only to be persuaded to stay by Luis Enrique

Xavi has admitted he is relieved he decided to stay with Barcelona last summer as he prepares to make his 750th appearance for the club against Eibar next weekend.

The midfielder was in advanced negotiations with new MLS side New York City FC before a late plea from Barca coach Luis Enrique changed his mind at the 11th hour.

He has since made 26 appearances so far this season and Xavi is convinced he made the right choice in staying at Camp Nou, where has spent his entire career.

"I'm glad I didn't leave last summer," he said.

"I'm lucky enough to have been at the best club in the world. I've been in the first team for 17 years and, together with the years in the academy, that's nearly 25 years here, which makes me very proud."

The 35-year-old rose to prominence under the tutelage of former Blaugrana boss Frank Rijkaard who saw his potential to play in a more advanced midfield role and Xavi pointed to the Dutchman as a key influence.

He added: "I had no idea that the best years of my career would be further forward in midfield. It was Rijkaard that put me there, he saw that I had a good last pass."

The former Spain midfielder, who retired from international duty after the last summer's World Cup, also enjoyed great success during Pep Guardiola's four-year reign in charge of the club and sees similarities between the now Bayern Munich boss and Luis Enrique.

"They both impose their character and style on their teams. Pep was very vocal and Luis Enrique is too, they both like to have control."
'Messi ate too many pizzas', blasts former Barcelona star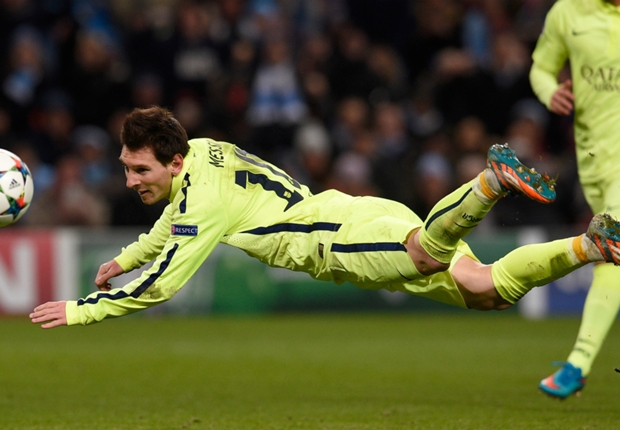 Carles Rexach says the Argentine put on too much weight last season and believes Luis Enrique is too strict with his players

Former Barcelona star Carles Rexach has hit out at Lionel Messi, claiming that the Argentine ate too many pizzas last season.

The 2013-14 campaign was an underwhelming one for the Argentine as he tallied his lowest number of goals since 2008-09 and Barca finished the campaign without a major trophy.

Rexach, who played for the Blaugrana from 1967-1981 and later coached the club, believes the attacker gained weight last year because he was eating too many pizzas.

"Before he would eat at the club and then rest afterwards, but it seems to me that last year Messi ate more pizzas than he wanted or needed," Rexach told Regio7.

The former winger also touched on current Barca coach Luis Enrique's first season in charge. The ex-Roma boss had a well-publicised falling-out with Messi and is currently enduring a number of dressing room problems with members of his squad.

"Luis Enrique has started with too many rules - whoever doesn't train doesn't play," he said. "Let's see what happens when Messi doesn't train and you need him!"

Barcelona currently sit second in La Liga, four points behind Real Madrid.
Mourinho: Real Madrid & Bayern Munich aren't Champions League favorites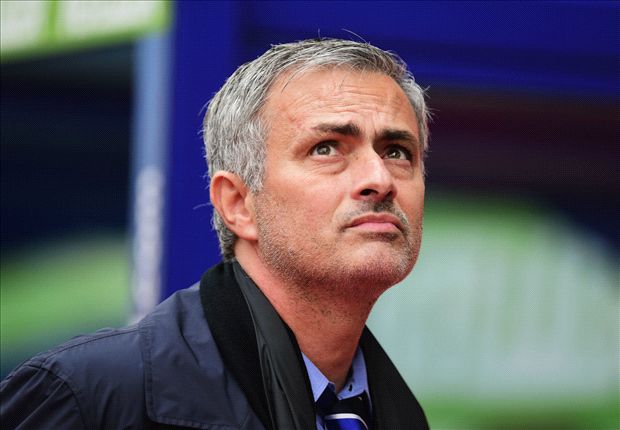 The coach insists the Spanish and German league leaders are not the most likely sides to win the European competition and expressed his worry over Diego Costa's sharpness

Jose Mourinho insists Real Madrid and Bayern Munich are not the favourites to win this season's Champions League.

Chelsea are set to face Paris Saint-Germain in the Parc des Princes on Tuesday in the first-leg of their second round tie in Europe's most prestige competition as they look to maintain a strong campaign this season.

However, Madrid, the reigning world and European champions, along with 2012-13 Champions League winners Bayern, are said to have one of the strongest cases to win the competition this year.

However, the Portuguese coach believes none of the 16 teams currently in the tournament can be ruled out just yet.

"I don't agree at all that they're favourites, because the Champions League always has space for surprises," he told reporters.

"You go through the last decade and see teams winning the competition who you expect to win, but you also have teams you don't expect to win. You can balance it almost 50-50.

"You have three or four teams people would not be expecting. I really don't know the candidates when it goes to the knockout stage. At the moment there are 16 candidates for me."

Diego Costa, who has not played for the Blues since last month's League Cup semi-final victory over Liverpool, having served a three-game suspension for stamping on Emre Can, is expected to start in midweek, but Mourinho is worried about his sharpness.

"Yes, I will start him, but I don't think it's good for a player to go three matches without starting a game," he added. "I don't think he's in the best condition.

"But at the same time Loic Remy and Didier Drogba played in the last three matches. It's obviously important for them to get minutes and have confidence and I know I have them both ready."

The Blues boss also refused to clarify whether Thibaut Courtois would regain his starting spot in goal against PSG after replacement Petr Cech produced an impressive performance against Everton on Wednesday.

"Courtois doesn't know if he will play or not, so I can't tell you. He has to hear it from me, not from the media.

"But I repeat, Chelsea has the two best goalkeepers in the Premier League, and for me it's an easy job. I'm very happy with both. Every time one plays the team is very confident because they know they have a top goalkeeper."
Messi is not a machine, but he is a phenomenon - Abidal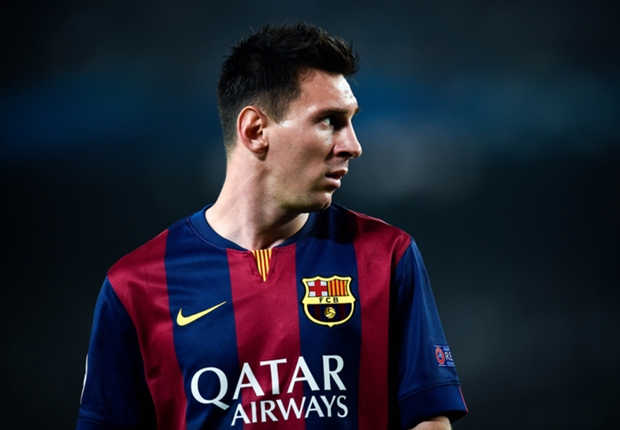 The former defender believes Barcelona thrive when the Argentine is on top form and hinted he could return to Camp Nou in a non-playing capacity

Lionel Messi "is not a machine" but he remains a phenomenon, says his former Barcelona team-mate Eric Abidal.

The French defender spent six years playing at Camp Nou with the Argentine before leaving for Monaco in 2013, while Messi has remained with the Catalans.

Although he has lost out on the past two Ballon d'Or awards, Messi has been in excellent form in 2015 and Barcelona have closed the gap at the top of La Liga to just one point behind Real Madrid with a run of 10 consecutive wins.

"Messi is at 100 per cent, he has been at the level everyone expected of him this year," Abidal told ESPN. "He is still scoring all of the time and he is still a phenomenon.

"The big players will always be big players, but they are not machines. That goes for Leo, too, but when he is in form then everything goes well for Barca."

Abidal is back in the city of Barcelona having retired from professional football at the end of 2014 and is working for his charitable foundation which helps children with cancer.

Regarding rumours that he could be employed in some capacity at Camp Nou in the near future, he added: "The club and I are very close, they are part of my family."

Luis Enrique's men are in La Liga action on Sunday when they host Levante. They are back competing in the Champions League last 16 on February 24 with a visit to Manchester City, who they knocked out of Europe last season.
I'm not an actor or show-off - Benzema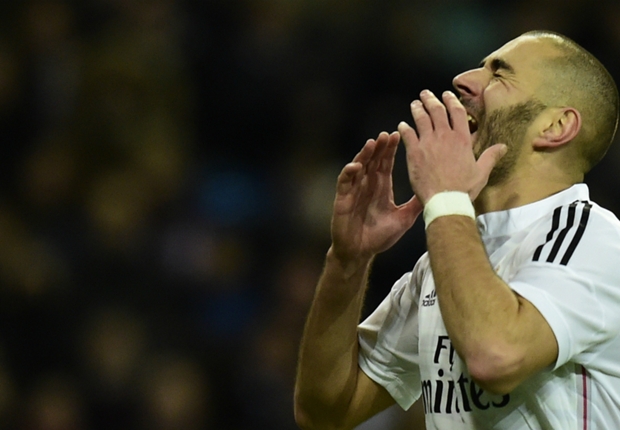 The striker believes some players make an effort to portray a certain image for the television cameras, but claims he is only ever himself

Real Madrid star Karim Benzema has declared he is "not an actor" on or off the field and believes his grounded attitude has made him popular with supporters and the general public.

The likes of David Beckham and Cristiano Ronaldo have been accused in the past as caring too much about their image as football has evolved into a more money-spinning sport over the past two decades.

The France international, however, says crafting a persona for his efforts on the pitch does not interest him and he just wants to be himself, which he believes is doing wonders for his popularity.

"I'm not an actor," he told Surface Magazine. "I'm not in the game to look good for the cameras. There are others who do that in life but I like to laugh and I get along with everyone.

"When people see me on the street - whether they are old, young, women or children - everyone shows me affection."

Real Madrid were criticised from all quarters for the way they crumbled to a landslide 4-0 defeat at Atletico Madrid at the weekend.

Although the 27-year-old admitted the European champions' performance was "a disaster", Benzema takes disapproval which stems from fans or the media with a huge pinch of salt.

"I will take criticism seriously from those who have played the game at the highest level," he continued. "But if it comes from someone who has never played the game then I don't take it seriously.

"All that matters in my position is scoring goals. Up front, if you are lazy then people notice - you have to score goals."
Cristiano Ronaldo blasts 'unintelligent' reporter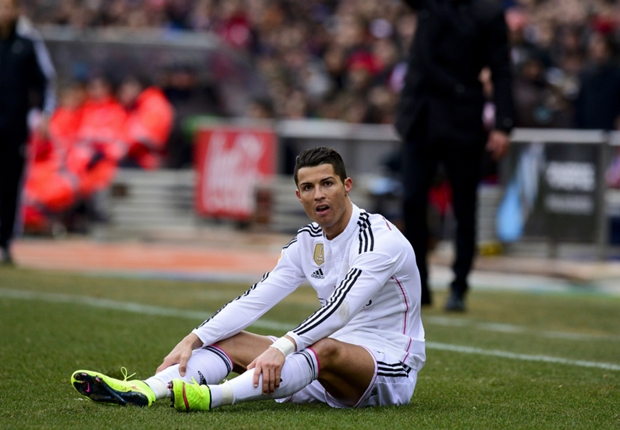 The Portuguese attacker had little patience for one journalist's line of questioning following his side's 4-0 humiliation to Atletico Madrid on Saturday

Real Madrid forward Cristiano Ronaldo showed his frustration following Saturday's 4-0 derby thrashing from city rivals Atletico by blasting a reporter for what he perceived as an 'unintelligent' line of questioning.

Liga leaders Real suffered their worst defeat since a 5-0 drubbing from Barcelona at Camp Nou in 2010 in what coach Carlo Ancelotti labelled the darkest day of his time in charge of the 10-time European champions.

And Ronaldo was visibly miffed shortly after the game when one reporter asked him to clear up what he meant when he motioned to his Club World Cup-winning badge on his shirt following his sending off against Cordoba on January 24.

"Do you want to talk about what happened today or about Cordoba, that was three months [sic] ago now," he said.

"What do you want me to say? If you were an intelligent journalist you'd ask me questions about today's game.

"You are not intelligent. Sorry."

Real Madrid will see their lead at the top of La Liga cut to one point if Barcelona can prevail against Athletic Bilbao at San Memes on Sunday.
Messi better on the wing - Luis Enrique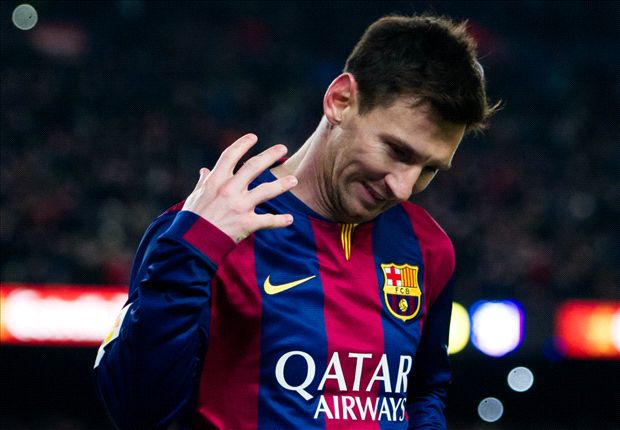 The coach defended his decision to play his talisman out wide, insisting the move was for the greater good of the team. system after he scored the winner in their 3-2 victory over Villarreal.

The Catalans had to come from behind twice before sealing victory, with Neymar, Rafinha and Messi all finding the back of the net to cancel out goals from Denis Cheryshev and Luciano Vietto.

The Argentine has often been deployed as a deep lying playmaker in Luis Enrique's new-look system, but operated as a winger on Sunday - a move the coach defended after the game.

He said: "Messi playing on wing again? It's for the good of the team, but he has freedom to move. We want him to touch the ball a lot."

Luis Suarez again toiled away up front for Barca but failed to convert several chances that came his way, meaning he has just five goals in 18 games in all competitions for the club this season.

But Luis Enrique again offered his backing to the Uruguayan, insisting his contribution was more than just about scoring goals.

"What does Suarez add? A lot," he continued. "It's crucial to have someone to push back the centre backs. The goals will come, no doubt."

The Spaniard also reserved special praise for Rafinha, who scored his first goal for the club, and Andres Iniesta, who shone in a central role.

"Rafinha? He had a very complete game, like the others. This season, he needs to adapt a bit. No doubt he'll be a key player for Barca.

He added: "Iniesta is playing at best position now, more in centre, not as much from wing as before. I'm very happy with performances."

The result leaves Barcelona one point behind leaders Real Madrid at the top of La Liga, but Carlo Ancelotti's side have a game in hand.
Xavi: Zero importance in Messi's Luis Enrique row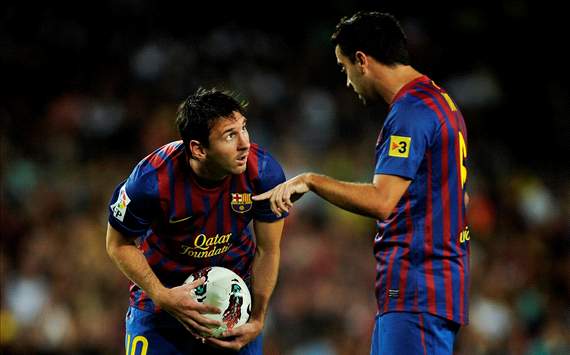 The midfielder, 35, is adamant that the Argentine's training ground fallout with the Camp Nou coach will not affect the Catalans this season and played up Neymar's importance

Xavi has insisted that the row behind the scenes at Barcelona between Luis Enrique and Lionel Messi will have "zero importance" for the remainder of 2014-15.

Reports surfaced that the pair's relationship was beyond repair earlier this month, with the coach rumoured to be on the verge of the sack as Barca pleaded with Messi to stay, although recent good results have lessened the air of negativity around Camp Nou.

Defender Jeremy Mathieu broke the silence from within the Catalan club by confirming on Thursday that there was an incident in training which saw Messi and Luis Enrique engage in a heated argument.

However, veteran midfielder Xavi has insisted that there is nothing abnormal about a coach and a player falling out temporarily and suggested such moments of tension between colleagues can happen hundreds of times over the course of a season.

"[The row Mathieu spoke about] was a normal situation in a season and it often happens when people work together," he told reporters on Friday. "People want to complain, but we should not give it more importance, it happened in the heat of the moment.

"The row subject is closed, Barca are together - everybody is motivated and, honestly, we are together. Jeremy's words are not affecting us, we found a solution to that incident and moved on.

"The importance attributed to the row is zero. This is not the first time such a thing has happened, it happens with a lot of team-mates, it's just what occurs when people work together.

"We all want to win, there are sometimes stressful situations that happen during the training sessions - that happened and will happen 200 times."
Mathieu confirms Messi-Luis Enrique training-ground row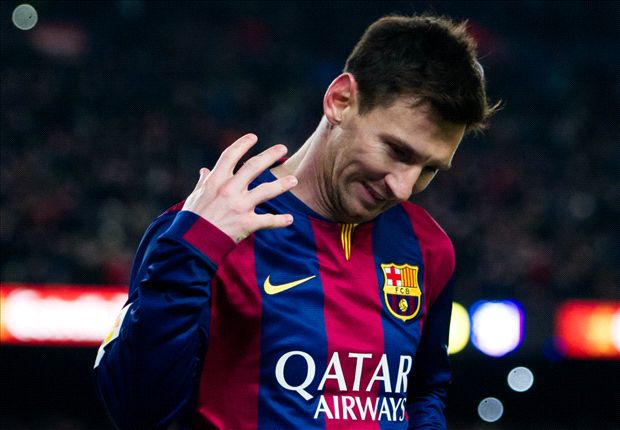 The defender has lifted the lid on a heated argument involving the No.10 and his boss after the winter break.

Barcelona defender Jeremy Mathieu has revealed that Lionel Messi and head coach Luis Enrique did have a training-ground argument earlier this month.

The prolific attacker has endured a difficult relationship with his coach ever since the latter's return to Camp Nou ahead of the 2014-15 campaign, but both have so far refused to discuss the matter publicly, with club president Josep Bartomeu repeatedly insisting there is no problem between the two.

However, Mathieu has revealed than an incident took place shortly after Messi had returned from his Christmas break, after which Luis Enrique benched the Argentine, for the 1-0 loss versus Real Sociedad.

"It happened when we got back from our holidays. Suddenly, Leo lost his temper after a foul that was not given in training," Mathieu told RMC. "Things got tense and they exchanged some angry words.

"Luis Enrique then approached him in the dressing room afterwards to talk to him and that was the end of it."

Nevertheless, Mathieu was quick to stress that there has been no fallout and added that such incidents happen at every club.

"These kinds of things happen everywhere, but it's made out to be a major thing because we are Barcelona," the centre-half stated. "Things get blown out of proportion and that's the problem."

Irrespective of the ongoing speculation about his future at Barcelona, Messi has been a key figure for the Camp Nou side in 2014-15, scoring 31 goals in 29 appearances in all competitions.
Mourinho feels ashamed after Chelsea humiliation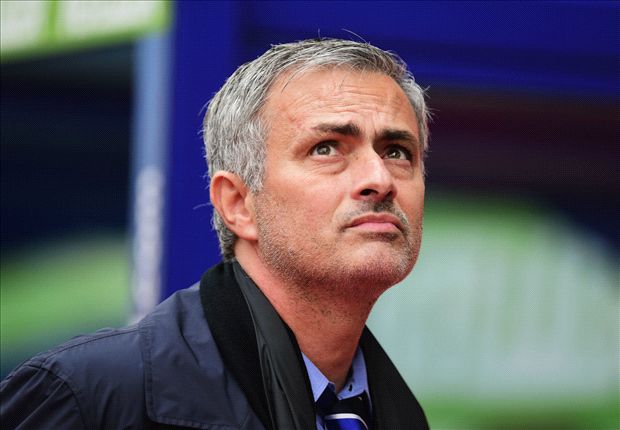 The Blues threw away a two-goal lead to exit the FA Cup at the fourth round stage and the Portuguese coach has urged the media to be harsh in their assessment of his side

Chelsea manager Jose Mourinho has admitted he is "ashamed" after his side were knocked out of the FA Cup by League One side Bradford.

Goals from Gary Cahill and Ramires had put the Blues two ahead in the first half before an unbelievable comeback by Phil Parkinson's side saw them score four times to claim a memorable 4-2 win.

Mourinho had commented prior to the match that a defeat at Stamford Bridge would be a "disgrace" and he pulled no punches in his assessment of the humbling after the game.

He told reporters: "In this moment, I feel happy for them [Bradford]. But I feel ashamed. And I think the players should feel the same.

"I repeat the words that I used yesterday. 'In case we lose, it is a disgrace.' It is a disgrace.

"It is unacceptable to lose to a team from a lower league. If I was you I would be very critical with the Chelsea manager and players.

"In an ideal world this will affect us in a positive way. We have to win the next match."
Johan Cruyff says it's "absurd" that Real Madrid Cristiano Ronaldo won the Fifa Ballon d'Or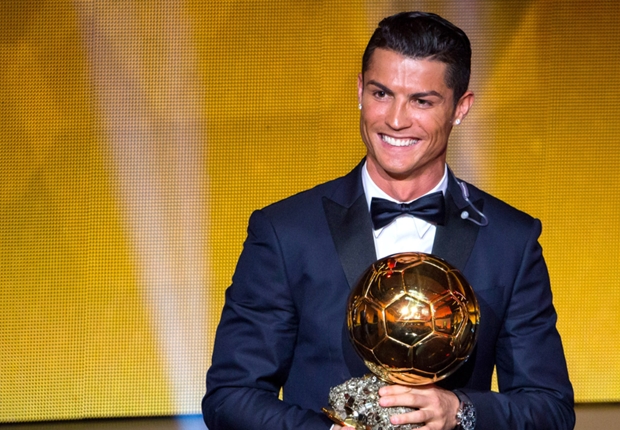 The former Holland star has criticised the decision to award the Madrid forward the trophy and feels Toni Kroos would have been a more worthy winner

Johan Cruyff says it's "absurd" that Real Madrid star Cristiano Ronaldo won the Fifa Ballon d'Or following his disappointing performances for Portugal at the World Cup.

Cruyff - who landed the prize in 1971, 1973 and 1974 feels the trophy should have gone to someone who did not only excel individually, but also enjoyed a successful World Cup, adding that Toni Kroos would have been a worthy winner.

"At the highest level, it's all about the combination of individual quality and achievements," the Netherlands legend wrote in his column for De Telegraaf.

"From that point of view, it's absurd that for the second year in a row a player has been given the award who did not both play excellent and win the most trophies.

"Back in 2013, Bayern Munich won every single trophy out there, yet Cristiano Ronaldo still won the award instead of a player like Toni Kroos or someone else from Bayern.

"In 2014, Kroos was a key player again for the team that won the World Cup, yet he was not even among the final three nominees. Ronaldo was completely anonymous at the World Cup...

"Let this be clear, I cannot take this Fifa award seriously anymore."

Ronaldo, 29, finished ahead of Lionel Messi and Manuel Neuer in the vote to win the third Ballon d'Or of his career.
Ronaldo: Messi & I motivate each other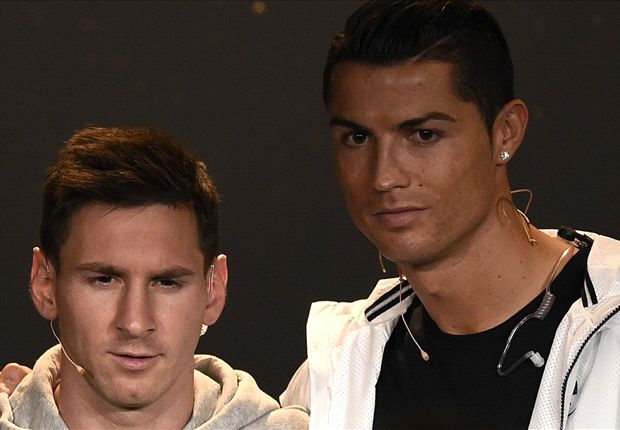 The Portugal star believes he and his rival serve as inspiration to footballers around the world and inspire each other to search for perfection

Real Madrid star Cristiano Ronaldo believes that he and Lionel Messi are motivated by the long-standing rivalry they have shared.

The 29-year-old and the Barcelona star have won every Ballon d'Or between them since 2008, with the Portugal international claiming his third last week to close in on the Argentine's tally of four.

Ronaldo believes that their duopoly on football's biggest individual award is a good thing and feels they inspire their rivals to try harder to close the gap.

"I'm sure that the competition between us is a motivating factor for him too," he is quoted as saying by AS.

"It's good for me, for him and for other players who are keen to grow. Messi has four Ballon d'Or awards, I have three. This is all good for the world of football."

Ronaldo went on to say that he is currently working on improving his set pieces, having been less successful from dead ball situations of late.

"I'm currently trying to improve my left foot, my acceleration and my direct free-kicks.

"I've not had a great deal of success recently with them. I know that it will come back. It's just a question of having enough humility to know that without training hard, things won't progress.

"Working on my game is my guide. If I'm able to play more than 60 games per season, it's because I look after myself. I sleep well, I eat well.

"In these ways I look for perfection too. If not, one can't keep this rhythm of playing up."

Guardiola urges Messi to stay at Barcelona in secret phone call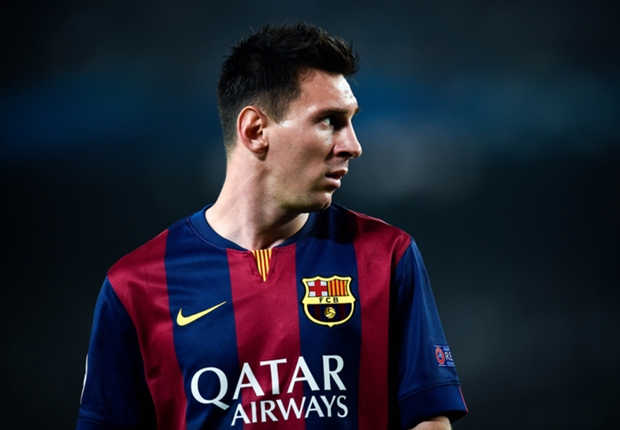 Amidst speculation the Argentine could be considering a Camp Nou exit, his former boss has told him to remain patient and believe in current coach Luis Enrique

Pep Guardiola has urged Lionel Messi to stay at Barcelona, advising the Argentina international to remain patient and show faith in the project of current boss Luis Enrique.

Last week the four-time world player of the year appeared to be as close as ever to a Camp Nou exit after admitting he was unsure where he would be playing his football next season.

Reigning Premier League champions Manchester City have since been linked with a world record move for the forward, who was said to be unhappy at being dropped from the Barca side that lost 1-0 to Real Sociedad earlier this month.

Bayern Munich coach Guardiola told Messi he should appreciate what he means to Barcelona and what the club has given him, both in his professional and personal life. Guardiola also reminded the 27-year-old of the unanimous support he has from everyone at the club, stressing that no other club can show him the same level of backing.

Messi has always listened to those he respects and owes so much of his career to and the sentiments of his former mentor Guardiola have made a real impression on him. The duo won three Liga titles, two Champions League crowns and two club world titles during Guardiola's four seasons with the club.

Pep insisted that Luis Enrique has what it takes to be successful with the Catalan giants and urged Messi to remain calm and committed to the club, vowing that the upcoming presidential elections would bring to an end what has been a turbulent 12 months or so for the club.

Former chief Sandro Rosell was forced to step down after revealing the controversial financial details of the club's acquisition of Brazil star Neymar. A two-window transfer embargo was then enforced by Fifa after the club were found to have breached regulations regarding the transfers of under-18 players.

Messi, who does not have a close relationship with Luis Enrique or any of the members of the current board, was relieved to receive the reassurances from his former boss.
Mourinho questions Bony signing: The rules are different for Manchester City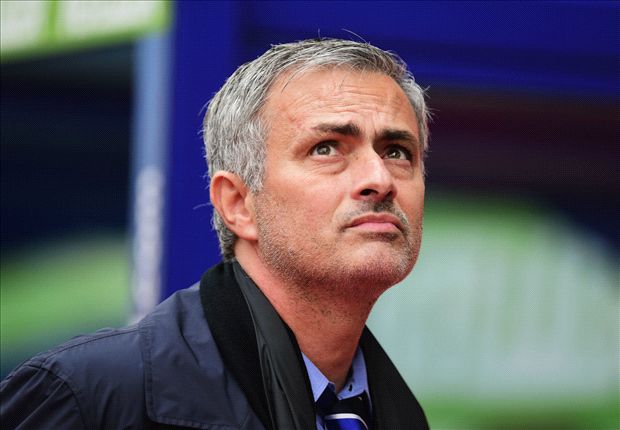 The Portuguese has hinted that the Premier League leaders are not adhering to Uefa's Financial Fair Play regulations with their signing of the Ivory Coast striker

Jose Mourinho has suggested there is a different set of rules for Manchester City after the Premier League champions announced the signing of striker Wilfried Bony.

Bony joined City in a deal worth €35 million earlier this week despite restrictions imposed on the club's net transfer spend and wage bill by Uefa as part of a Financial Fair Play sanction last summer.

And while praising the Ivorian's quality as a Premier League goalscorer, Mourinho hinted that City are not adhering to Uefa's financial regulations with their continued activity in the transfer market.

"Good striker," he replied when asked about Bony. "If [City] have the money & no problems with FFP, well done.

"They can only play with 11 unless the rules are different for them. It looks like they are in certain aspects."

When asked to clarify his answer, Mourinho added: "You know what I mean."

City's transfer policy has been the subject of scrutiny in recent weeks amid confusion over the nature of Frank Lampard's contract with the club.

It was initially announced that he had joined on loan from New York City FC, but on extending his stay at the Etihad Stadium the Premier League leaders were forced to admit that the 36-year-old had joined on a permanent one-year deal.

Meanwhile, having previously insisted there would be no January arrivals or departures at Chelsea, Mourinho has now softened his public stance to the possibility of involvement in the winter market.

"I'll be happy if nobody leaves and nobody comes but the market is open so you never know."

Lewandowski: I was wrong to vote for Ronaldo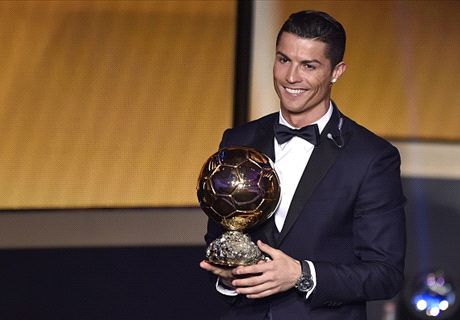 The Poland captain regrets ticking the box next to the Portuguese's name and wishes he'd backed one of his current team-mates instead

Bayern Munich attacker Robert Lewandowski has rued his decision to pick Cristiano Ronaldo in the Fifa Ballon d'Or vote ahead of Manuel Neuer.

The Poland skipper gave the Real Madrid star five points ahead of his Bayern team-mates Neuer and Bastian Schweinsteiger, but he now feels the Germany goalkeeper would have been a better choice in hindsight.

Neuer eventually ended third in the running for the prize with 15.72 per cent of the votes, just 0.04 per cent behind Lionel Messi, while 37.66 per cent picked Ronaldo.

"Voting for Ronaldo instead of Neuer was a mistake," Lewandowski was quoted as saying by Welt.

"I would clearly vote for Neuer now if I had the chance. But I already cast my vote back in August or something. I would vote different now.

"I am sorry for Manu. I am really surprised that he did not even come in second and the big gap to Ronaldo also baffles me. Manuel is an amazing goalkeeper and person."

Neuer was one of four Bayern Munich players to make the top 10, with Arjen Robben (fourth), Thomas Muller (fifth), Philipp Lahm (sixth) all earning a spot among the world's best, too.
Bartomeu: Everyone knows Barca won't sell Messi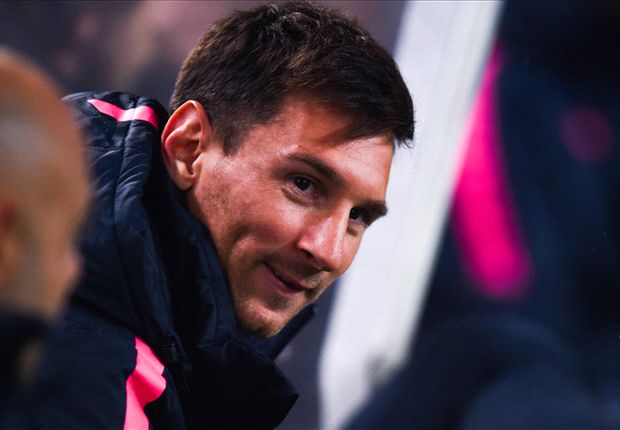 The Blaugrana president has attempted to play down suggestions that the club's star man wants to leave Camp Nou due to a fall-out with Luis Enrique

Barcelona president Josep Maria Bartomeu has dismissed suggestions Lionel Messi is looking to leave the club and played down talk of a rift between the Argentina superstar and coach Luis Enrique.

Speculation the pair are at loggerheads has intensified following Luis Enrique's decision to leave Messi, and his fellow South Americans Neymar and Dani Alves, on the bench for Sunday's 1-0 defeat at Real Sociedad.

Messi then missed training the following day with the club claiming he was suffering from gastroenteritis.

Luis Enrique insisted earlier on Wednesday his relationship with Messi was identical to when he took over at the start of the season and Bartomeu feels the gossip should end there.

Speaking at a press conference to announce the club had brought forward their presidential elections to this summer, he said: "I can't come out every day to deny every rumour floating around the club.

"Lionel Messi has a contract, he's happy here and keen to win more titles. There's nothing to panic about in that regard.

"The dressing room is a sacred place. Many things can happen there but they stay there. Lionel Messi is the leader of our team. He is our best player and we are counting on his services."

Asked how he knew Messi was happy with life at Barca, he added: "You just need to watch him on the pitch, he is not the player of last season.

"Everyone in football knows Barca do not want to sell Messi. So there is no issue."

As for the speculation, he said: "The stories are written to create conflict when conflict does not exist. But these are questions you have to direct at Luis Enrique and Messi.

"These are matters that Luis Enrique has made clear are best kept within the squad. I am in contact with them and the message I am getting is they are working well and trying to win titles."

Bartomeu has denied Luis Enrique's position is under threat and backed the former Roma boss to turn the club's fortunes around.

"Luis Enrique has a project he's working on at the moment, he's restructuring the team. He has a job to do and we still think he's the perfect person for this position."

It has been a difficult week for Barca and Bartomeu, who, on Monday, sacked director of football Andoni Zubizarreta.

Zubizarreta had, the previous night, made clear he felt Bartomeu should shoulder most of the blame for the club's two-window transfer ban for breaches of transfer regulations.

Bartomeu said; "Some associate Zubi's exit with the Fifa ban but I don't. Zubizarreta had no responsibility for the transfers of those kids.

"The new director of football will be someone from inside the club or someone who knows the club. We will not bring someone in from the outside."
'Messi worth €87m more than Ronaldo'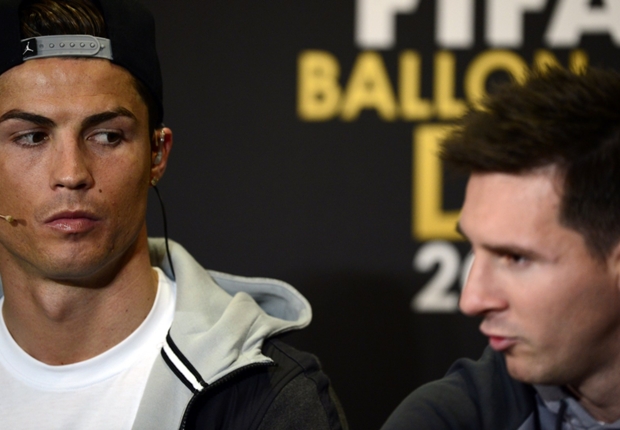 The Argentine has topped a research group's findings which tallied the 120 highest-valued footballers in the world

Lionel Messi is worth €87 million more than Cristiano Ronaldo, according to research within the International Centre for Sports Studies (CIES) in Switzerland.

The 27-year-old attacker has won four Ballons d'Or in his career so far and skippered Argentina to the World Cup final last year, winning the Golden Ball award for being the best player in the process.

Like Ronaldo with Real Madrid, Messi has a contract with Barcelona until June 2018, although reports have been circulating in recent weeks that he might swap Camp Nou for Chelsea due to discontent in Catalunya.

But Chelsea will know Messi will not be cheap: the Football Observatory, a research group within CIES, suggest Messi currently has a valuation of €220m.

Ronaldo is next in the list, valued at €133m, while world-record signing Gareth Bale sits in 10th with an estimated net worth of €60m to the Santiago Bernabeu club.

Chelsea have three players in the top 10: Eden Hazard is rated at €99m in third spot just ahead of fourth-placed Diego Costa (€84m) and fellow summer signing Cesc Fabregas in eighth (€62m).

Juventus bagged Paul Pogba for free in 2012, now he's valued at €72m - fifth in CIES' ranking as of January 2015 - while the other three spots in the top 10 are filled by Premier League players: Manchester City's Sergio Aguero at €65m in sixth, Liverpool's Raheem Sterling at €63m in seventh and Arsenal's Alexis Sanchez.

Notable absentees from the top 10 include Neymar (11th at €58m), Bayern Munich's highest-valued star Mario Gotze (13th at €52m) and 2014's most expensive player Luis Suarez (16th at €48m).

European champions Real Madrid have the most players on the list with eight other stars in addition to Ronaldo and Bale in the top 120: James Rodriguez in 15th, Isco in 17th, Karim Benzema in 21st, Toni Kroos in 23rd, Luka Modric in 27th, Sergio Ramos in 40th, Dani Carvajal in 68th, Raphael Varane in 87th and Marcelo in 94th.

The oldest player in CIES' 2015 valuation tally is 31-year-old Franck Ribery, tied for 106th at €20m, while Manchester United's teenage left-back Luke Shaw is valued at €26m along with Mario Balotelli and Gerard Pique in 65th.
Juventus are stronger challengers than Bayern or Chelsea - Ancelotti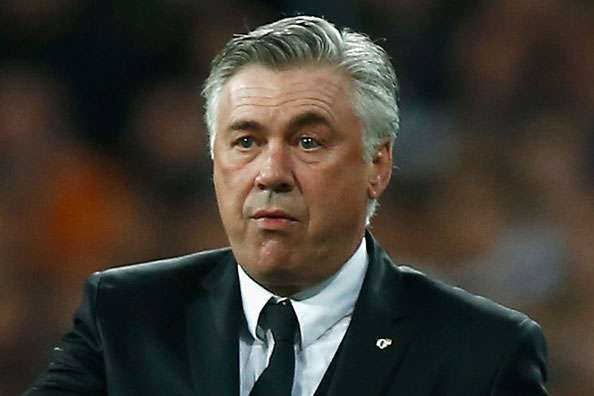 The Real Madrid boss believes the Italian champions are more likely to stop his side's bid to retain their Champions League crown this season

Carlo Ancelotti has suggested Juventus will pose a greater threat to Real Madrid's Champions League crown than Bayern Munich or Chelsea this season.

Madrid have been drawn against Bundesliga outfit Schalke in the last 16 of the competition as they look to become the first side to retain the trophy in its modern format.

Jose Mourinho's Chelsea and Pep Guardiola's Bayern both reached the last four last season and have enjoyed impressive starts to their respective campaigns, but Ancelotti believes both teams have too many young players who do not yet possess the experience needed to succeed in the latter stages.

"They [Juventus] are a great team," he told Tuttosport. "Bayern or Chelsea have several world champions and players with international experience, but are just missing that bit of maturity in the youngsters."

Madrid have won their previous 22 competitive outings but suffered a 4-2 friendly defeat to AC Milan on Tuesday - though Ancelotti does not believe it will hamper their chances of victory against Valencia this weekend.

"It is a defeat that does not hurt at all. After a week of vacation we needed a game like this to prepare for the trip to Valencia. It serves to recover our rhythm," Ancelotti concluded.

"Milan played well and we did not, but that does not ruin everything good that we did in 2014. We are very pleased with a fantastic year."
'Ronaldo will retire at Real Madrid'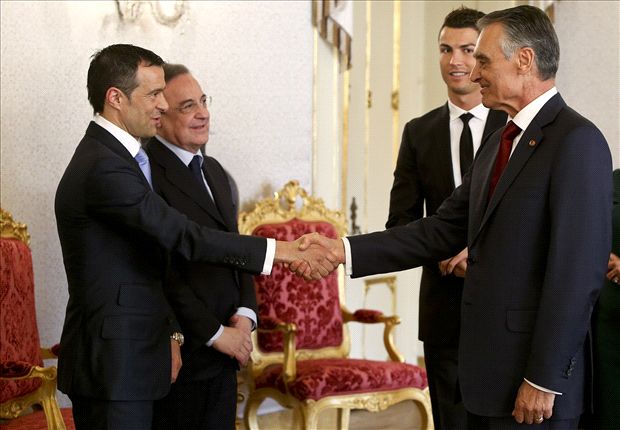 The Portuguese's agent, Jorge Mendes, claims the forward will not leave the Santiago Bernabeu, while he also lauded the prospects of Barcelona star Neymar

Cristiano Ronaldo's agent has claimed that the two-time Ballon d'Or-winning forward will finish his playing career at Real Madrid.

The Portuguese was consistently linked with a return to Manchester United last year before putting pen to paper on a new deal which runs until June 2018, when he would have spent nine years at the Santiago Bernabeu.

Ronaldo, who will be 33 years old in the summer of 2018, claimed last month that he would like to stay with the current European champions for longer than his existing deal if they will have him.

And his agent Jorge Mendes is convinced that the Portugal international, 29, will be a Real Madrid player until the day he hangs up his boots and suggested the club should consider retiring his No.7 shirt upon his departure.

"I got to know him when he was 15 years old, from then until now we've spoken together on most days," he told Globo Esporte. "When I'm in Madrid we always meet up. Our relationship is more like a friendship.

"I believe that Cristiano will finish his career at Real Madrid. He's happy at the club and is still keen to achieve more success in Madrid.

"Will the club retire his shirt number when he finishes at Madrid? With every respect to the likes of Raul and Di Stefano, no player can compare to Cristiano Ronaldo.

"He's the best player in history and I'd suggest the best sportsperson of all-time - we'll never see the likes of Cristiano again. It will be completely impossible."

When asked if overtaking Barcelona forward Lionel Messi's tally of four Ballons d'Or, Mendes responded: "If he stays fit, I'm sure he'll remain the best for some time."

Neymar mused over Christmas that he might never reach the level of Messi and Ronaldo, but Mendes thinks he's destined to be among football's greatest soon - even if he lamented it would not be while playing in the same team as his star Portuguese client.

"He's not quite Cristiano, but he is fantastically talented," the agent continued. "I'm confident that he'll be amongst the best in the world in a few years. He has been unlucky that he has not ended up playing alongside Cristiano."
Mourinho: Chelsea can't buy Messi because of FFP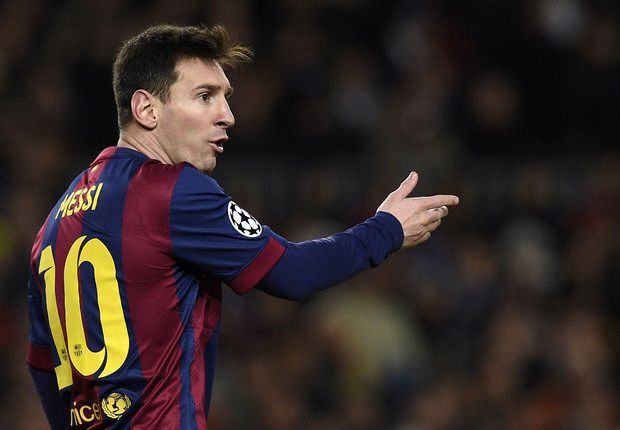 The Blues last month announced a record profit of £18.4 million and appear well on course to comply with FFP, but the Argentine's £205m release clause remains out of reach

Jose Mourinho admits he has "no chance" of signing Lionel Messi for Chelsea because of Uefa's Financial Fair Play restrictions.

The Blues last month announced a record £18.4 million profit for the year ending June 2014, driven by increased revenues and shrewd player trading, and appear well on course to comply with FFP.

But Mourinho insists the break-even regulations mean there is no way of bringing four-time Ballon d'Or winner Messi, who has a £205m release clause in his Barcelona contract, to Stamford Bridge in the near future.

"No I have no chance of that," the Portuguese said in a BT Sport special to be broadcast on Christmas Day.

"Because at this moment there is financial fair play and with the financial fair play we have to follow certain rules, certain numbers and we obviously have no conditions to buy, as you say a 'super amazing player' paid with 'super amazing numbers'. At Chelsea at this moment we cannot do [it]."

Back in November Messi hinted for the first time that he might one day have to leave Barcelona, while Cesc Fabregas this week admitted he would love to play alongside the Argentine superstar again.
Wenger praying for kind Champions League draw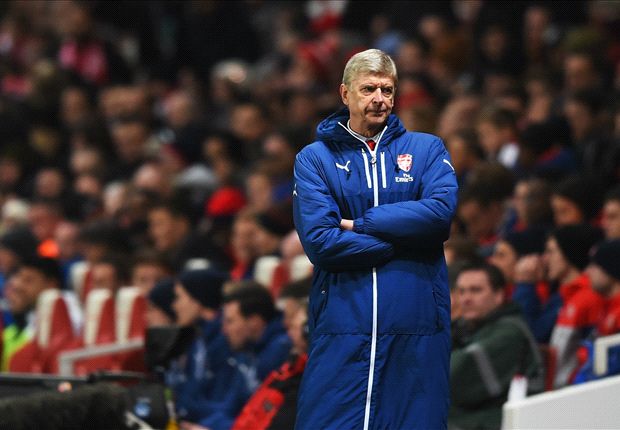 The Gunners boss also says his side need a few more wins to completely restore their confidence following their victory over Newcastle but is pleased with the team's current form

Arsenal manager Arsene Wenger says he is hoping for some good fortune in Monday's draw for the last 16 of the Champions League.

The north Londoners finished as runners-up to Borussia Dortmund in Group D, meaning they could be pitted against such European heavyweights as Bayern Munich, Barcelona or even holders Real Madrid.

Arsenal were knocked out of the tournament by Bayern at the last-16 stage last season and Wenger is hoping for a kinder draw, with Atletico Madrid, Porto and Monaco also possible opponents for his side.

"We have been well served in the recent years," he told reporters. "Maybe I will go to church over the weekend."

The Gunners head into the festive fixtures in good form having bounced back from defeat to Stoke with wins over Galatasaray and Newcastle and Wenger is hoping his side can maintain their good run.

"In the last six games we've won five. We need a few more wins to completely lift the confidence," he added.

"You could see at some stage we were a bit edgy sometimes when it was 3-1 and the crowd as well felt the ghost of Anderlecht here a little bit. We need a few more games.

"We can score goals and we showed that again tonight. Overall it was a dynamic game where defensively - despite the fact that we were depleted at the back - we were quite solid.

"Going forward we always looked dangerous. In the end we won in a convincing way. We scored four goals and that was needed. The response was strong after the Stoke City game and let's go well over Christmas.

"I cannot fault any performance today because I think everybody played well."
Mourinho: No Matic, no problem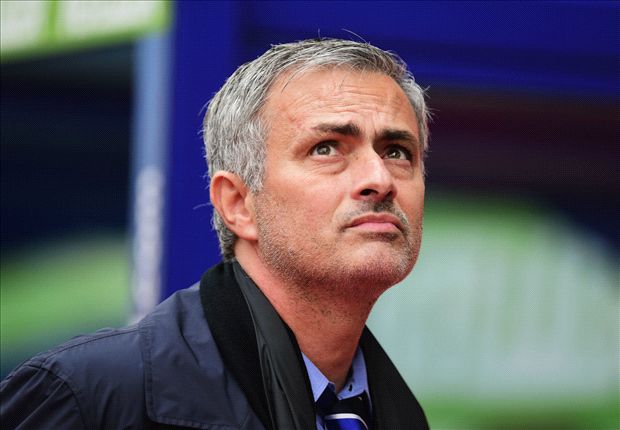 The Chelsea boss stated his belief that his side can cope without the Serbian midfielder, while he confirmed Diego Costa will start, despite the Blues winning 3-0 in his absence

Jose Mourinho is confident that Chelsea can negotiate a difficult away trip to Newcastle even without the suspended Nemanja Matic.

The Serbia international has been in excellent form for the Blues, anchoring the midfielder and starting all of their Premier League matches so far this season, but he picked up a fifth booking of the campaign against Tottenham.

Mourinho, though, is adamant that his squad are strong enough to cope with the absence of Matic, just as they did when Diego Costa was suspended against Spurs – a match that the west Londoners won 3-0.

When asked by reporters about Matic's suspension, the Portuguese replied: "No problem. Diego was also important for us and he didn't play and we didn't want to speak about him.

"This time it is a big player for us who isn't playing but we trust other people and we forget Matic. He has a little bit of a holiday, a free weekend which he deserves very, very much, and he comes back stronger."

Mourinho, who claims that he "doesn't care" about the records that Chelsea could break this season, has famously never won at St James's Park in the league and expects the Magpies to raise their game against his side once again.

Asked why he struggles against the Toon, he said: "Because it is difficult, it is a difficult stadium to play. There are a few stadiums in this country where clearly, when they see the Chelsea shirt, they play the game of their lives.

"When they play against other teams they look like they are playing friendlies but maybe this is because Chelsea, in the last decade, became a strong team that everybody wants to beat."

Despite scoring against Tottenham on Wednesday evening, Mourinho also confirmed that Didier Drogba was unlikely to keep his place in the squad, with Diego Costa returning to the starting XI.
Barcelona 5-1 Espanyol: Another Messi milestone in demolition derby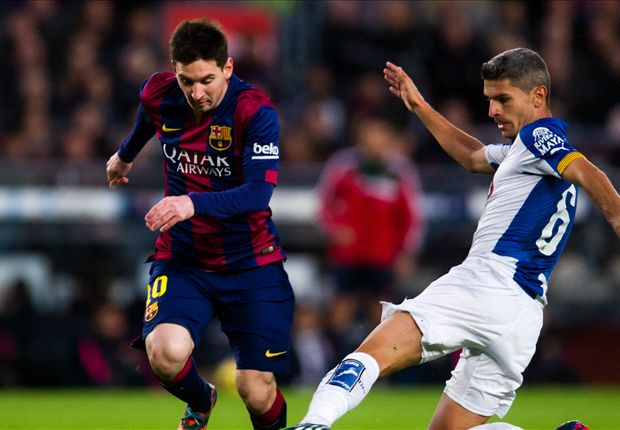 The Argentina international struck three times at Camp Nou, passing through the 400-goal barrier in the process, while Gerard Pique and Pedro were also on target

Lionel Messi scored a superb hat-trick as Barcelona came from behind to rout city rivals Espanyol 5-1 on Sunday evening.

Blaugrana academy product Sergio Garcia silenced Camp Nou by opening the scoring 13 minutes in but Messi levelled matters just before half-time.

The Argentina international put Barca ahead five minutes into the second half and, after Gerard Pique had headed home a third, the four-time Ballon d'Or winner completed his hat-trick with his second right-footed finish of the game.

There was even time for Pedro to add a fifth, as Barca warmed up for Wednesday's crunch Champions League clash with Paris Saint-Germain in fine style.
Barca started sluggishly, as Garcia flashed a cross in from the left, and only a last-ditch Jordi Alba intervention denied Lucas Vazquez an easy finish.

But clinical visiting play saw Espanyol seize the initiative as Felipe Caicedo robbed Sergio Busquets on the right flank, and fed Garcia, who breezed past Pique before executing a low finish past Claudio Bravo.

Garcia could only fire tamely at Bravo as Espanyol threatened to double their lead, but it only seemed to spur Barca on further as Messi struck the crossbar with a 30-yard free-kick, before Luis Suarez fired just wide.

And with home pressure building before the break, Messi bent an unstoppable effort into the bottom-left corner from 25 yards to restore parity on the stroke of half-time.

The visitors were somewhat lucky not to be reduced to 10 men in the 49th minute as Eric Bailly barged Neymar over with the Brazilian through on goal.

But it mattered little to Barca, who edged themselves ahead a minute later.

Messi's first touch from Suarez's pass was heavy, but he reacted quickly to poke the ball through Juan Fuentes' legs and then stroke right-footed past Casilla from the edge of the area.

And their third arrived shortly after, Pique atoning for his role in Garcia's opener as he headed Ivan Rakitic's corner into the net.

With the result already in little doubt, substitute Pedro latched on to Alba's exquisite cross-field pass before coolly slotting beyond Casilla in the 77th minute and Messi completed the rout four minute later.

The Argentine combined brilliantly with Pedro, playing a one-two into the area before steering into the net from 10 yards, securing his third hat-trick in four games and maintaining Barca's dominance over their near neighbours.
Cristiano Ronaldo, Messi & Neuer make three-man Ballon d'Or shortlist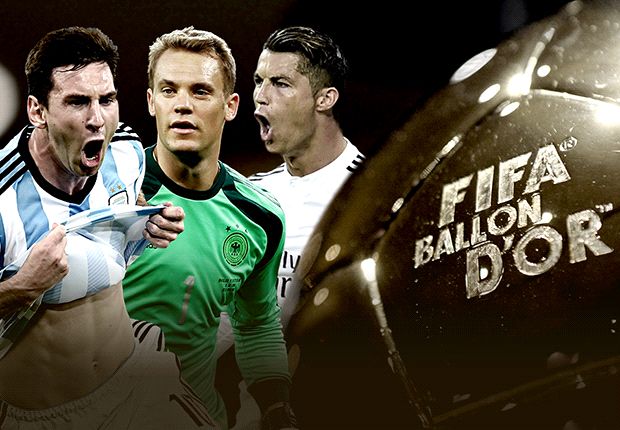 Fifa and France Football have revealed the names of the three candidates who will fight it out for the prize

Cristiano Ronaldo, Lionel Messi and Manuel Neuer have made the three-man shortlist for the 2014 Fifa Ballon d'Or.

The Real Madrid attacker, 29, could win the prestigious individual award for a third time after lifting the trophy in 2008 and 2013.

Ronaldo played a key role in Madrid's successful Champions League campaign last season, scoring 17 goals to set a new record for most goals scored in the competition in one season.

Barcelona star Messi, meanwhile, is in contention to scoop the accolade for a record fifth time, and has hit top form in recent weeks to add weight to his case.

The 27-year-old attacker did not win any major trophies with Barcelona in 2014, but enjoyed a successful season on a personal level as he became both La Liga and Champions League all-time top scorer in November.

Neuer, finally, makes the three-man shortlist for the first time in his career and could become the first goalkeeper since Lev Yashin in 1963 to be voted the world's best footballer.

The 28-year-old won the Bundesliga title and DFB Pokal with Bayern Munich, before crowning a superb year by winning the World Cup with Germany.

Other favourites such as Thomas Muller, Toni Kroos, Arjen Robben and Philipp Lahm miss out on a podium spot.

Fifa and France Football will announce the winner on January 12 at the Fifa Ballon d'Or Gala.
Van Gaal: Messi and Ronaldo don't deserve Ballon d'Or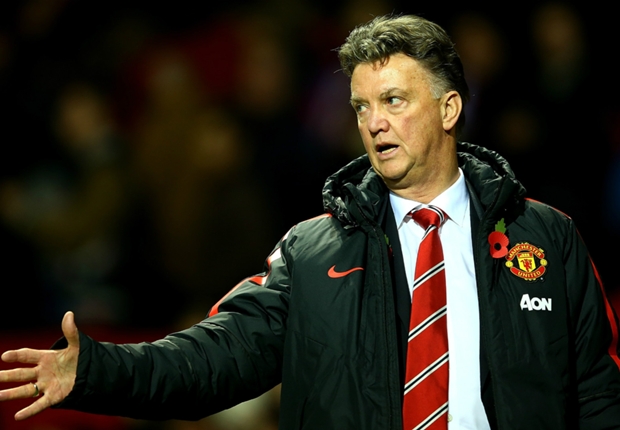 The Barcelona and Real Madrid stars are favourites to win the award, but the Manchester United manager feels one of Germany's World Cup winners should receive the honour

Louis van Gaal is expecting either Lionel Messi or Cristiano Ronaldo to win the Ballon d'Or but feels one of Germany's World Cup-winning squad would merit the award more.

The Barcelona and Real Madrid stars are favourites to be crowned on January 12, 2015, but the Manchester United manager feels the pair do not deserve the honour.

Messi, a four-time winner, was handed the Golden Ball at the World Cup after helping Argentina to the final while Ronaldo, a two-time winner, lifted the Champions League with Real Madrid.

But Van Gaal feels a member of the triumphant Germany squad would be more worthy victors, with Toni Kross, Philipp Lahm, Thomas Muller, Manuel Neuer, Bastian Schweinsteiger and Mario Gotze all nominated.

"Most of the time it is always the well known players [who win the Ballon d'Or]," he told MUTV.

"It is more for the football world and outside world than for other things I believe. I think it will be Ronaldo or Messi but I want to say that you have to win something.

"The best thing to win is the World Cup. I hope it shall be a German player because they deserve it.

"The level of the Bundesliga matches is also very high so I think it should be a German player."
Barcelona's Lionel Messi ahead of Real Madrid star Cristiano Ronaldo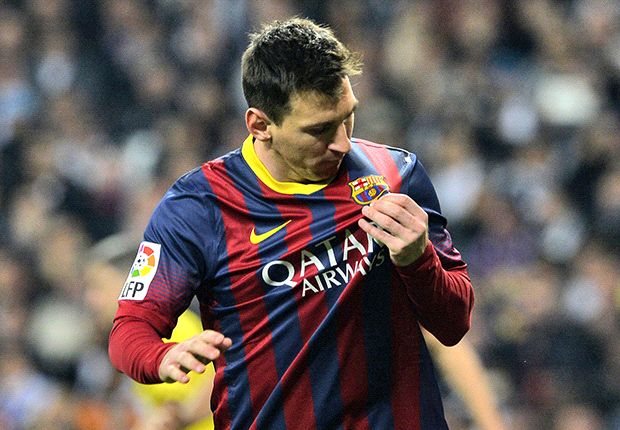 Lionel Messi ahead of Real Madrid star Cristiano Ronaldo as world football's top earner

The La Liga pair are still behind the likes of US golfers Tiger Woods and Phil Mickelson but still earn more than the Premier League's top-paid star Wayne Rooney

Barcelona's Lionel Messi has been confirmed as the best-paid footballer in the world having picked up $43.8 million (€30.5m) in the last year, according to America's Sports Illustrated 'Fortunate 50' list.

The Argentinian, who is widely acknowledged as the greateat player on the planet, came out above Cristiano Ronaldo and Wayne Rooney in the list, who earned €27.1m and €23m respectively.
The 'Fortunate 50' takes into account the earnings, endorsements, bonuses and appearance fees of leading sports stars.

Tiger Woods is leading the way – earning a staggering €46m last year, though that was down €20m on his previous year's earnings.

Despite being the highest earning footballer, the Camp Nou superstar only came seventh on the overall sporting list, behind the likes of Formula One driver Fernando Alonso, who is a Real Madrid supporter himself.
Pique to Dani Alves: We have many enemies at Barcelona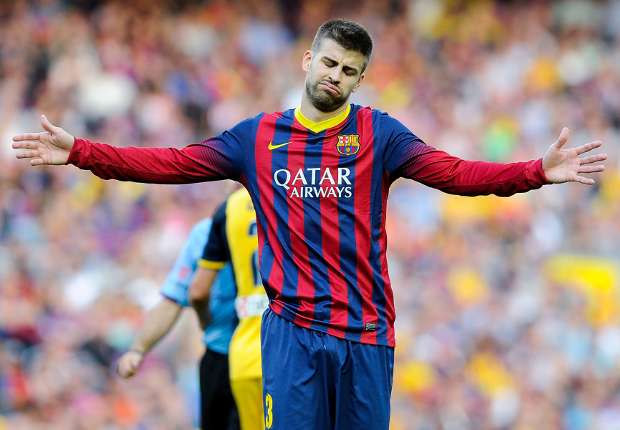 The Spanish centre-back was overheard telling his Brazilian team-mate that, like him, he is becoming a contentious figure at the Catalan club

Gerard Pique was caught on camera telling Dani Alves the duo have "enemies" at Barcelona.

The World Cup and two-time European Championship winner has won a whole host of trophies at the club, yet the centre-back finds himself having played only four of the last eight games under Luis Enrique.

And while the husband of Colombian pop sensation Shakira may feel like he has an indifferent relationship with many at the Catalan club, he has now told fellow defender Dani Alves that he too is in danger of becoming a contentious figure at the club.

During Barca's training session on Friday, the centre-back was caught on video by Welabo telling the Brazilian: "Dani, you have many enemies here. You're becoming like me."

Dani Alves has been subject to a lot of rumours suggesting he will be leaving Camp Nou this summer when his contract at the club expires, with a Premier League switch most frequently touted.

Spanish outlet Mundo Deportivo report that Pique told Barcelona after the video began circulating on social that he was only speaking to his Brazilian team-mate within the context of training jokily, and that it was not a reference to anything beyond that.
Man United agree permanent €56 million Falcao deal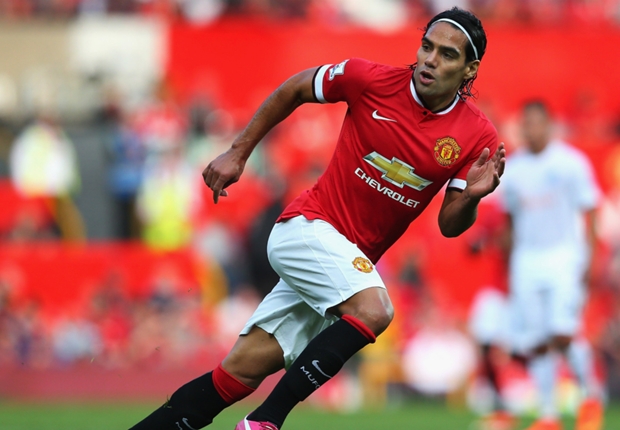 Manchester United have agreed and shaken hands on a €56 million deal to sign Radamel Falcao permanently when his loan move ends at the end of the season, Goal can confirm.

United finalised terms with Monaco and Falcao when his €8m season-long loan switch from the French club was sealed on the last day of the summer transfer window.

The 20-time English champions will have the option to activate the agreement at the end of the season if they are satisfied with Falcao's performances and fitness. It is understood all parties fully expect the deal to be made permanent.

Falcao currently receives a salary package worth around €305,000 per week, and United have agreed and signed paperwork on the same terms should the switch materialise next summer.

Falcao's agent, Jorge Mendes, has a close relationship with United executives and the striker has expressed his desire to stay at the club beyond this season.

Despite the perception that Falcao's move was a last-minute swoop which only materialised in the final hours of the transfer window, United had been negotiating various terms with Mendes for a number of weeks.

But with the deadline approaching, all parties decided on a season-long loan move and the details of a permanent move were agreed and signed upon.

The loan agreement gives United the opportunity to assess Falcao's form and fitness after the serious knee injury that ruled him out for the second half of last season and caused him to miss the World Cup.

A transfer next summer will also be reflected more favourably in United's financial accounts having spent more than €190m in the transfer market over the summer.

Falcao has scored one goal in five Premier League appearances for United but missed Sunday's 1-1 draw with Chelsea after sustaining an injury in training last week.

Juventus managing director has claimed this week that Falcao came close to joining the Italian champions in the summer before United stepped in with a better offer.

"We were following him and there was contact," Marotta told RAI. "We were very close to [signing] Falcao and the player preferred Italy and our colours, but then United came forward and they have much more spending power than we do so the deal broke down."

United paid roughly €76m for Luke Shaw and Ander Herrera at the start of the summer, broke the British transfer record with a €76.3m move for Angel Di Maria and spent a further €44m on Marcos Rojo and Daley Blind after suffering a rocky start to the Premier League season in August.