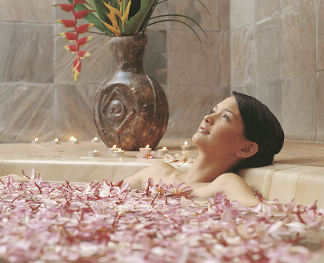 Four Treatments at home:

1. Body exfoliation and bath

What You Need:

Bath soak
Candles
Bath pillow or small towel
Exfoliator
Magazine or a good book
Moisturize

Time Required: 1 hour
Fill your bath with warm water and a spa inspired bath soak. Buy a bath soak or make your own soak using a recipe.

Dim the lights and light a few candles. Candles have a natural calming effect and will relax your mind while the bath relaxes your body.

Donít forget a pillow or towel to rest your head. Nothing is worse than not being able to really relax in a bath. If you take regular baths (and you should) you may want to purchase a bath pillow. Just folding a small towel to support your neck will work as well.

Exfoliate your body using a great deep exfoliator such as Blissí Hot Scrub, or make your own brown sugar body scrub. Rub the exfoliator in circular motions exfoliating your entire body starting with your legs and working up. The dead skin will be sloughed leaving your skin with a healthy fresh layer. Skip your face; youíll want a gentle facial exfoliator.

Donít forget a magazine or a good book. Get caught up on the latest celebrity gossip or finally open the book youíve been meaning to start.

When youíre finished, moisturize your skin right away. Your skin has just soaked up water like a sponge, and now youíll want to seal in the moisture by adding moisturizer. Indulge in something thick and luxurious such as 100% Pure Lemon Shea Body Butter.
Tips:

Turn off the phone and send your husband and the kids out for ice-cream; this is your time to relax.
A relaxing bath is a great time to apply a facial or hair mask.
Going to the spa is not only great for your body, but great for your mind. Unfortunately for most of us, due to cost, spa treatments are saved only for special occasions.

Just because your budget doesnít allow regular visits to the spa doesnít mean you canít indulge in your own spa experience right at home.
2. Soothing Body Wrap

What You'll Need:

Blender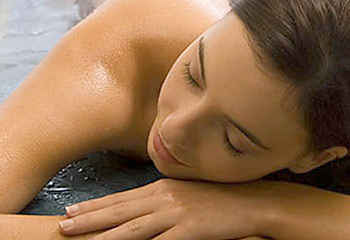 1 cucumber
Bunch of mint leaves
Aloe vera gel (available at drugstores)
Lavender and chamomile essential oils (available at health-food stores)
Plastic wrap

Do It at Home
Combine 1/4 cup shredded cucumber, 1/4 cup finely chopped mint leaves, 1/2 cup aloe, 5 drops lavender essential oil, and 3 drops chamomile essential oil in a blender and puree. Refrigerate for 30 minutes, then spread on hot spots like your feet, neck, and legs. Cover skin with plastic wrap to help the hydrating mask soak in, relax for 15 minutes, then rinse.

3. Energizing Hair Treatment

What You'll Need:

Peppermint essential oil (available at health-food stores)
Daily rinse-out conditioner
Your own Spa at Home
After rinsing out your shampoo, add 1 or 2 drops of peppermint oil to a dollop of conditioner. Coat your hair. Massage your scalp with your fingertips, making small circular motions start at the hairline, move toward the crown, cover both the right and left sides of your head, and finish at the neckline. Rinse with lukewarm water (the peppermint oil makes the temperature feel colder).
4. Invigorating Pedicure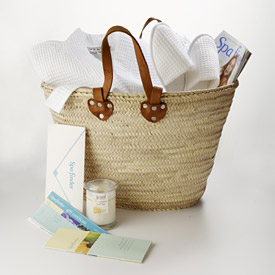 What You'll Need:

Large basin
Salt body scrub
Spearmint essential oil (available at health-food stores)
5 small, smooth-edged garden stones
Body or foot lotion
Nail-polish remover and cotton balls
Tools (file, cuticle pusher, toenail clipper)
Polish

Do It at Home
Soak feet for 10 minutes in a basin filled with lukewarm water. Use a handful of salt scrub and 2 drops of spearmint oil to exfoliate feet and lower legs; rinse. Place stones in a bowl of ice for a few minutes, then gently massage your feet and lower legs with them. Add 1 or 2 drops of spearmint oil to lotion and rub over feet and legs. Wipe oil from toenails with a cotton ball soaked with nail-polish remover, file, gently push back cuticles, and paint nails.

5. Refreshing Facial



What You'll Need:

Cream face cleanser
1 green-tea bag
Aloe vera gel (available at drugstores)
Plain yogurt
Honey
1 cucumber

Do It at Home
Cleanse skin with face wash and cool water. Soak a cotton pad in chilled green tea, then gently pat onto skin. Gently apply pressure to facial acupressure points with fingertips -- eyebrows, inner corners of your eyes, below the lower lip, and under each cheekbone. Mix 1 cup aloe, 1/4 cup yogurt, and a few drops of honey in a bowl, then apply the mask with your fingers. Place two slices of chilled cucumber over your eyes; relax for 10 minutes, then rinse with cool water.

6. All-Natural Chocolate Facial Mask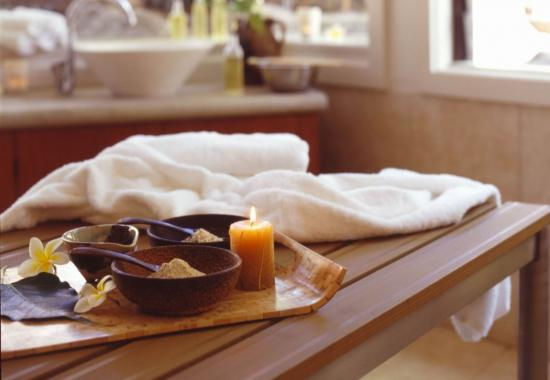 This decadent facial mask, ideal for normal skin, will leave your face smooth, soft, and silky. The cream and honey add moisture, and the oatmeal sloughs dead skills, perfect for smelling romantic and deliciously edible. Enjoy!

1/3 cup cocoa

3 tablespoons heavy cream

2 teaspoons cottage cheese

1/4 cup honey

3 teaspoons oatmeal powder

Mix all ingredients together and smooth onto face. Relax for 10 minutes; then rinse with warm water.