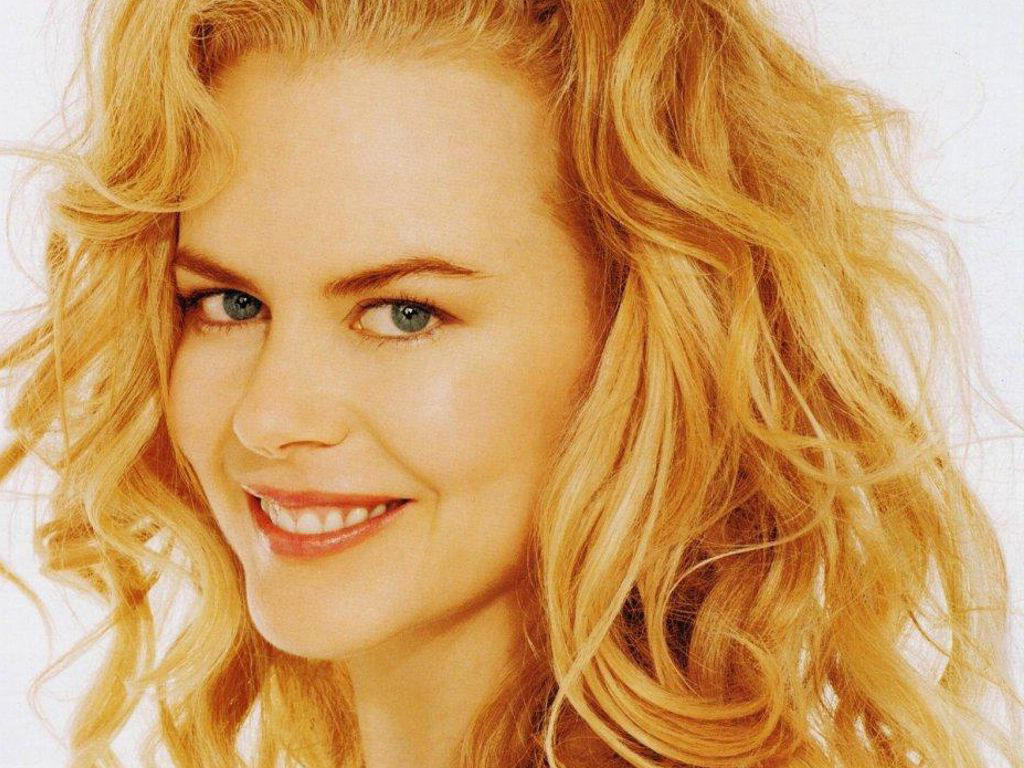 Nicole Kidman's classic beauty and flawless skin are widely admired, but where would she be without her gorgeous hair? Whether it's long, short, straight or curly, her striking red hair always seems to settle around her cheekbones (or shoulders) perfectly. For her appearance at the Golden Globes Awards, the actress went for a sleek look and straightened her wavy mane with a flat iron. If you'd like to achieve this silky, modern look, follow the directions of Joey Battisti, artistic director of Paul Labrecque Salon & Spa.
STEP 1 Shampoo hair and use a moisturizing conditioner.
STEP 2 Towel-dry the hair. Spray on an anti-frizz treatment. Blow dry hair using a large round brush. (The larger the brush, the easier it is to straighten hair.) Use a boar bristle brush for extra shine.
STEP 3 Use a hot iron on the back sections of hair first. Working from underneath, guide and hold the iron straight down the hair while applying medium high heat. Repeat this process for the entire head.
STEP 4 Apray a high-shine silicone product on your hands and pat in on your hair, moving hands in a downward motion.
STEP 5 Take an inch-wide section of hair from the middle of the forehead and brush the section back, clipping it with a barrette.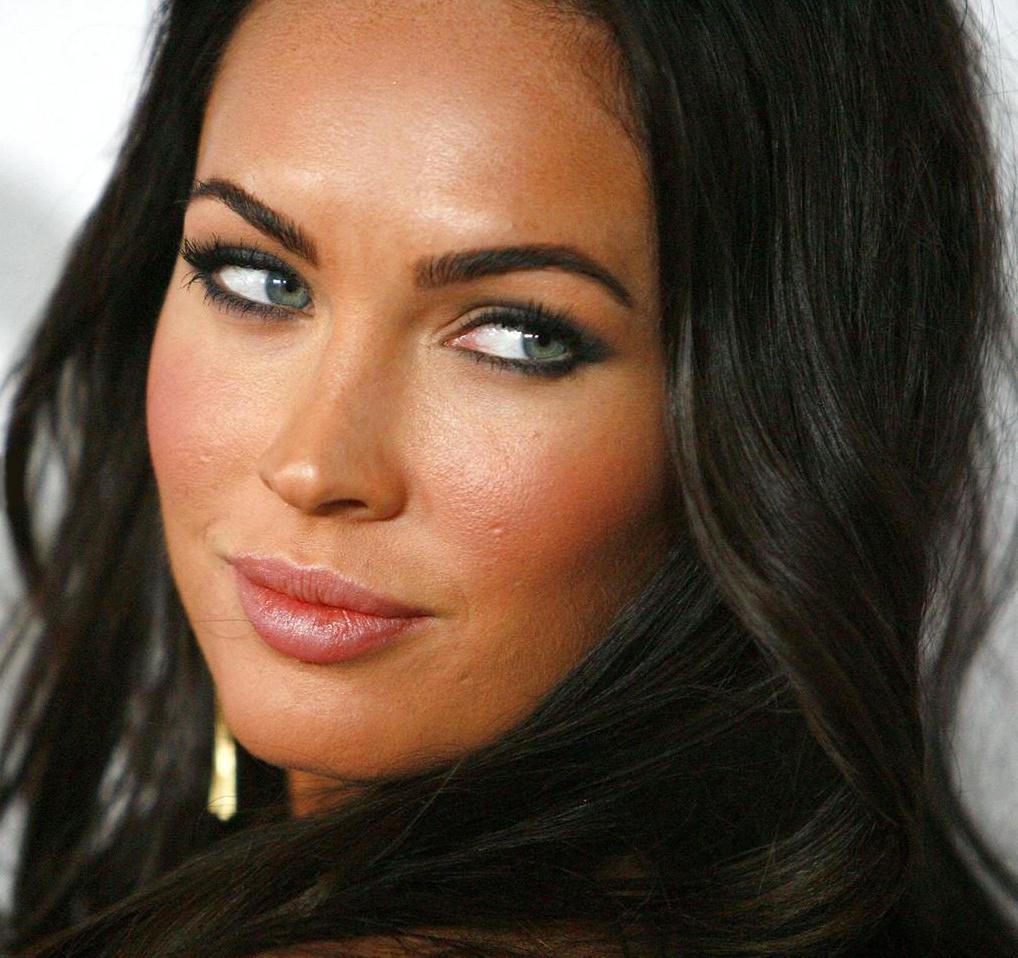 Megan Fox is the beauty who stole the spotlight in "Transformers", and she shines on the red carpet. Although she prefers light eye makeup but with heavy eyeliner! Get the look with these simple tips!
Hair Style your hair by parting it down the middle and blow-drying it straight with a round brush to give it volume. Curl the ends of your hair into loose waves. Throw your head back and forth a few times to give yourself a messy, "bed head" look.

STEP 1 Apply a light foundation and bronzer to your face. Line your entire eye with black eyeliner and apply mascara. Use light-colored, shimmery eye shadow to bring our your blue eyes. If you don't have blue or green eyes, you can get colored contacts, it's not necessary you can get her look with your natural eye color.

STEP 2 (Eyeliner)
Megan fox wears heavy eyeliner to make her eyes stands out. Make sure you place eye line by the eyelashes and under. Getting the whole eye, making sure the line is thick and bold.

STEP 3 (Eye shadow)
Megan fox wears very neutral shimmery eye shadow. Find a light blue, or ones that go good on your skin. Never wear eye shadow that is too bright or to dark for your eyes it takes away from your beauty.

STEP 4 (Mascara)
Megan fox also wears a lot of mascara; putting a lot of mascara on can make it seem clumpy. So try out clump free mascara this way you can put a hefty amount on with out looking like you have bumps on your eyelashes.

STEP 5 (Try fake eyelashes)
Megan fox has long, thick eyelashes, so if you are not born with thick eyelashes try fake ones. Be sure to read the instructions carefully. Putting it on correctly makes it look more natural.

STEP 6 (Contacts)
Megan fox also has blue almost gray eyes; if you have the right skin tone for eye colors like this than you should try contacts. But this is not necessary you can have the look with your natural eye color because it will go great with your skin and hair color.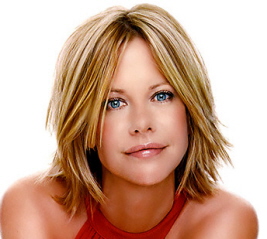 Meg Ryan is an utterly compelling combination of tomboy meets ingenue. She has the ability to look as sexy in jeans and a T-shirt as she does in a slinky dress and heels. Whichever side of her personality she indulges, she always looks fresh-faced and glowing. If you'd like to get Meg's radiant look, follow these simple steps from Annesley Broadhead, national trainer for CARGO cosmetics.
STEP 1 Prepare your face for makeup by applying light moisturizer, eye cream and lip conditioner. Using your fingers, dab a small amount of concealer to the inner corners of the eyes, underneath and very lightly on the lids. Blend using your fingertips.
STEP 2 Meg's look is very sheer and dewy, so use a minimum of foundation to even and balance the skin. Begin by dotting small amounts of liquid foundation on the forehead, chin, cheeks and nose. Blend well using your fingers. Follow this with a light dusting of loose powder on the t-zone and cheeks.
STEP 3 Use a blush brush to dot soft pink powder blush on the apples of the cheek. Blend in a circular, upward motion following the cheekbone. Blending in this way prevents streaking and gives a more natural appearance.
STEP 4 Using a brow brush and tiny brush strokes, softly define the brows by applying a light taupe shadow, focusing the color on areas where brows are scant. With a flat blending brush, cover each eyelid from the lash line to just under the eyebrow with cream-colored eye shadow. This acts as a base for additional color and also helps brighten the eyes.
STEP 5 Use a smaller crease brush to apply a shimmering brown-rose shadow to the lid, blending softly up and into the crease. Lightly apply a dark chocolate brown shadow to the outer corners only, blending up and out. Working with the same color, wet an eye- liner brush and line both the top and bottom lashes with this shadow. Curl your eyelashes and apply two coats of black or brown mascara, depending on your hair color. Before applying mascara, Annesley suggests using a tissue to remove any excess from the wand. This prevents clumping and leaves you with perfectly separated and stained lashes.
STEP 6 Line the lips with neutral lip liner. For the most natural lip line, be sure to use light feathery strokes to draw the lip, rather than one hard, continuous line. Apply a taupe-rose lipstick using a lip brush. The brush will help you get a more precise look and prevent you from applying too much color. Concentrating on the center of the upper and lower lips, use your brush to apply a light coat of soft pink gloss.
STEP 7 For Meg's glamorous glow, finish this look by applying a small amount of a cream shimmer highlighter to the area directly under the eyebrow and along the top of the cheekbone.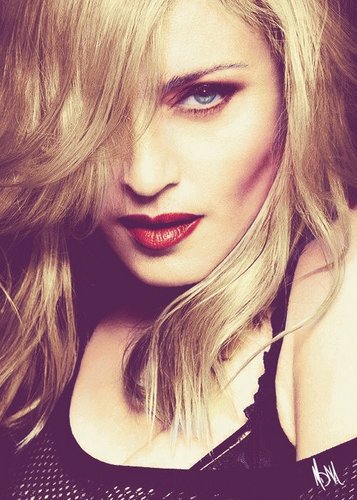 Madonna is never the same woman twice. One minute she's a modern-day chanting and wearing Mehendi, the next she's an urban cowgirl covered in rhinestones and fringe. Whatever her next look, you can be assured everyone will want it. Celebrity stylist Steven Ianiello helps capture Madonna's latest glowing and glamorous style, which is perfect for anyone with at least shoulder-length hair.

STEP 1 After washing your hair with a moisturizing shampoo, lightly towel dry to remove excess moisture. Apply a quarter-size amount of leave-in volumizing conditioner and work through to the ends.

STEP 2 To dry the hair, begin at the back of the head with a 1- to 2-inch section of hair closest to the nape of the neck. Using a 3-inch brush, pick up the hair at the scalp and apply heat while pulling it straight down. When you get to the ends, just let the hair fall off the brush. The goal here is a very straight look. Continue this process working in sections up the back of the head until you reach the crown. Repeat for the sides. Always work from the bottom up.

STEP 3 When you get to the front section of the hair, use the same drying process as step two, but this time instead of pulling the hair straight down with the brush, raise it to the ceiling, to create lift.

STEP 4 To begin curling, you will need a curling iron with a 3½-inch barrel. Divide the back of the head into two sections with a part running down the middle. Secure the two sides with clips, but leave about an inch of hair hanging down on either side.

STEP 5 Take one of these sections and spray with light hairspray. Apply the curling iron to the middle of the hair shaft and drag it to the very end, then roll the hair vertically in a clockwise direction about halfway up the length of the hair. Repeat this process on the other side, except this time roll the hair in a counterclockwise direction. You will want to repeat this alternating clockwise-counterclockwise curling process in the back of the head making sure only the lower half of the hair goes under the iron. Repeat this process on the sides of the hair.

STEP 6 When you curl the front pieces, don't bring the iron quite so high on the hair shaft and make sure to curl each side in different directions.

STEP 7 After the entire head has been curled, lightly comb through the curls with a wide-tooth comb, then work through the curls with your fingers. To give the style holding power, give it another spritz of light hairspray.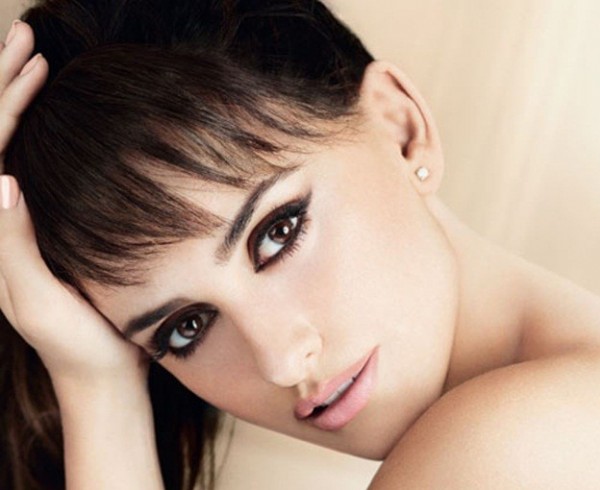 Penelope Cruz's makeup is understated and she uses makeup to enhance her natural beauty. Her makeup never looks too heavy during the day or night but the eyes are always the focus of Penelope's Cruz's look, she like to highlight her eyes with dark colors. If you want to wear makeup like Penelope Cruz, here's how to get her look.

STEP 1 Apply a foundation primer. Cruz's makeup artist that created her look for the Oscars used Chanel products.

STEP 2 Put on a light coating of foundation. Cruz uses Teint Innocence Foundation by Chanel in Soft Honey.

STEP 3 Use dark eyeliner and eye shadow. Line the entire top and bottom lids first, then apply the brown eye shadow over the eyeliner. This will give you the classic, smoky-eye look that Penelope Cruz often use.

STEP 4 Complete Penelope Cruz's smoky-eye look. Use Loreal's Telescopic Mascara in Blackest-Black. Cruz is a spokesperson for this product.

STEP 5 Dust bronzer on your cheeks. Because the eyes are always the focus of Penelope's Cruz's look, you need only a light dusting of a bronzer or peach blush on the apples of your cheeks.

STEP 6 Add a tinted lip gloss rather than a lipstick. Choose a color that is most similar to your natural lip color.

STEP 7 Finish the Penelope Cruz look with a light dusting of shimmery powder all over the face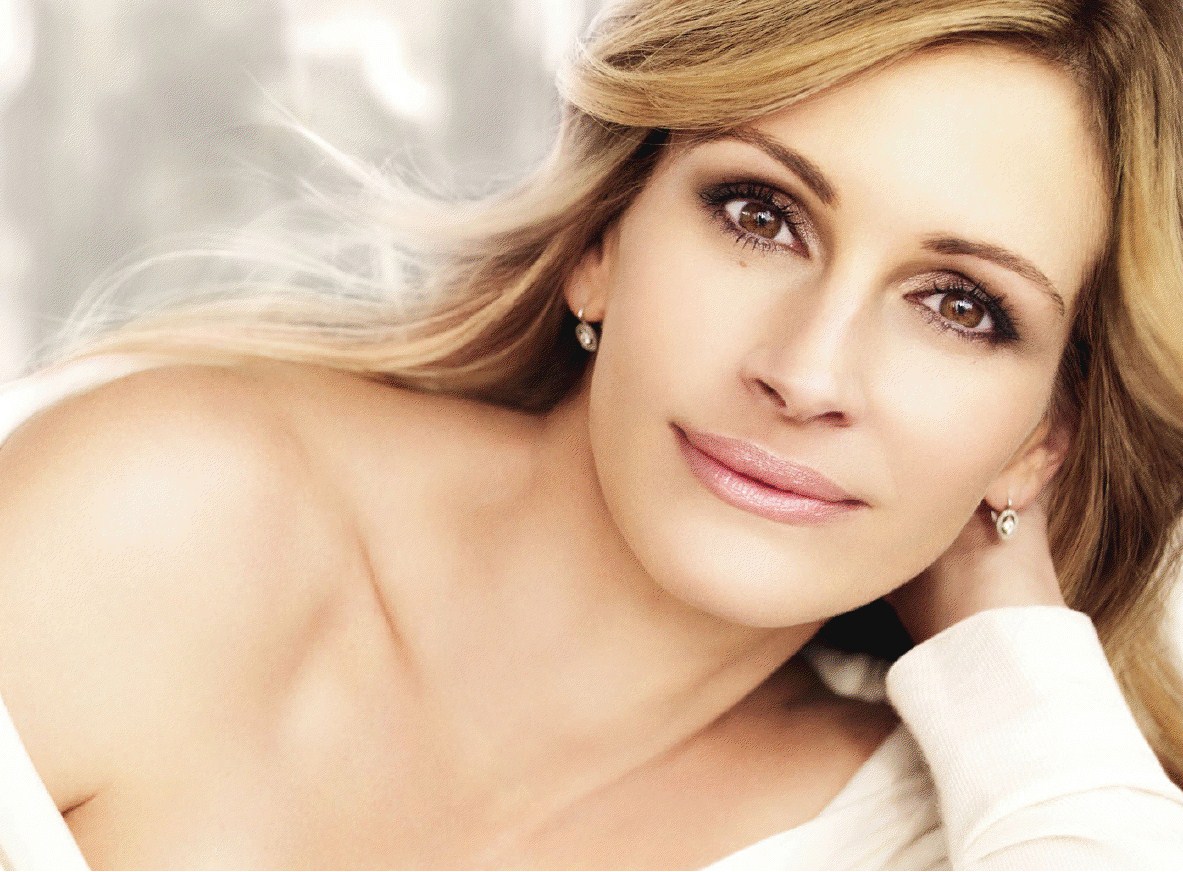 Julia Roberts wearing sometimes ubiquitous no-makeup "makeup" look on the red carpet. Makeup artists re-create this look for many celebs and models. To get this look just follow the steps below.

STEP 1 Start with a clean, makeup-free, moisturized base. Make sure that you wash any old makeup off of your face from the night before and that you moisturize. Wash your face with a brightening face wash and follow up with a brightening serum .

STEP 2 Use primer! It helps to keep your complexion looking fresh and provides a base for your concealer and foundation to stick to so you won't have to keep re-applying your makeup throughout the day.

STEP 3 Concealer is your best friend when it comes to creating a flawless face. Use concealer underneath your eyes to mask puffiness and fine lines and on any discolored area.

STEP 4 After concealing, apply your foundation. Using a makeup sponge, dab on forehead, cheeks, nose, chin and blend away.

STEP 5 Use a bronzer and blush mixture on cheeks, chin and forehead. with a powder brush and apply a light layer of bronzer on your cheeks, chin and forehead. Another trick is to apply a bit of the bronzer onto your eyelids before putting on your mascara and eyeliner.

STEP 6 Highlighter isn't just for your cheekbones! Always add a light layer of shimmery highlighter onto the apples of your cheekbones and down the center of your nose, but also take a tiny brush and dab a bit into the corners of your eyes.

STEP 7 Don't forget to groom those eyebrows. Because if you have Wolverine-looking eyebrows people will stare directly at that and not notice your fresh, pretty no-makeup look which will pretty much defeat the whole purpose of you creating this look in the first place!

And there you have it! It seems like it would be a complicated thing to do and why bother when you can just wear no-makeup, but once you get the hang of it, it's fairly easy to do. It's also the perfect look to impress people with "natural beauty."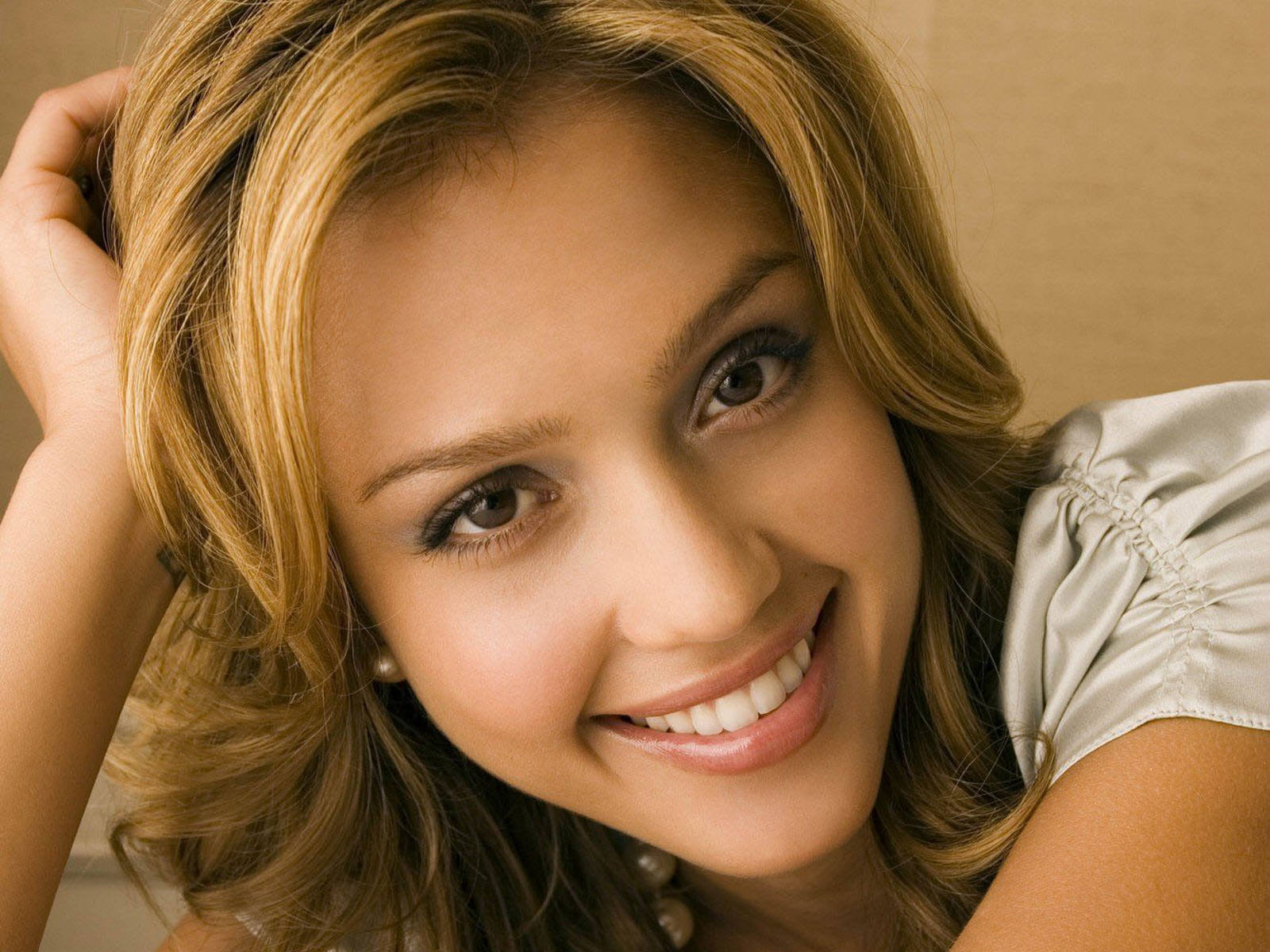 Jessica Alba's flawless dark skin, big brown eyes and full lips make her one of the most beautiful actresses in Hollywood. Preferring to highlight her already lovely features with cosmetics rather than cover them up, Alba is the picture of natural beauty. You can achieve Jessica's fresh look in just a few minutes.

STEP 1 Cover blemishes with Jessica's favorite concealer, Touche Eclat, by Yves Saint Laurent, and dab on a light layer of liquid foundation to even your skin tone. Next, apply a tinted moisturizer to achieve Alba's sun-kissed glow.

STEP 2 Apply loose, translucent powder to your entire face, focusing especially on your T-zone, to diminish appearance of oil and shine. Use a puff for the initial application and a large brush to clear away excess powder. Caked on makeup is one of Jessica's pet peeves, so use powder sparingly.
STEP 3 Highlight your cheeks with MAC Cream Color Base in Shell, Jessica's favorite shade. To brighten your face, lightly brush Stila Moonlight eye shadow in white to your temples. Jessica adds this brightening touch just before stepping out the door.

STEP 5 Add drama to your eyes with liner and shadow. Jessica emphasizes her wide brown eyes with Stila eyeshadow in Shore, a silver tone and Sun, a glistening, peachy hue. After applying shadow to your lids and creases, fill your upper and lower lash lines with dark brown liner.

STEP 6 Finish the eyes with several light applications of black mascara. Jessica Alba prefers Blinc mascara because it lengthens her lashes and gives them a wet look without clumping. For added drama, curl your lashes before using mascara.

STEP 6 Complete the look with lip color. For everyday use, Jessica prefers Kiehl's all natural, non-sticky lip gloss. Her red carpet lipstick of choice is Naked Grape by Betsey Johnson. If you lack Alba's full lips, use a clear lip plumper before applying color.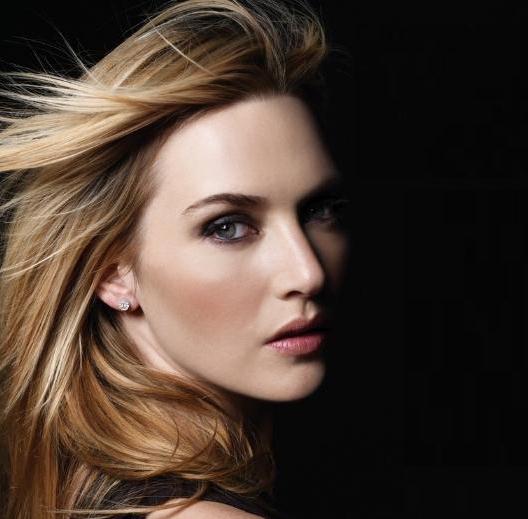 Kate Winslet began acting as a child, but it wasn't until her appearance in the blockbuster Titanic that her down-to-earth beauty became famous. With her large eyes and full lips, Kate is a makeup artists dream -- you can't go wrong with this kind of symmetry. Here, Kate accentuates her lovely eyes and allows her radiant skin to shine. To get Kate's look, follow the expert advice of New York City makeup artist Deborah Grayson.

STEP 1 Begin with the eyes. Kate appears to have used liquid liner. Apply black liner on the upper lid; carefully wet a pointed brush then turn it in your pot of liner. The wetter your brush, the more translucent your line will be. Kate chose an opaque, black line. Follow your upper lash line to the end, then stop the line at the end. If you go too far, dip a Q-tip in eye makeup remover and gently dab off the end.

STEP 2 Apply a pearly, blue, translucent shadow to the lid with a wide, fluffy brush. Reapply the shadow on the outer segment of the lid up to the brow. (Press the brush into the outer corner of the lid.) You may even apply a third coat. This will give more dimension and color to the outer color of the eye. Using a black eye shadow powder, go over the line above your lashes to set it. Curl lashes and apply several coats of mascara to the upper lashes and one coat to the lower lashes.

STEP 3 If you like darker, fuller-looking brows like Kate does here, clean off a brown mascara brush on a tissue, then with the residue brush up your brows with the wand. This will push brow hair up and add a touch of color.

STEP 4 Use a concealer just underneath and on the inner corners of your eyes. You may want to mix it with moisturizer to keep it very light. Apply a very lightweight foundation all over the face. Dot a rouge gel stick on cheekbones and blend in light, smooth strokes, using your fingers or a sponge. (If it's to bright, apply a drop of liquid foundation to diffuse the color.)

STEP 4 Apply a brick-coral lip pencil inside the lines of the lips. Top with a burgundy or ruby-toned lip gloss.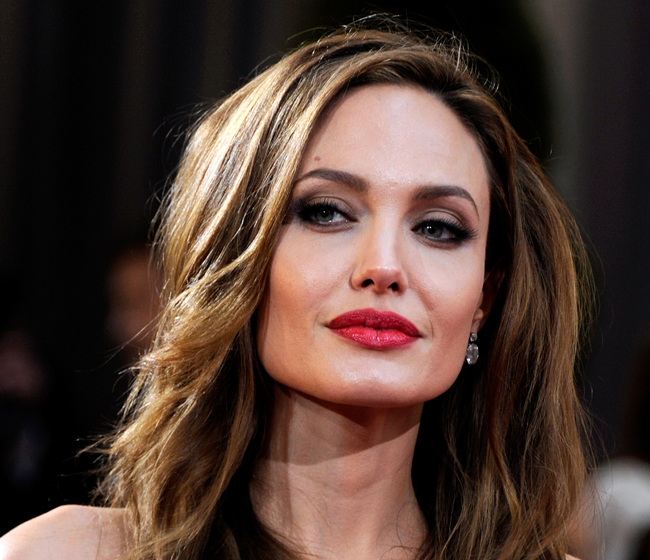 Angelina Jolie has the kind of beauty that knows no bounds. Everything about her, from her jet-black hair and famously full lips to her tomboyish and tattooed style seems to celebrate extremes. If you love her brazen beauty as much as we do then follow these simple steps from celebrity makeup artist and creative consultant for Club Monaco Cosmetics Denise Markey to make this look your own.
STEP 1 A big part of this look is the clean, classic shape of Angelina's eyebrows. So before you apply any makeup, use your tweezers to shape and clean up your eyebrows.
STEP 2 Use a concealer brush to apply a cream concealer under the eye and on the eyelid. Using your fingertips, blend well using a tapping motion. Apply foundation only where needed to even out redness or conceal any imperfections. To apply the foundation use your fingers and the same tapping motion you used to apply the concealer. If your skin is in good shape, you can skip the foundation.
STEP 3 Dab a makeup sponge into loose powder and use it to lightly pat the t-zone and the area around the eyes to control shine and set the concealer. A sponge actually gives a finer application than a powder puff. This will help prevent the powder from settling into fine lines and creating a "crepey" look. This is a good technique for mature skin.
STEP 4 Sweep a pale yellow shimmer shadow all over the eyelid and up into the crease using a shadow brush. Using a dark brown eyeliner pencil draw a line along the top lash line. On the bottom lashes start at the outer corner and only draw the line 1/3 of the way in. Use a Q-tip to lightly smudge the liner for a soft, smoky look.
STEP 5 Working with a deep gray shadow, use a brush to apply the color to the outer corners of the eyes, taking it half way into the crease. Using a fluffy shadow brush, blend the color well by running the brush back and forth in a dusting motion. With a liner brush layer the shadow over the eyeliner pencil. This will help the liner wear longer and add to the smokiness of this look. Under the eyebrow apply a white shimmer eye shadow and blend well. Curl the lashes using an eyelash curler and apply lots of black mascara to the top and bottom lashes.
STEP 6 If your brows are fine on their own, just brush them and that's it. If they need a little extra definition, use a brow powder to softly fill in any areas where they may be scant. The goal is to keep the brow soft and natural, you don't want them to look too "done".
STEP 7 For a natural blush, use a sheer, dewy cheek color in a warm rose. Use your fingers to apply this color to the apples of your cheeks and blend by lightly tapping the cheek, tapering the blush toward the temple.
STEP 8 Since the emphasis of this look is on the eyes, you want to keep your lips very subtle and fresh. Apply a nude, natural pink lipstick using a lip brush. Blot the lip color with a tissue to remove excess. There is no need to use a lip liner; you want your lips to look soft and undefined. For a change you can apply red lipstick and use lighter colors for the eyes that look will be very nice for any evening!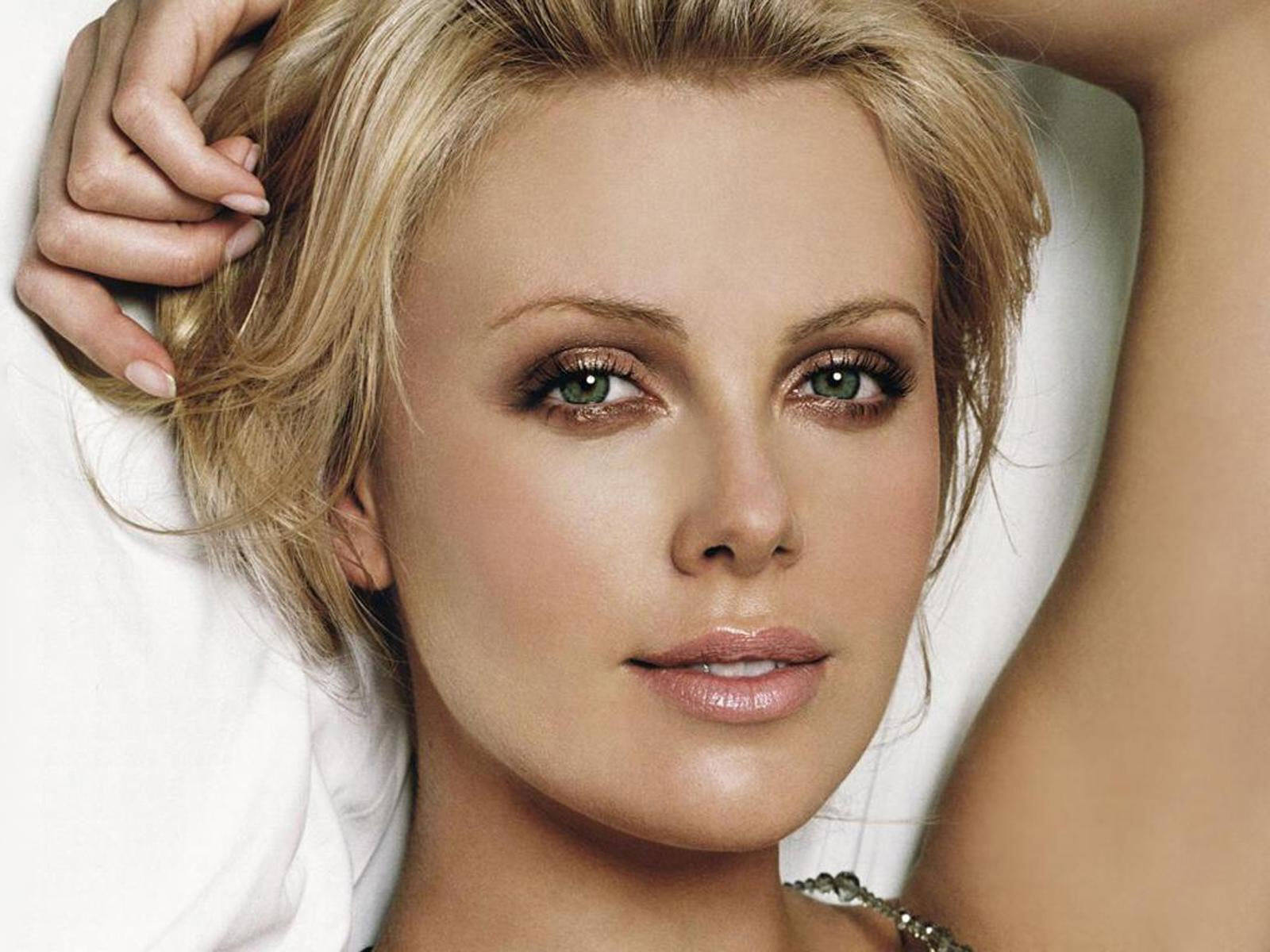 Charlize Theron is known throughout the world for her successful acting career and her simple elegance. Charlize often walks the red carpet in sleek gowns that flatter her figure and look sophisticated. Many women look to Charlize for fashion and beauty inspiration. The key to her entire look is moderation and using products that flatter one's skin tone. With the right tools and a little guidance, you can pull off Charlize's natural-looking makeup style.

STEP 1 Cleanse your skin to remove any dirt or impurities. Then towel-dry it gently. Apply your favorite moisturizer and allow it to be absorbed into your skin for approximately 10 minutes.

STEP 2 Dot foundation onto your face with your fingers. Blend the foundation into your skin using a foundation brush, a damp makeup sponge or your fingers. If you have concern areas, spot-apply concealer to give them some extra coverage. Then set the makeup with face powder.

STEP 3 Give yourself a glow like the one Charlize's skin always has. Find a bronzer that suits your skin and apply it to the areas of your face that naturally catch sunlight, such as your forehead, nose and cheeks. Then apply a natural-looking pink blush to your cheeks.

STEP 4 Apply eye makeup. Charlize usually sticks with nude or natural-colored eye shadows. These include colors like brown, gold or beige. Many of Charlize's eye makeup looks have a touch of shimmer. Find a flesh-colored eye shadow that has a tinge of shimmer and use it as a wash on your eyelids. Line your eyes with eyeliner. Make the line fine; don't overdo it. Once your eyeliner is complete, curl your eyelashes. Follow up with a coat of mascara.

STEP 5 Frame your smile. Choose a light pink lip gloss with a slight touch of shimmer. Line your lips with a flesh-toned lip liner and use a lip brush to blend the liner into your lips. Follow up with a coat of lip gloss.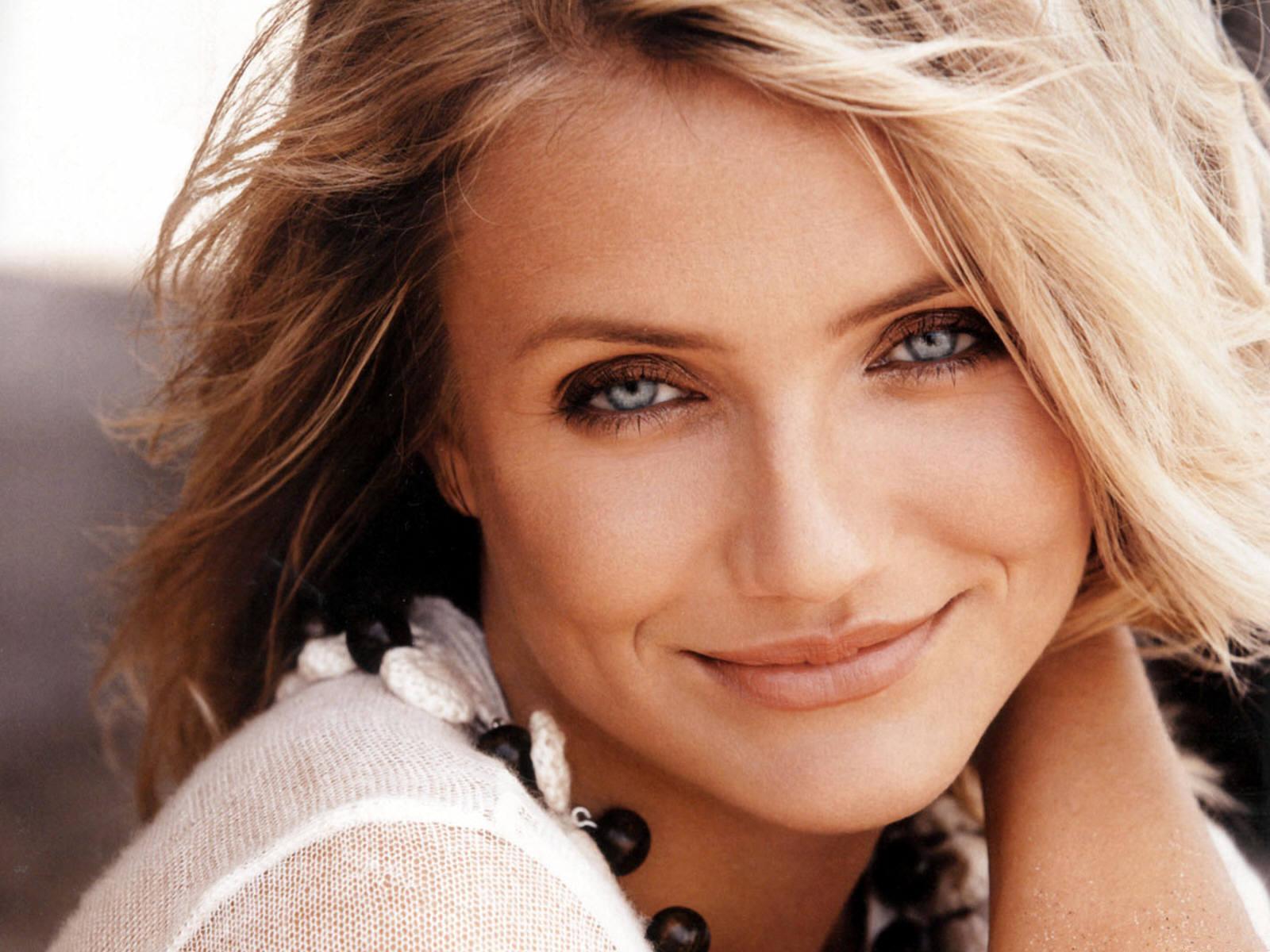 Cameron Diaz effortless beauty, hairstylist Darrell Redleaf-Fielder said, "She must be part mermaid. Even in a couture gown, she looks like she just got off her surfboard." Diaz perfects the art of looking chic without ever having appeared to try too hard. Here, learn how you can get Cameron's celebrity makeup look.
STEP 1 Blend a creamy concealer into any blemishes. Next, use foundation sparingly, just enough to even out your skin tone.
STEP 2 Skip powder for the dewy complexion Cameron Diaz is famous for, or use a light dusting of a translucent loose powder. Apply loose powder with a large powder brush for the sheerest coverage.

STEP 3 Sweep a rosy blush onto your cheeks. Use a light hand as Cameron Diaz avoids using a lot of blush in order to better emphasize her piercing blue eyes.

STEP 4 Brush a neutral shadow from your lash line to brow bone. Line your upper lashes with a thin line of black eyeliner, then apply a generous coat of mascara use dark colors.

STEP 5 Fill in your eyebrows with a light brown pencil if you're blonde like Cameron Diaz. It's great for playing up blue eyes like Cameron's. Then finish it with a swipe of your favorite lip gloss.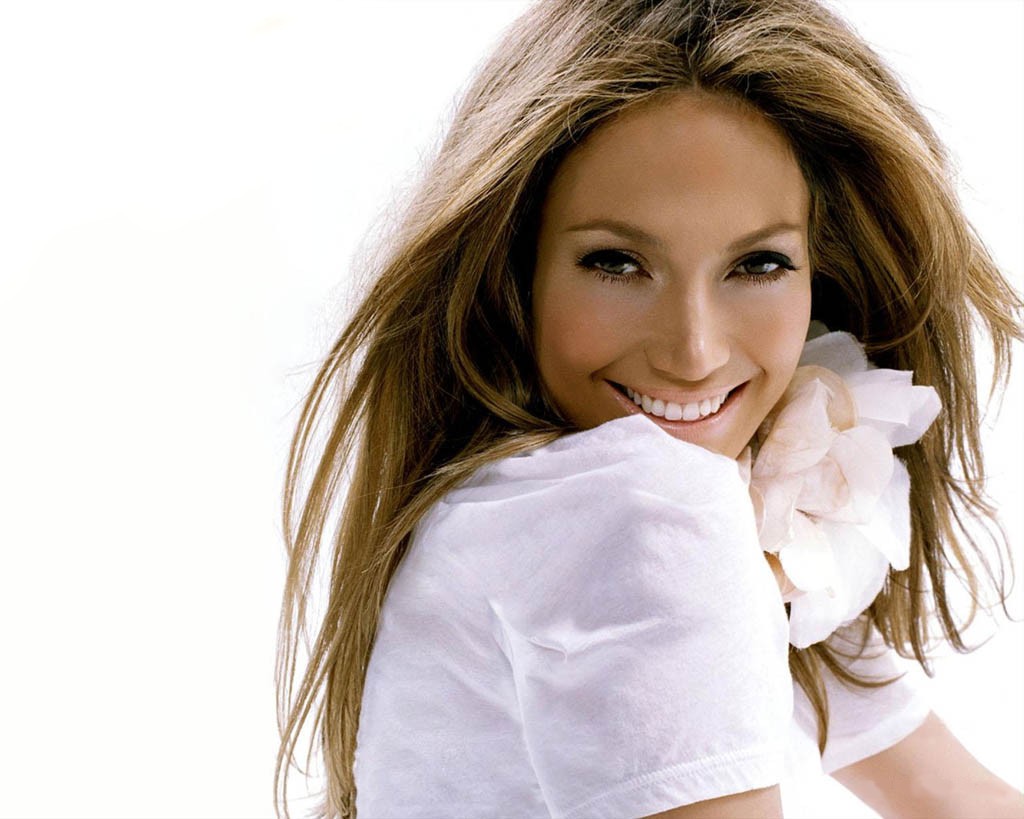 Jennifer Lopez's taste in clothes may vary between hip-hop and high fashion, but her choice in makeup remains constant. Always opting for the ultra-feminine, she chooses light shimmers and soft, smoky shadows, which highlight her features without being overpowering. If you'd like to get Jennifer's radiant look, follow these simple steps from celebrity makeup artist Sonia Kashuk.
This look is dewy and fresh, so make sure you use a light moisturizer and lip conditioner to prime your face before you apply your makeup.
STEP 1 Dot a small amount of cream foundation onto the skin, and blend with fingers. Keep the application very sheer. If your skin is in good shape, use just a bit of foundation to cover any small imperfections and skip the overall application. If needed, follow with a little concealer under the eyes, and blend well. Don't use powder to set the foundation.
STEP 2 Before you begin the eyes, apply a light layer of foundation over the entire lid, which will act as a base coat for the shadow. Brush a little excess powder, under the eye only, to catch any fallout from the powder shadows. This should be brushed away after the eye makeup is complete.
STEP 3 Apply a layer of a light-shimmer cream eye shadow from the brow bone down to the lash line, blending well with your fingers. Cover this with a light application of facial powder. The powder will help set the cream shadow and enable you to apply powder shadow on top of the cream. Using a small to medium eye contour brush, apply a neutral beige shadow to the crease for added depth and contour.
STEP 4 Curl lashes with an eyelash curler , then apply numerous coats of black mascara to upper lashes only. For more definition, use a liner brush and "smudge" a little black shadow on the outermost corner of the lash line, top and bottom.
STEP 5 Using an eyebrow pencil, lightly fill in the brows as needed. In choosing a brow pencil color, go at least four shades lighter than your hair color, so the color always looks soft and the brow isn't too severe. Blend the color, and groom the brows using a bristle brow brush.
STEP 6 For glowing cheek color, use a cream blush in a warm, rosy shade. Use your fingertips to dot blush onto the apples of the cheeks and blend back toward the hairline, keeping the edges very soft. Cream blush can be heavily pigmented so start light and build until you get the desired color and effect.
STEP 7 Line the lips with a neutral taupe lip liner. On the inside of the lip, apply light shimmering gloss.