Backstreet.net: The Backstreet Boys plan to record another album this summer.
In an i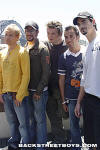 nterview with Pop's Sarah Millar, Backstreet Boy Brian Littrell revealed that the boys have been talking about their next album and hope to return the studio as soon as June.
"There are tentative plans to be in the studio at the end of June but we're still working on that (and) with material and the direction of the record," Littrell told and POP. "I've had a few conference calls with everyone talking about the end of June meeting in LA. We do plan to be in the studio probably the majority of July and maybe part of August. We're moving forward together."
The Backstreet Boys released "Never Gone" last year, after four years without new material.
"The record was recorded amazingly," he said. "We didn't know what to expect coming out with a new album after 13 years (together). But it was just embraced and loved by the fans."